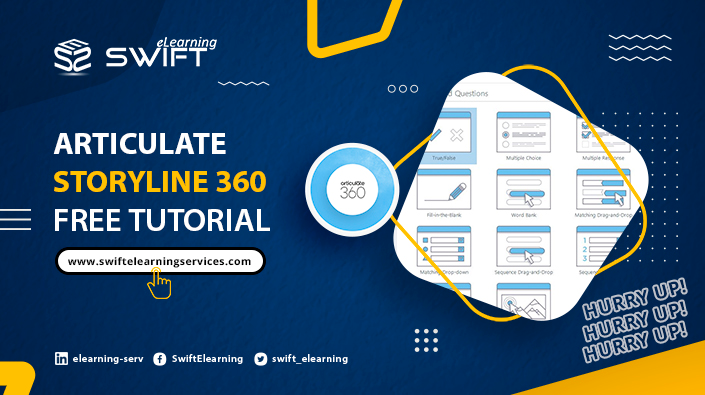 Getting Started with Articulate Storyline 360 Free Tutorials & Features list
An Articulate Storyline 360 free tutorials, provides a good opportunity for enthusiasts who want to learn the tool, as it is considered to be the most versatile tool for developing elearning modules.
Articulate Storyline 360 is a cloud-based platform that helps businesses to create and distribute interactive video-based eLearning courses. Users can develop customised project templates/ slides and save them in a centralised database for future reference.
Articulate Storyline 360 enables you to create interactive content and responsive courses that adapt to any screen size dynamically. Its built-in player supports a wide range of touch-screen expressions, making it more interactive for tablet and mobile users.
What is Articulate Storyline 360?
Articulate Storyline 360 allows you to create virtually any type of interaction. The primary elements you'll need to develop these interactions are Actions, States, Layers, and Variables. With new software updates, you can deliver mobile and accessible courses with greater interactivity.
There is a new option of responsive player, which makes courses look amazing on any device.

Closed captions can be applied and customised.

With additional functionalities, you can create game-based interactivity.

Courses with HTML5 outputs can be published.
Screen casting is a feature in Storyline 360 that allows teams to record screen actions and add captions, animations, and zoom in/out effects.
Text-to-speech conversion, customisable recordings, video/question import, multilingual translation, content library, auto-recovery, and other capabilities are included in the solution.
Users can also customize text spacing, page layout, colour, and bullet using the built-in text editor.
Features of Articulate Storyline 360
The Articulate Storyline 360 is one of the top eLearning development authoring tools, that includes all of the features and functionality you'll need to get the most out of your training.
They also include training resources and support services to help you get faster. The prospects with Storyline are virtually limitless in terms of capabilities. Storyline provides all the necessary tools to deliver an engaging and interactive eLearning course.
Let's look at some of the functionalities of Articulate Storyline 360.
Animations: eLearning developers may want to make things to move in any direction they choose, fine-tune and align items to motion paths, add transitions, and more with Storyline.
Triggers: Triggers are one of Articulate Storyline's key aspects, as they regulate everything in an eLearning course. Whether it is to build a branching scenario or create a button action, the Triggers are used. In simple words, triggers are actions that are programmed to happen at certain points in your eLearning course. Triggers are made up of 3 major aspects:
What happens? 

Where does it happen? 

When does it happen?
Although many developers are initially intimidated by the trigger panel, they are easy to use and using triggers allows you to design a really interactive course.
States: The visual look of an object in your course is referred to as a state. Buttons are the most basic example of States in action. When a learner hovers over a button, for instance, you might add a glow effect, or when they click on it, you might add a check mark.
Layers: A 'Layer' is an additional slide that sits on top of the base slide and is used to reveal or hide content in the Articulate Storyline project.
Variables: A Variable is a container that holds information. This data can be accessed at any time during the course and presented on a slide or used to control other elements in the background.
Free tutorial on Articulate Storyline 360
Learning and development strategies are constantly changing as technology creates new and exciting opportunities. It's time to ensure that your employees do not suffer as a result of the knowledge gap. Online training is one method for ensuring that your training opportunities are rewarding and effective.
We at Swift Elearning Services are great promoters of elearning and understand the need for training the employees/trainees with the highest quality. As Articulate Storyline 360 is considered the most recognized, used and flexible authoring tool, perfect for training individuals, we have created an online tutorial on Articulate Storyline 360 and it is provided for FREE.
Benefits of Outsourcing eLearning development:
The development of eLearning is a lengthy and systematic process that involves a large number of people. The implementation process is difficult without a comprehensive, streamlined process to handle this task, and errors can occur at various points. If a company does not have the right team of qualified people then, developing eLearning can be a difficult task. Rather than attempting to complete this process on their own, a company can outsource it to an experienced e-learning vendor.
Having basic knowledge on Articulate Storyline 360 can only lead to development of basic-looking courses and miss the great potential of the tool in the form of complex interactivities and functionalities. Also processes like migration of animations and other complicated processes can be hard without the knowledge on other corresponding tools. Our experienced team of Visual designers and best-in-class development team are obliged to assist you while dealing with different tools.

Reasons why Organizations should opt for outsourcing eLearning development
Organizations can eliminate overhead costs such as responsibilities, hiring, training time, and so on by partnering with an eLearning development vendor. You can create scalable solutions on demand by outsourcing your eLearning.

Having a fully equipped in-house team is often an uneconomical luxury for organizations. Working with a vendor gives you access to a full suite of learning support experts whose sole focus is to deliver the best in learning approaches.

The vendor will be able to create high-quality modules much quicker than the internal learning team. A good e-learning content producer will deliver a great solution in the shortest time possible by providing a clear schedule of outputs.

You can maintain your organization's focus and resource allocation by outsourcing eLearning projects. Because your people know your company or product, have them focus on the learning strategy and outcomes, and your eLearning partner can focus on developing great content which is remarkable, effective, and amazing digital training.
Although eLearning outsourcing requires an expenditure, it results in higher returns.
Our Services: Custom eLearning Development, Rapid eLearning Development, Flash to HTML5 Conversion Services, Translation and Localization, Learning Management System, Convert PowerPoint to eLearning
https://www.swiftelearningservices.com/wp-content/uploads/2021/07/articulate-storyline-360-free-tutorials.png
395
705
Swift Elearning Services
https://www.swiftelearningservices.com/wp-content/uploads/2022/09/Swift-eLearning-Services-logo_220.png
Swift Elearning Services
2021-07-01 16:36:22
2022-01-04 11:11:26
Getting Started with Articulate Storyline 360 Free Tutorials & Features list