Articulate 360 – Everything you need to know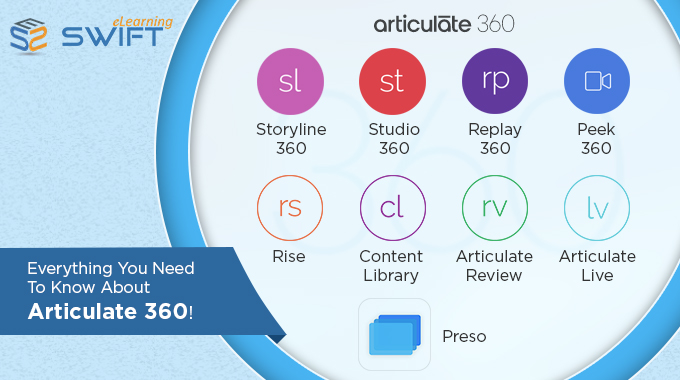 Our ongoing series of blogs give you an insight into the newly released Articulate 360 and covers key features, reviews, pricing and much more.
WHAT'S in Articulate 360 for You?
Articulate 360 – Initial Product Review
Articulate has released Articulate 360 as a complete eLearning authoring package. It encompasses an array of exciting features and applications to enhance eLearning development focused on responsive eLearning design. Read more…
What is New in Articulate Storyline 360?
The new Articulate Storyline 360 is an updated version of Storyline 2 which comes with the key features such as Responsive Player, Integrated Content Library, Inbuilt Articulate Review app, multiple preview options and much more. Read more…
Replay 360, Preso and Peek to Develop Smarter eLearning Experiences
Under the umbrella of Articulate 360, three tools – Replay 360, Preso and Peek, though separate from mainline development but amazing enough to jazz you up. Preso and Peek are two new technological advancements included in Articulate 360 package. Read more…
WHY is it Ideal for eLearning Development?
Is Articulate 360 Effective Enough to Create Fully Responsive eLearning Courses?
With Rise, the new web-authoring tool, Articulate 360 lets you create truly responsive eLearning courses. Rise automatically adapts to any screen size and orientation to provide an optimal learning experience. Read more…

Articulate 360 Web App – Articulate Review to Simplify eLearning Project Sign-off
Articulate Review is a new web-application to keep all the reviewers on the same page throughout the project. It brings all the project stakeholders to one common platform and makes the e-Learning project review easy. Read more…
Conversion of Legacy Storyline Courses to Articulate Storyline 360
Articulate 360 to be major trendsetter in legacy course conversion. Conversion of existing Storyline courses to Articulate Storyline 360 can give you an upgraded look and effectiveness. Read more…
HOW can it be Leveraged?
Storyline 2 to Storyline 360: Updating eLearning Courses
Articulate Storyline 360 is now packed with Responsive Player, HTML5 gestures, improved animations and brand-new interactions. And this makes a reason worth updating/upgrading the existing Storyline courses to Storyline 360. Read more…
Articulate 360 Subscription Model – An Insight Into Pricing
Articulate shifted its gears from perpetual licensing to cloud-based subscription model and brought all its products under one umbrella – Articulate 360. This single subscription lets you access entire applications of Articulate 360 eLearning suite. Read more…
Our Services: Flash to HTML5 Conversion Services, Elearning Translation, Custom eLearning Content Development
https://www.swiftelearningservices.com/wp-content/uploads/2022/09/Swift-eLearning-Services-logo_220.png
0
0
Swift Elearning Services
https://www.swiftelearningservices.com/wp-content/uploads/2022/09/Swift-eLearning-Services-logo_220.png
Swift Elearning Services
2016-11-22 19:08:48
2021-07-10 19:13:58
Articulate 360 – Everything you need to know