Conversion of Legacy Storyline Courses to Articulate Storyline 360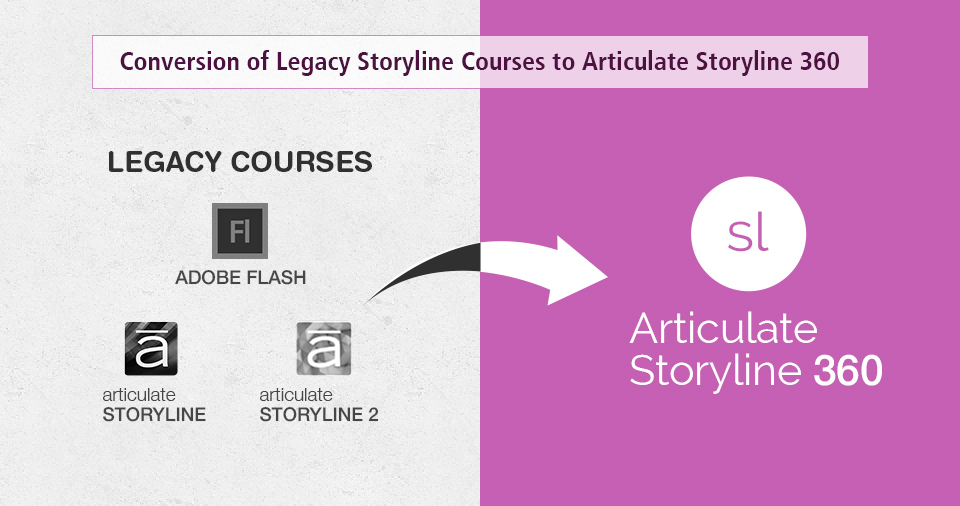 Articulate 360 release turns out to be a good news for many organizations.
Ever since its release, Articulate 360 has been making high tides in eLearning industry. It has caused a spurt of eLearning course conversions or course enhancement requirements from end-user community as well as training organizations. It is evident with the sudden increase of course conversion requests or enquiries in the industry, be it the demand for mobile responsive eLearning or given the flexibility that Articulate provides.
Industry experts are hoping Articulate 360 to be major trendsetter in legacy course conversion. Elearning developers are quite confident with Articulate 360; one of the expert has said that "Thanks to Articulate Storyline 360, it allows to develop animations that has similar learning results like Flash animation".
An eLearning evangelist has talked about the cost of converting existing courses in the past and now. He added, "Legacy course conversion never has been a cost effective. Compared to other tools, Articulate 360 may have upper hand in reducing time and efforts significantly to bring course conversion cost down".
Conversion of existing Storyline courses to Articulate Storyline 360 can give you an upgraded look and effectiveness.
Let's be optimistic with Articulate 360 for more opportunities in the days coming ahead.
Our Services: Best Learning Management System, eLearning Development, eLearning Content Development
https://www.swiftelearningservices.com/wp-content/uploads/2022/09/Swift-eLearning-Services-logo_220.png
0
0
Khaja Baderuddin
https://www.swiftelearningservices.com/wp-content/uploads/2022/09/Swift-eLearning-Services-logo_220.png
Khaja Baderuddin
2016-11-15 18:46:08
2021-07-12 15:39:03
Conversion of Legacy Storyline Courses to Articulate Storyline 360