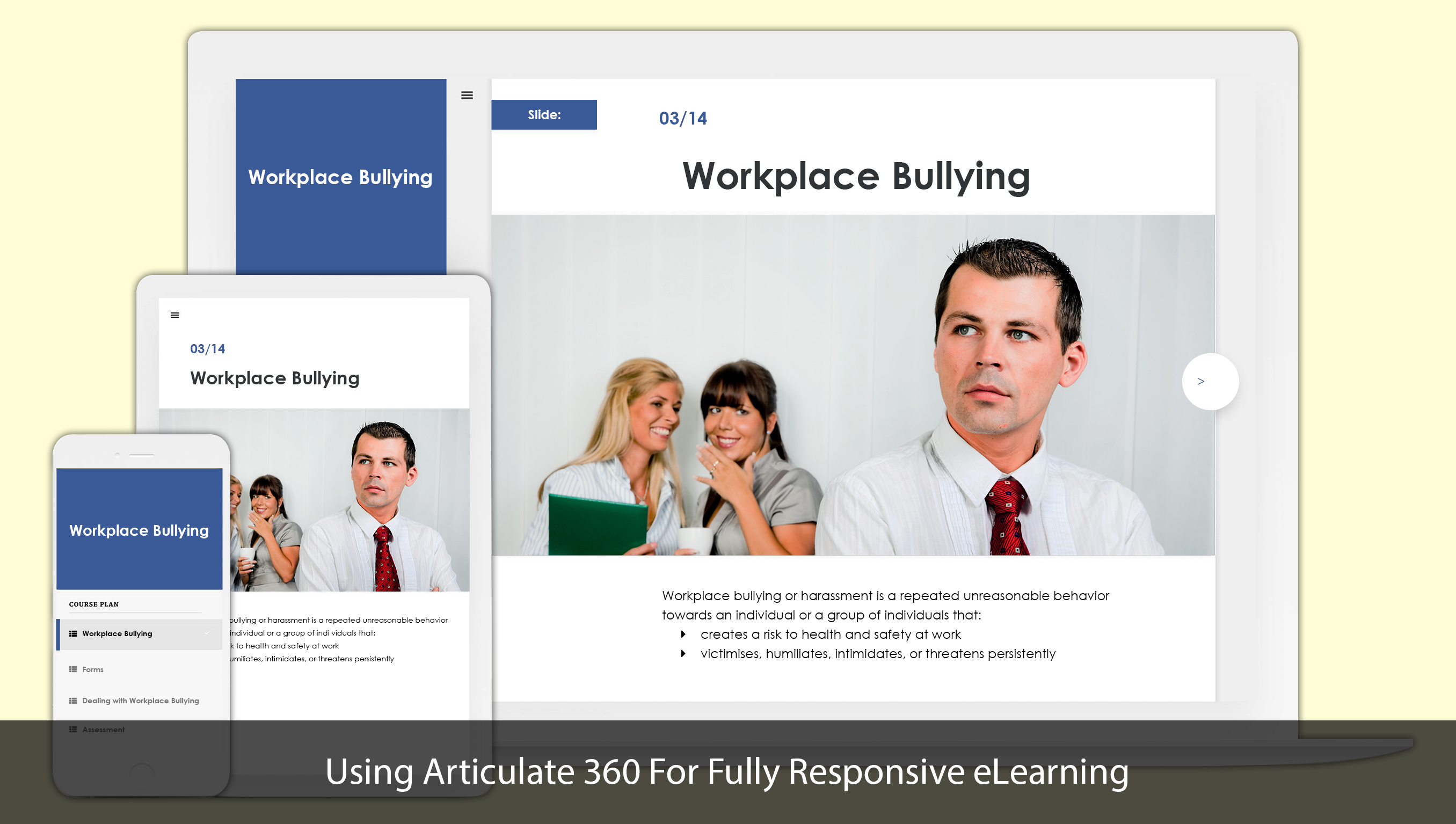 Articulate has recently released Articulate 360, an eLearning authoring tool, as an annual subscription offering. Given the fierce competition and modern learning needs, it was a much needed facelift for Articulate. Here's what we've found in our initial review of the tool.
Articulate 360 has come a long way with a suite of tools and wide range of features that are essential to create eLearning solutions effortlessly. Out of all these, "Rise" is a pretty impressive responsive web-based authoring tool to create multi-device e-learning. Let's take a closer look at Articulate Rise to see what it has to offer.
Articulate Rise Can be a Game Changer
Articulate Rise can certainly be a killer eLearning web app to create fully responsive eLearning. It provides the flexibility to author interactive eLearning courses in the web browser right away. This means you don't have to download a separate software. It supports both custom and rapid eLearning.
Focus on Multi-Device eLearning
No matter what device your learner uses, Rise automatically adapts to any screen size and orientation to provide an optimal learning experience. This means you can focus on developing the course, rather than its technicalities. And no coding is required.
Simplify the eLearning Development
To create a media-rich learning experience, Articulate Rise provides flexible learning blocks. All you have to do is choose these blocks from block library, arrange them the way you want, add content, create interactions and you are done. Rise also provides the "preview" option that lets you preview the developed course before you could actually publish.
On top of Rise, Articulate also brings a "new responsive player" which sets Articulate apart from its competitors.  Both Storyline 360 and Studio 360 feature this responsive player. This new responsive player:
Dynamically adapts to every mobile screen – you don't have to tweak your course for device breakpoints
Provides touchscreen gesture support
As Articulate claims that it has used latest web technologies, we hope that it addresses all the concerns of multi-device eLearning. With these amazing features, Articulate Rise can be a good fit for developing responsive eLearning courses.
However, it's too early to judge its capabilities. So for now let's wait and watch to see whether Articulate 360 stays a head of competition and whether it is really an ideal choice for eLearning designers.
Our Services: Convert PowerPoint to eLearning, Learning Management System, Rapid eLearning Development
https://www.swiftelearningservices.com/wp-content/uploads/2015/01/logo_220.png
0
0
Santosh Borse
https://www.swiftelearningservices.com/wp-content/uploads/2015/01/logo_220.png
Santosh Borse
2016-11-10 20:01:51
2021-07-10 19:17:41
Is Articulate 360 Effective Enough to Create Fully Responsive eLearning Courses?