Articulate 360 – Initial Product Review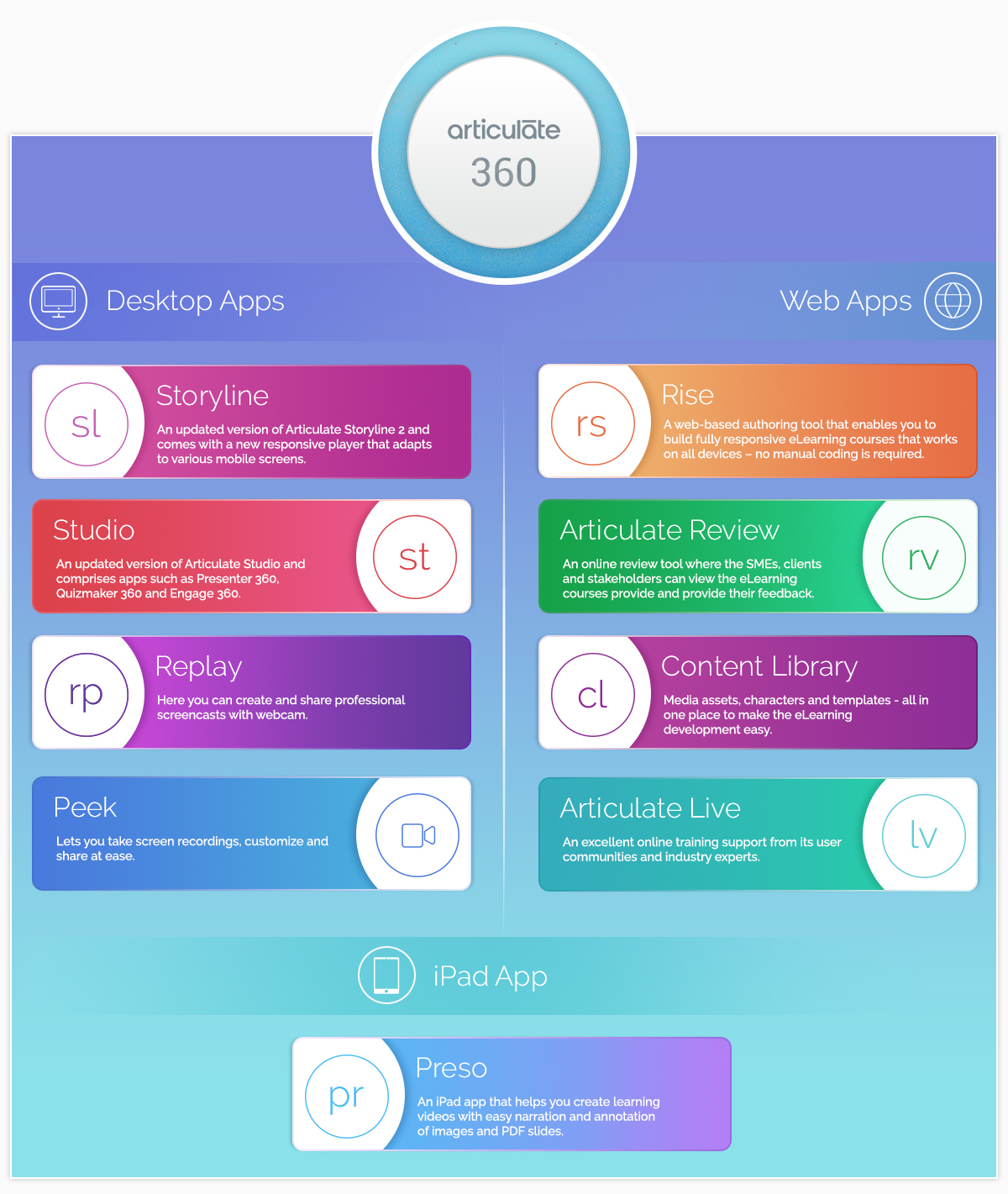 Articulate has released Articulate 360, a brand new subscription-based offering with lots of exciting features, applications and resources. It comes as a complete authoring package with just one annual subscription that lets you access entire Articulate 360.
As an eLearning designer, I am so excited with Articulate 360 and the features it is offering. So let's dive into details to see how Articulate 360 is going to make an eLearning designer's life easy. In this product review, I've noticed considerably new features that include:
Enhanced mobile responsiveness is with exclusive HTML5 support for multi-device eLearning
Streamlined review process allowing a big-time collaboration
Better preview options before you could actually publish the course
Multiple publish formats for any device
To help you simplify eLearning development journey and bring the best out of you, Articulate 360 comprises:
Three brand-new authoring tools – Rise, Preso and Peek
Upgraded versions – Articulate Storyline 360, Articulate Studio 360 and Replay 360
Additional Resources – Articulate Live, Articulate Review and Content Library
Web Apps:
Rise is a web-based authoring tool that enables you to build fully responsive eLearning courses that works on all devices – no manual coding is required. It has been a major focus area of this release. With simple and user-friendly interface, you can take your rapid eLearning as well as custom eLearning development to the next level. This is my favorite area and I was expecting this feature in Articulate 360.
Articulate Review is an online review tool where the SMEs, clients and stakeholders can view the eLearning courses provide and provide their feedback. It a great tool to gather consolidated feedback.
Articulate Live provides excellent online training support from its user communities and industry experts. Participate weekly webinars to get a better understanding on how to create great eLearning content.
Content Library includes media assets, characters and templates that make the eLearning development easy.
Desktop Apps:
Articulate Storyline 360 is an updated version of Articulate Storyline 2 and comes with a new responsive player that adapts to various mobile screens. This new responsive player is pretty impressive and supports HTML5 touchscreen gestures to deliver an effective mobile learning course. Moreover, the user interface remains same. It also comes with features like responsive preview toolbar, superior HTML5 output, dial interactions, rename motion paths and much more.
Studio 360 is an updated version of Articulate Studio and comprises apps such as Presenter 360, Quizmaker 360 and Engage 360. It lets you create media-rich PowerPoint-based courses responsive to all mobile devices.
Replay 360 is where you can create and share professional screencasts with webcam.
Peek lets you take screen recordings, customize and share at ease. This means creating application/simulation training is now so easy.
iPad App:
Preso is an iPad app that helps you create learning videos with easy narration and annotation of images and PDF slides.
Conclusion:
Though this is not an extensive product review, I find Articulate 360 as an impressive eLearning authoring tool that can save your time and money in eLearning development.
Our Services: Elearning Translation and Localization Services, PowerPoint to eLearning, eLearning Solutions
https://www.swiftelearningservices.com/wp-content/uploads/2022/09/Swift-eLearning-Services-logo_220.png
0
0
Godwin
https://www.swiftelearningservices.com/wp-content/uploads/2022/09/Swift-eLearning-Services-logo_220.png
Godwin
2016-11-11 18:46:23
2021-07-10 19:17:11
Articulate 360 – Initial Product Review