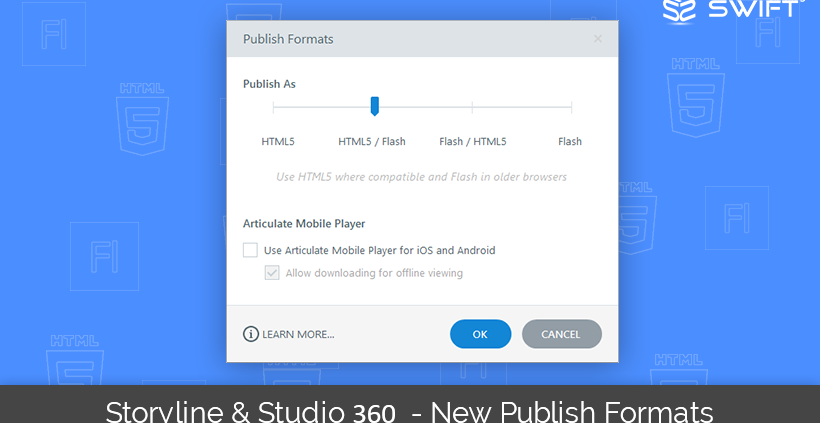 Storyline 360 – New Publishing Formats
Articulate Storyline 360 is out with more publish formats.
While we develop an eLearning course, apparently we'd expect it to serve the primary purpose of reaching out to all our learners, be it through mobile, tablet or desktop. Achieving such multi-device compatibility was tedious and expensive, but this is not the case anymore.
The most awaited feature in Storyline is out now with Storyline 360 – "multiple publish formats". This new feature in Storyline 360 provides freedom to the eLearning Developers to choose a format they desire, making the life easier in getting what is required. This feature is also available in Articulate Studio 360.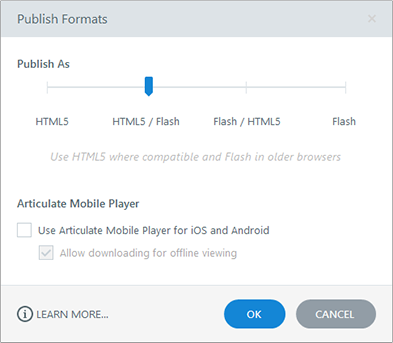 By default, the eLearning courses published in Storyline 2 are deployed to both Flash and HTML5. Though this was a decent solution, it led to chaos.
Publish to HTML5, Flash in Storyline 360
Storyline 360 provides the flexibility to choose publish format of our choice from the Publish Formats options dialogue. It's simple.
Click the Formats property on the Publish window to open the Publish Formats dialog
Drag the 'Publish As' slider and choose the desired publishing options

HTML5
HTML5/Flash
Flash/HTML5
Flash
HTML5 Only
Picking HTML5 only option, publishes our eLearning course absolutely in HTML5 output. Since HTML5 is becoming the new favourite to most of the eLearning professionals, this option is a great addition in the new Storyline 360.
Why "HTML5 Only"?
HTML5 is no more just an alternative technology to develop mobile-friendly eLearning courses, but it is a new industry standard in eLearning and is adopted widely by many.
HTML5 has now become the primary option for eLearning courses that are developed with a mobile-first approach. And the reason behind this is native support to HTML5 in all the modern mobile devices like smartphones and tablets.
Few key benefits of using HTML5 for eLearning are:
Widely supported
Superior accessibility to learners
Less limitations on multimedia integration
No plugins required
Light weight
When to use "HTML5 Only"?
Choosing "HTML5 Only" output will be a good idea when we are developing eLearning course with mobile-first approach to reach mobile learners.
HTML5 / Flash
Going for HTML5 with Flash fall-back, will bundle up our eLearning course in both HTML5 and Flash outputs. HTML5 output is rendered first at the user's end, but if the user's device doesn't have support for HTML5 then Flash Output is rendered as a fall-back. Choosing this option is like staying ready with Plan B when Plan A fails, where Plan A is HTML5 and Plan B is Flash.
Why "HTML5 / Flash"?
Though HTML5 is the new industry standard, it is still evolving. Most of the older devices and web browsers do not support HTML5, such as Internet Explorer 8 and below. The old devices and web browsers have Flash support built in. So, picking HTML5 / Flash might be a good idea.
Few advantages:
Reaches every learner
Universal support
Greater accessibility to learners
Still follows latest standards of eLearning industry
Possibility for very effective animations and interactions
When to use "HTML5 / Flash"?
When the eLearning course built with an intention to reach out every one, both classic and modern users HTML5 / Flash may be the best option to rely upon.
Flash / HTML5
Choosing "Flash / HTML5" will also package our eLearning course in both HTML5 and Flash, the only difference is, here Flash plays first at the user's end and if Flash is not available then HTML5 output comes into play.
Why "Flash / HTML5"?
Even though HTML5 is continuing to grow, many people still like using Flash for their eLearning courses. Here Flash is given priority over HTML5, but it does not completely eliminate support for HTML5. Where Flash is not available, HTML5 is readily waiting to fill that place as a fall-back.
Few advantages:
Never misses a single learner
Classic support
Stable
Still follows all the eLearning industry standards
Possibility for very effective animations and interactions
When to use "Flash / HTML5"?
Flash / HTML5 output is apt when we want to deliver eLearning to the classic learners who still use their desktops as a primary means to access the eLearning courses. For example, some classic companies use dedicated desktop computers and traditional LMS to train their employees. In such cases going for "Flash / HTML5" will be a smart choice.
Flash Only
Opting "Flash only" as output format will publish our eLearning course exclusively in Flash (.swf) format, this option is a blessing for Flash lovers. Flash is still loved by millions for its limitless possibilities for building interactions, creative animations and remarkable graphics. For quite a time, Adobe Flash stood as the most popular authoring tool for developing eLearning courses. As a result, many people still use Flash for developing their eLearning courses.
Why "Flash Only"?
Flash has incredible support for animations and graphics unlike other eLearning authoring tools. People love Flash because of it endless possibilities to literally build anything we can dream of. It allows freedom for customization and eliminates all kinds of limitations. Most of the effective and engaging eLearning courses are built using flash. Since it is classic and has been around from quite a while it is supported in most of the older devices and browsers.
Few advantages:
Incredibly rich graphics and animations
Limitless ways to build high-level interactions
Stability
Classic support
Larger community support
When to use "Flash Only"?
We can use this option while building media-rich animations and engaging eLearning interactions that solely target the learners who use desktops or older web browsers. "Flash Only" would be an ideal choice especially when our clients use an older LMS that supports Flash only outputs.
Verdict
This new feature gives freedom to the eLearning developer to choose the desirable format that suits best for their eLearning requirements. This enhancement in Storyline 360 is here to make eLearning developer's life easier.
Our Services: Translation and Localization Services, Custom eLearning Solutions, Convert Flash to HTML5 Services
https://www.swiftelearningservices.com/wp-content/uploads/2016/11/Storyline360-New-Publishing-Formats-Features-1.png
460
820
Godwin
https://www.swiftelearningservices.com/wp-content/uploads/2022/09/Swift-eLearning-Services-logo_220.png
Godwin
2016-11-23 19:01:21
2022-01-06 19:01:35
Storyline 360 – New Publishing Formats