Articulate 360 Subscription Model – An Insight Into Pricing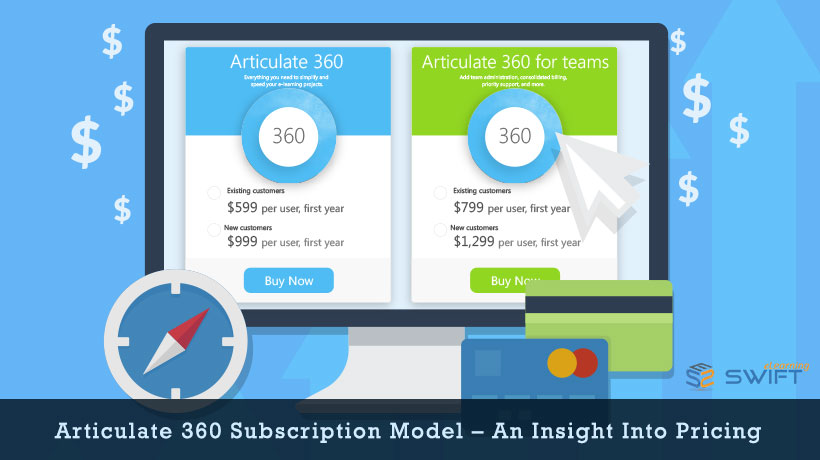 Articulate 360 is Released! You might have probably heard this big news in the eLearning industry. With this release, Articulate shifted its gears from perpetual licensing to cloud-based subscription model and brought all its products under one umbrella – Articulate 360. This all-inclusive subscription comes as a complete eLearning authoring package and comprises:
Rise, Preso and Peek (brand-new eLearning authoring tools)
Articulate Storyline 360, Articulate Studio 360 and Replay 360 (Upgraded versions)
Articulate Live, Articulate Review and Content Library
We've already covered these features in our Articulate 360 product review blog earlier. So in this blog, we will primarily focus on the decisive move by Articulate from perpetual licensing to subscription-based pricing model and what this means for you.
What This Means For You
Articulate's flagship product, Storyline 2 came as a perpetual license for about $1,398 and it continues. This means once purchased and installed, you can keep the software forever and it's a one-time payment. This licensing model also provides a flexibility to upgrade the version or still use the existing one. However, you need to shell out the money for software upgrades or updates which is quite cumbersome.
On the other hand, the new Articulate 360 subscription model comes with an annual subscription of $999. This means you can use the package as long as the subscription is active (Valid only for one year). Once the subscription ends, you again need to pay $999 for renewal. During the subscription period, you will be receiving the support and latest updates from Articulate for free.
Articulate 360 Teams
Articulate recommends you to consider Articulate 360 Teams accounts if you have more than two people in your team. You need to pay $1,299 per user per year. With this account, you will get benefits like:
Volume discount for more than 10 seats
Simplified account management
Priority support from experts
Unlimited team access to Articulate 360 for all team members
One consolidated annual bill
More storage
Upgrading from Storyline 2 to Storyline 360 is Easy
Existing Articulate customers can now avail loyalty discounts for the first year.
Individual subscriptions – $599 per user
Articulate 360 Teams subscriptions – $799 per user
Articulate has been known for its customer support through user-community and webinars by experts. With Articulate 360, you can access Articulate Live and enhance your Instructional Design and eLearning skills. As this is a cloud based eLearning suite – you don't have to download or install eLearning software on your machine.
Summary
The new single subscription lets you access entire applications of Articulate 360 eLearning suite. Given the new features like responsive player, content library, better HTML5 output and other key enhancements, it is worthwhile to switch to Articulate 360. It would be ideal move if you are looking for a fully responsive mobile learning courses. But if your eLearning requirements are not mobile-first, you may still want to go with perpetual license. However, it depends on the kind of eLearning requirements and budget you have.
If you want to future-proof your eLearning and stay updated with the emerging eLearning technologies then Articulate's subscription model would be the best investment. End of the day, no matter which authoring tool you opt for, it should yield a better eLearning return on investment (ROI). Finally, the decision is yours.
If you found this blog useful, please do share it on LinkedIn, Twitter and Facebook using the links below.
I would also appreciate your comments on what you think about Articulate 360.
Our Services: Custom eLearning, Convert PPT to eLearning, Elearning Translation
https://www.swiftelearningservices.com/wp-content/uploads/2022/09/Swift-eLearning-Services-logo_220.png
0
0
Santosh Borse
https://www.swiftelearningservices.com/wp-content/uploads/2022/09/Swift-eLearning-Services-logo_220.png
Santosh Borse
2016-11-17 18:40:40
2021-07-10 19:15:12
Articulate 360 Subscription Model – An Insight Into Pricing