Articulate 360 Web App – Articulate Review to Simplify eLearning Project Sign-off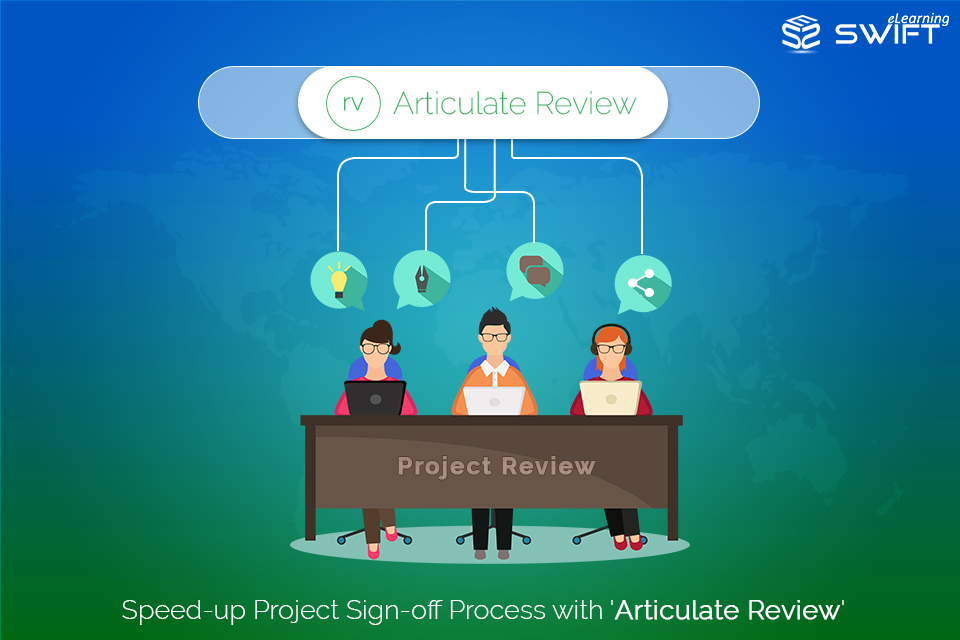 Articulate 360 Introduces Web App – Articulate Review
Articulate is no more just an eLearning authoring tool; it is more than that. The newly released Articulate 360 is now equipped with powerful features to help you manage eLearning projects efficiently. It lets you effectively collaborate with project stakeholders in every phase of eLearning development and helps you get client sign-off quickly.
Articulate Review is a web-application to keep all the reviewers on the same page throughout the project – Starting from raising the bug/comment until it gets resolved.
Gathering e-Learning review feedback and fixing has never been an easy task especially when the team is located virtually. Articulate Review app brings all the project reviewers/stakeholders to one common platform and makes the e-Learning project review easy. Each reviewer can see the same work what other reviewers are up to.
Salient Features to Supercharge eLearning:
Web Platform to Ease Rapid Authoring
Articulate Review is an online review tool to help you collaborate with multiple reviewers around the globe any time. All you have to do is send the online review link to the reviewers and get the consolidated feedback.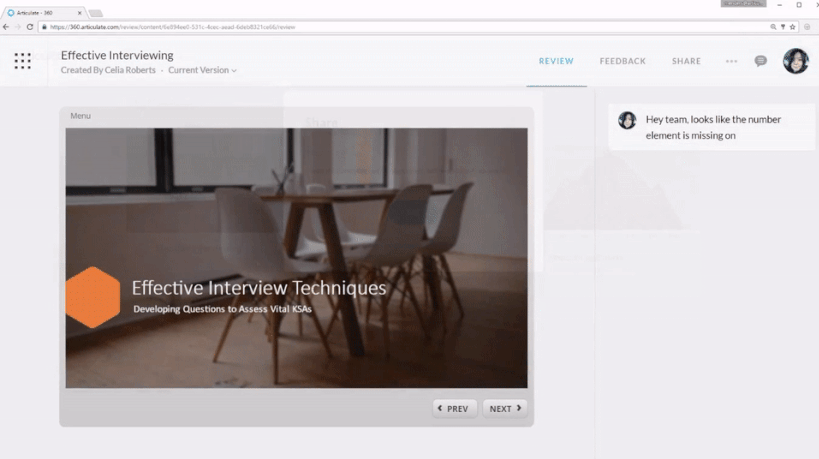 Consolidated Review Feedback
For a single slide, you can view a chain of comments and replies as discussion threads from multiple reviewers providing a consolidated review. This consolidated review feedback helps you develop consensus among the reviewers and other stakeholders at one place.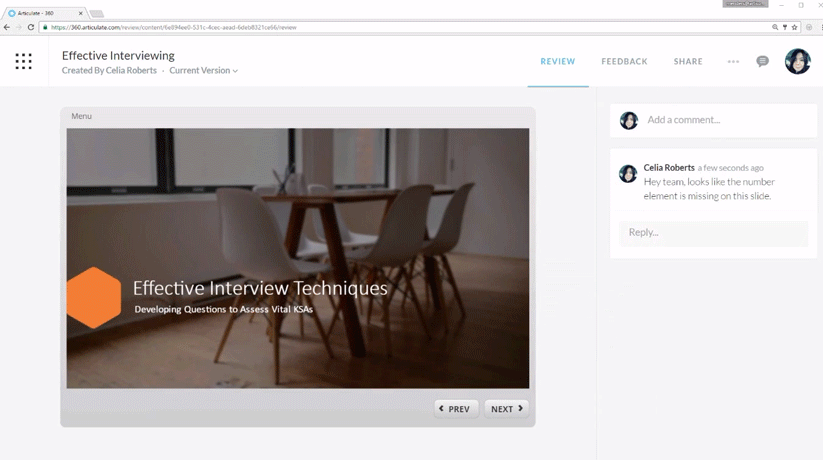 Specific Bug Indication
Articulate Review helps you avoid confusion and rework. For each slide, it captures the screenshots once the reviewer makes the comments. It provides visual cues to eLearning developers indicating specific areas of improvement that needs to be addressed.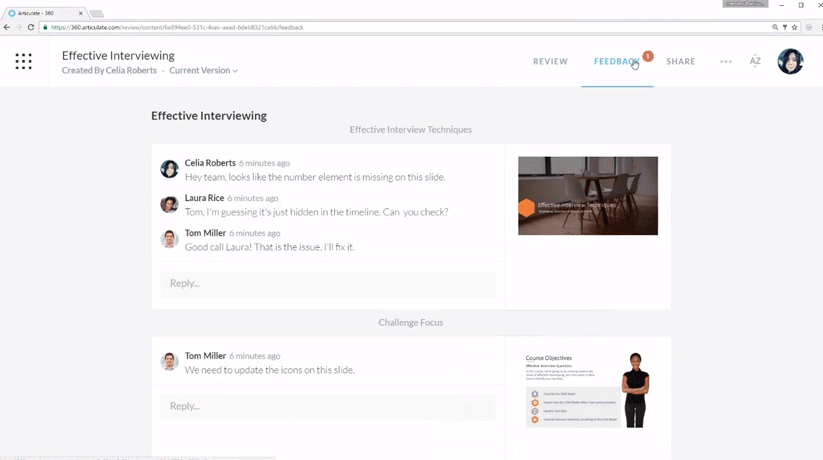 Closing the Bug
Once the reviewer provides the comments, you can simply address and update them as Resolved. To sort unresolved comments, you can also hide the resolved comments.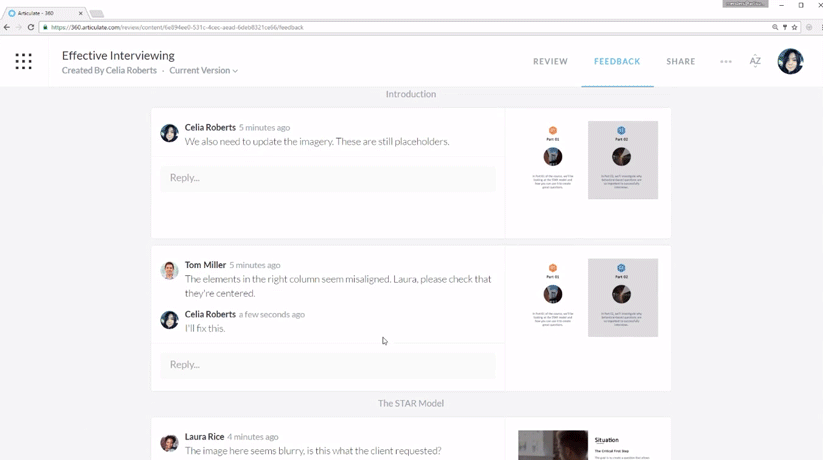 To sort unresolved comments, you can also hide the resolved comments.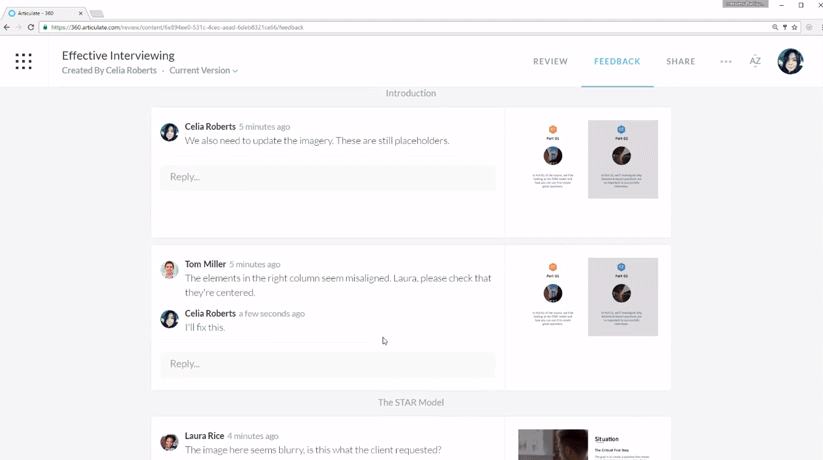 Versioning
Version handling is another prominent feature which Articulate Review offers for project management process. It allows you to re-publish the same project for regression. This way, you can refer the comments while having final review on each slide.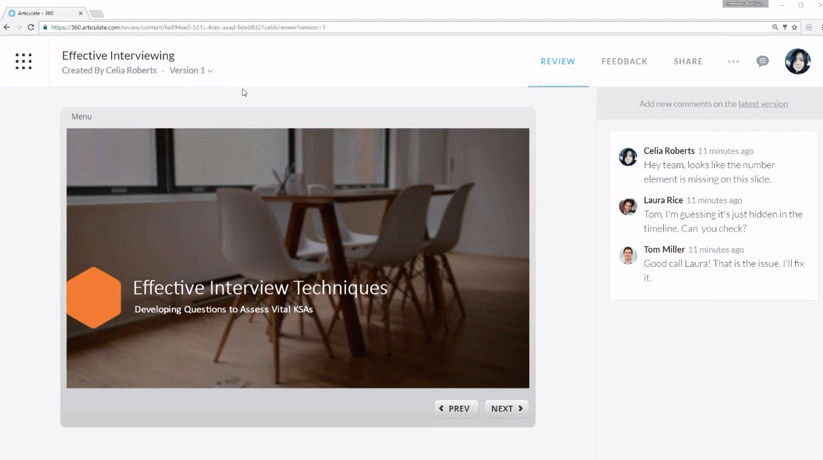 Project Protection
Articulate Review protects your project from unauthorized access using password protection feature.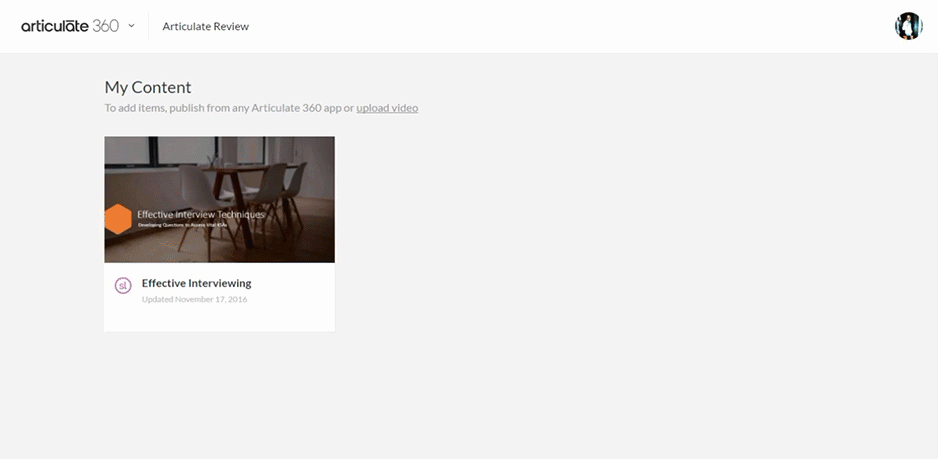 Conclusion:
Articulate Review as a collaborative tool can help you manage all the feedback at one place. This is definitely an impressive tool and you can start your free Articulate 360 trial to see how it works. So take time to explore and leverage Articulate Review to ensure your e-Learning development is more efficient with rapid course sign-offs.
If you found this blog useful, please do share it on LinkedIn, Twitter and Facebook using the links below.
I would also appreciate your comments on what you think about Articulate 360.
Our Services: Rapid eLearning, Translation and Localization, eLearning Content Development
https://www.swiftelearningservices.com/wp-content/uploads/2022/09/Swift-eLearning-Services-logo_220.png
0
0
Abdul Wahab
https://www.swiftelearningservices.com/wp-content/uploads/2022/09/Swift-eLearning-Services-logo_220.png
Abdul Wahab
2016-11-18 17:01:55
2021-07-10 19:14:45
Articulate 360 Web App – Articulate Review to Simplify eLearning Project Sign-off