Turning Training Investment into Profit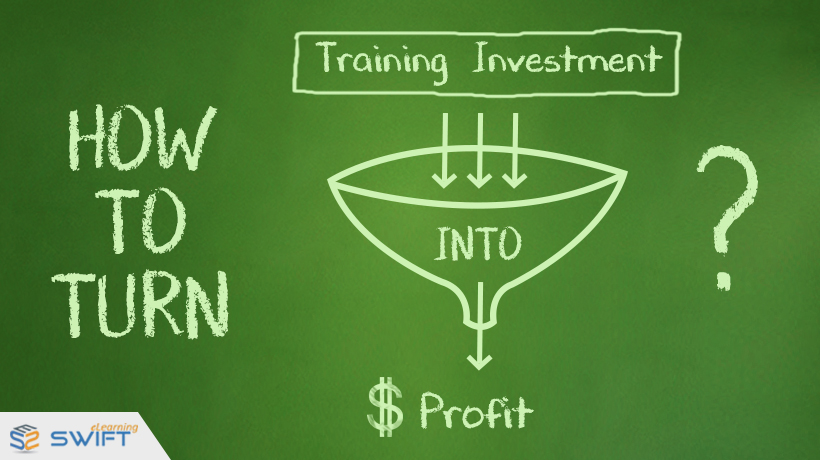 There is a significant shift in the way the businesses are running in 21st century. Today, business are enabled with Employee-light model, Capital-light model, Asset-light model, etc.
Following are a few examples,
Employee-light model – Tesla has fewer employees than a conventional automaker
Asset-light model – Apple sells one of the most valued phones and computers, but outsource manufacturing
The crux is, businesses are ultra-focused on 'profit optimization' with the means of 'effective resource utilization'; and 'Human Resource' is in the centre of attraction.
Among other effective strategies, training is considered as one of the most effective business strategy for profit optimization; and it does its job in the following two ways,
By Increasing Revenue
Enhancing skills in less time and grabbing more business opportunities – this has significant impact on revenue
By Protecting Revenue
Aligning abilities towards the most effective and efficient work practices – Reducing operating costs
Bringing down your training investment allocated for traditional models such as ILTs, Print Media, etc. – Reducing cost of training
Let's check out a few case studies:
How to Turn Training Investment into Business Profit?
Here are 4 guiding principles if followed will help you Turn Your Training Investment into Business Profit.
Principle 1: Invest in Training and invest sufficiently
I found this one liner very effective to highlight the significance of knowledge and skill in pursuit of a successful business,
"If you think education is expensive — try ignorance."
Derek Bok, president of Harvard University
There is no alternative for training; moreover training is more relevant at the time of crises – even if you are experiencing serious financial crunch.
And, invest sufficiently; do not invest partially and expect it to solve the problem.
For example, a Front Desk Assistant requires multiple trainings to deliver its services effectively. He/she may require training in following areas,
How to Receive a Call?
How to keep track records of client communication?
Effective Communication skills – written and oral
If you invest only on 'How to Receive a Call?'. This is insufficient to deliver an effective performance as a Front Desk Assistant. So, invest for the complete solution, even if it requires you to pay from savings of last resort – because it helps you win businesses.
Principle 2: Just Investment is not sufficient
Not all business investments generates revenue as their immediate outcome; training is one such investment segment. This implies that, just investing in training is not sufficient, we also need an approach or process that creates domino effect and converts training investment into an equal or enhanced weightage of revenue.
For example, invest on 'Advance Skills of Programing' for newly joined Computer Science graduates. Just this act will not generate revenue. You need to create a conducive conditions to convert this investment into profit. For example, after investing, you can do the following,
Engage these resources more in programming related tasks; not even something related to Computer Science.
Put a check on all the work process these graduates are put on; make use of Operation Research Techniques to optimize resource utilization.
Plan 'Refresher Training Programs' of shorter durations at regular intervals – this helps you ensure consistent resource performance delivery.
Principle 3: Keep your L&D More Business Focussed
Not all learning has impact on business results. So, ensure your L&D team identifies what skills and knowledge required to achieve business goals – both long and short term.
Principle 4: Invest on Effective Training Model
Among other training models, online learning platforms are becoming more relevant to current business challenges and turning training investment into profits.
Following are the benefits of eLearning or Online training over other training models:
Easy to implement globally
Deliver consistent standard training
Easy to edit or update any number of time
One time investment
Easy tracking of training implementation and learner performances
Significant reduction in training management efforts
Significant reduction in training infrastructure – almost no specific tangible infrastructure except computers
Covers most of corporate training requirements
The list can be different depending upon specific business case and corresponding learning requirements.
Conclusion
Training has become a tool of doing business for profit. The amount of investment in training witnessing an upward trend globally. Ginni Rometty, CEO of IBM. She says that over the next four years, IBM will invest $1 billion in training and development in the U.S.
The question lies, how effective you invest and try to turn this investment into profit.
https://www.swiftelearningservices.com/wp-content/uploads/2022/09/Swift-eLearning-Services-logo_220.png
0
0
Abdul Wahab
https://www.swiftelearningservices.com/wp-content/uploads/2022/09/Swift-eLearning-Services-logo_220.png
Abdul Wahab
2017-04-21 12:07:07
2021-07-01 16:06:34
Turning Training Investment into Profit