Product Knowledge Training: eLearning Translation and Localization for a Distributed Sales Force of a Fortune 500 Company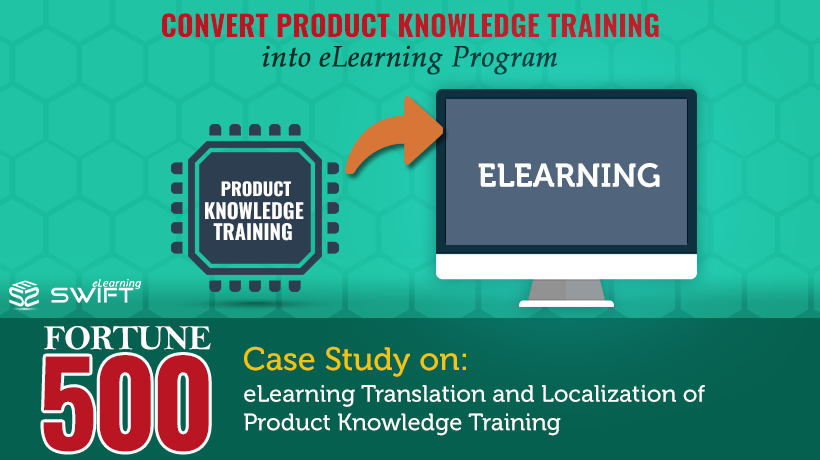 Product related educational material is transformed into online multi-lingual eLearning programs for global workforce in their native languages.
Highlights
Convert learning content from English language to widely spoken global languages – Chinese, Spanish, Turkish, Polish, German and Russian
Stringent development standards to deliver high quality elearning solutions to one of the fortune 500 company
eLearning authoring tools and compliances used – Storyline 2, SCORM 1.2, and Adobe Photoshop
Requirement Profile
One of the most valued semiconductor manufacturing company employs around 100,000 workers distributed in more than 60 countries. The company produces extensive product line in areas such as computing components, memory devices and software.
They have continuous need to educate their global sales force on every new product they develop. It helps them build knowledge-based global customer service. For each product, the concerned Subject Matter Expert develops learning materials; quite often in the form of PowerPoint presentations.
We, as an eLearning vendor, are expected to develop an English eLearning program in initial phase and then translate them into multiple languages. The company agreed to supply translations.
Proposed Solution
The above requirement can be defined in a question i.e. "What should be the most efficient developmental model to create around 100 eLearning courses in 7 different languages?"
We have come up with a comprehensive answer which is based on the following 3 guidelines:
Instructional Design Strategy should be consistent across all the courses.
Visual Design schemes should be developed considering all the 7 languages –

The size and shapes of text containers,
Graphics and images should be neutral with respect to race, ethnicity and cultural differences etc.

Development process should be shrinked to minimal number of stages – each stage should execute related jobs in parallel such as,

Storyboarding and graphic creations,
Courseware development of English version & script translations into multiple languages, and
Graphic, Content, QA etc.
As you can expect, the above model requires higher level of coordination between the teams as well as commitments. The major bottleneck was in receiving translated script on time; constant follow-up has helped us to mitigate this risk to a good extent.
Business Impact
Finally, the company successfully converted complete list of PowerPoint decks into immersive and measurable learning programs into 6 multi-lingual courses simplifying the training.
Our eLearning localization is more than just a language translation. We, at Swift, offer high-impact, cost-effective, multilingual training solutions. Our translation specialists are skilled at creating accurate and culturally specific translations of your learning content.
Contact us to discuss how we can maximize the impact of your eLearning translation and localization projects that could benefit your business.
Our Services: eLearning Development, Flash to HTML5 Migration Service, Rapid e-learning Development
https://www.swiftelearningservices.com/wp-content/uploads/2022/09/Swift-eLearning-Services-logo_220.png
0
0
Abdul Wahab
https://www.swiftelearningservices.com/wp-content/uploads/2022/09/Swift-eLearning-Services-logo_220.png
Abdul Wahab
2017-03-23 14:30:24
2021-07-12 17:56:07
Product Knowledge Training: eLearning Translation and Localization for a Distributed Sales Force of a Fortune 500 Company