Swift LMS – Learning Analytics: Training Compliance Report to Demonstrate ROI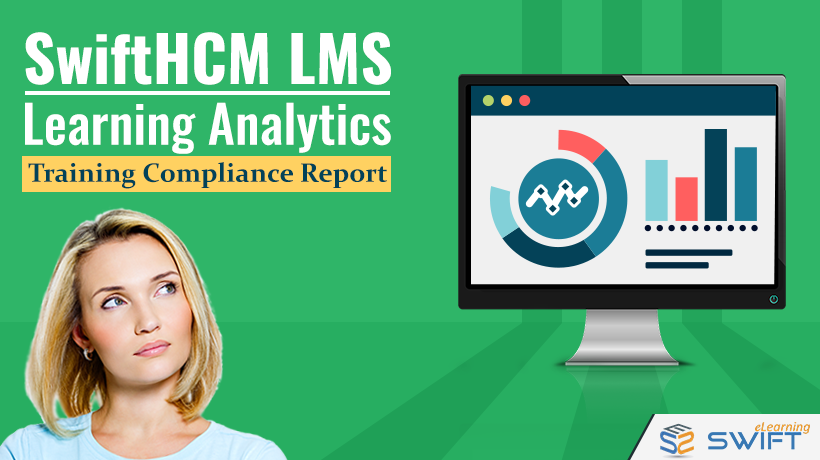 Leveraging learning analytics and big data can change the face of corporate eLearning if used well. And this is possible when the learning management system or LMS is equipped with powerful tracking and reporting capabilities. These learning analytics and reports will help a manager in assessing employees training and performance.
Swift LMS is easy-to-use cloud-based learning management system with advanced reporting features helping you get a better insight into the training data. The streamlined analytical reporting functionality produces actionable data that helps organizations to make smarter decisions while demonstrating a positive return on investment (ROI) on training initiatives. In this blog, we will explore the Training Compliance Report which is one of the key reporting features of Swift LMS.
Training Compliance Report
Want to keep a track of training compliance to know whether:
all your learners are taking the mandatory compliance courses
they are completing the courses when with-in a time frame?
Generating Training Compliance Report can help you answer such questions. Let the managers know who is compliant or not compliant with their training requirements Track the learner participation with the following learner analytics:
User name and enrolled date
Last login
Number of courses enrolled and completed
The compliance percentage is displayed
This data is quite invaluable to managers, teachers or administrators as they can view the list of completed courses and the left over or waived courses by users. It lets you gauge learner engagement and figure out why a learner is not completing the course.
Export the Report to PDF, Excel Or Word
After pulling the data, you are just one click away to export your report in the desired file format. SwiftHCM LMS training compliance report can be exported to PDF, EXCEL OR WORD formats and displayed instantly. This feature is just another example explaining the ease and flexibility of SwiftHCM LMS.
Compliance Percentage
As part of corporate training, large organizations generally host hundreds of eLearning courses and manage thousands of learners. It will be difficult for training managers to know the course enrollments and their completion rates. This report provides the percentage of completed courses against the enrolled courses of different users with the compliance percentage.
Conclusion
To conclude, Swift LMSs Training Compliance Report helps you track learner participation and progress while providing insights into actionable data that helps business take decisions and maximize eLearning ROI. Want to create your online learning environment now for free?
Click the button to get full access to our LMS.

Our Services: eLearning Company, Custom eLearning Development, Flash to HTML5 Conversion Services
https://www.swiftelearningservices.com/wp-content/uploads/2022/09/Swift-eLearning-Services-logo_220.png
0
0
Sairam Chawhan
https://www.swiftelearningservices.com/wp-content/uploads/2022/09/Swift-eLearning-Services-logo_220.png
Sairam Chawhan
2017-03-22 19:03:10
2021-07-12 17:56:09
Swift LMS – Learning Analytics: Training Compliance Report to Demonstrate ROI