Case Study: Retail Industry – Custom eLearning Solution on Process and Procedure Training for a Discount Store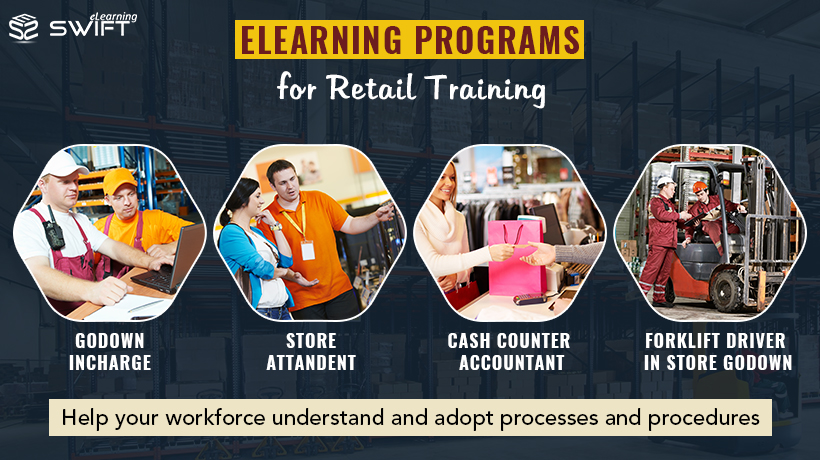 Leading global discount store chain helped their workforce understand and adopt specific processes and procedures through online learning programs.
Highlights
Development of eLearning programs for all major work areas such as Store Procedures, Machine Management, Driving Practices, etc.
Learning content simplified to address different capability workforce such as drivers, mid-level store workers, assistant store managers and technicians.
Course features – Learning Avatars, Contextual Interactions, interactive content design but without Narrations.
Requirement Profile
Discount store involves uniform operational processes performed by very large members of a retail store team. It is an everyday challenge for all the workers to execute their tasks adhering with stipulated procedures and in perfect coordination with other teams. This makes imperative for each worker to understand their role-based work processes.
To realize the seriousness of understanding these processes, please review the following two examples from discount store Warehouse Operation Management:
Operating Electric Pallet Jacks Safely: Follow the below guidelines to ensure safe movement of Electric Pallet Jacks:

Drive with the operator side leading, not the tines
Drive with tines slightly raised from the ground
Drive with one hand on steer and the other hand on Emergency Stop button
Drive with two hands on steering while entering and dropping off pallets
To receive stock using the scanner the concerned operator will need to:

Scan the product you wish to receive
Select the order number on the scanner and match it with the number on the delivery docket. If there is a discrepancy, notify your section leader.
For Shortlife products, check and enter the best before date of the product and temperature if it is a temperature controlled product
Considering these intricate guidelines, the management decided to help their employees to understand and adopt specific processes and procedures by providing effective training.
The existing training infrastructure is in the form of manuals and few check-lists as reference guides. Management decided to convert these materials into more comprehensive learning content.
Proposed Solution
The discount store was having an extensive infrastructure for eLearning including Learning Management System (LMS). The workforce is quite familiar with eLearning modules. But considering the details involved in various processes and procedures, the management was also considering to develop videos (as an alternate to eLearning) with human factor as learning leader (video based learning); it has an advantage of engaging learners with different tones of emotion and can draw learner focus on small nitty-gritties.
However, videos were not the effective option; management was struggling with few concerns associated with videos such as the higher cost, less flexibility for future edits and longer development time. To help management make an effective arrangement for their learners, we have proposed a solution which incorporates the advantages of videos as well as cost and time efficiency i.e. Custom eLearning Development Courses.
Following are the important instructional design features of the proposed solution:
Simplifying the language and content flow structure to suit different capability levels of workforce such as drivers, mid-level store workers, assistant store managers and technicians
Converting manuals into scenario based learning experience using Learning Avatars – this approach has helped us relate policies and procedures with daily work practices and improve retention.
Contextual Assessment – instead of asking learner direct questions from the content, we have decided to discuss case-studies and ask learner to select their preferred response among the given options. There won't be any correct or wrong response; based on their selection learner will be given a feedback to guide them to the appropriate or expected behaviour.
The other important feature was 'No Narration' – all the content was placed on-screen using different effective schemes such as click to reveal interactions and creative infographics etc.
Business Impact
With few initial strategical amendments, the management successfully launched the courses in more than 10000 stores in 18 countries. The courses were highly engaging that, learner can feel as if they are 'on the job'. The learning avatars, case based assessments received more appreciations from training authorities.
This is one of the eLearning case studies where we have effectively demonstrated our capabilities in converting manuals into immersive learning experience. You can reach us to discuss your case and fulfil your unique learning needs efficiently.
Our Services: eLearning Translation and Localization Services, Custom e-learning Services, eLearning Solutions Company
https://www.swiftelearningservices.com/wp-content/uploads/2022/09/Swift-eLearning-Services-logo_220.png
0
0
Abdul Wahab
https://www.swiftelearningservices.com/wp-content/uploads/2022/09/Swift-eLearning-Services-logo_220.png
Abdul Wahab
2017-04-06 18:46:14
2021-07-12 17:55:59
Case Study: Retail Industry – Custom eLearning Solution on Process and Procedure Training for a Discount Store