Articulate Storyline 3 First Look: What's New and What's Improved?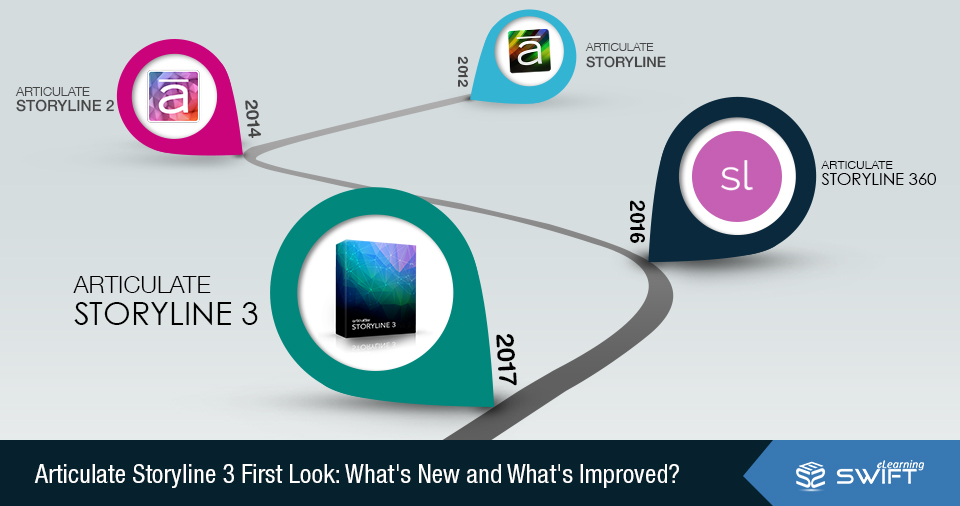 Articulate Storyline 3, the much anticipated version of Storyline 2, eLearning authoring software, has been released with new features and enhancements. Unlike Articulate 360 (Storyline 360), a cloud-based annual subscription service, Articulate Storyline 3 comes as a perpetual version – a standalone authoring tool. With the multi-device learning gaining momentum, Articulate has focused on responsive eLearning powered with enhanced interactivity bringing productivity in custom eLearning content development for training needs.
If you are looking to upgrade it from older version – Storyline 2 or purchasing it for the first time, it is worth having a look at it. In this blog, I will take you through the new and improved features of Storyline 3 to help you decide whether it's worth the upgrade.
Storyline 3 comes as an improvement to its predecessor Storyline 2 which is not a complete overhaul. The new and improved features include:
New Responsive Player
Storyline 3 has a new responsive player that adjusts the course content to various devices such as smartphone and tablet without any additional programming.
Custom Closed Captions
Storyline 3 supports customizing closed captioning while helping you create more accessible eLearning. It supports all the standard caption files. Import, export, show and hide the captions at your convenience. You can even use the custom fonts for closed captions.
Storyline 3 is compliant with WCAG and Section 508 accessibility guidelines.
More Interactive eLearning
Interactive eLearning grabs and holds learners attention. Storyline 3 with new features adds more ways to create engaging eLearning.
Superior HTML5 Output
Articulate has put a lot of efforts to fine tune the HTML5 output so that your eLearning courses work smoothly on any device. Articulate claims that no matter how custom or complex your eLearning course design gets, it's going to run on any device or browsers. Elearning Developers can now choose a format they desire and create responsive HTML5-based eLearning content. All you have to do is simply drag the 'Publish As' slider and choose the desired publishing options.
HTML5
HTML5/Flash
Flash/HTML5
Flash
Other Notable Features
Responsive Preview Toolbar
Responsive Playback Restrictions
HTML5 Gesture Support
Duplicate Multiple Layers Simultaneously
New Design Elements for Result Slides
Publish Scenes or Slides
Detect Missing Fonts
Find and Replace Fonts
Conclusion
Choosing the right elearning authoring tool for responsive mobile learning is a bit overwhelming. Storyline 3 is a simple and intuitive authoring tool with short learning curve. Though Storyline 3 addresses the concerns of multi-device eLearning, it is not very effective for developing fully responsive eLearning courses. The responsive player shrinks the content to the screen size of the device instead of adapting the layout. Articulate hasn't made an attempt to address this issue in Storyline 3.
However, it's too early to judge its capabilities. So for now let's wait and watch to see how Storyline 3 stays a head of competition.
Stay tuned to our blogs for more reviews on Storyline 3!
https://www.swiftelearningservices.com/wp-content/uploads/2022/09/Swift-eLearning-Services-logo_220.png
0
0
Santosh Borse
https://www.swiftelearningservices.com/wp-content/uploads/2022/09/Swift-eLearning-Services-logo_220.png
Santosh Borse
2017-04-20 16:40:51
2021-07-01 16:06:40
Articulate Storyline 3 First Look: What's New and What's Improved?