Elearning for All Devices – Free Articulate Rise Responsive eLearning Sample Course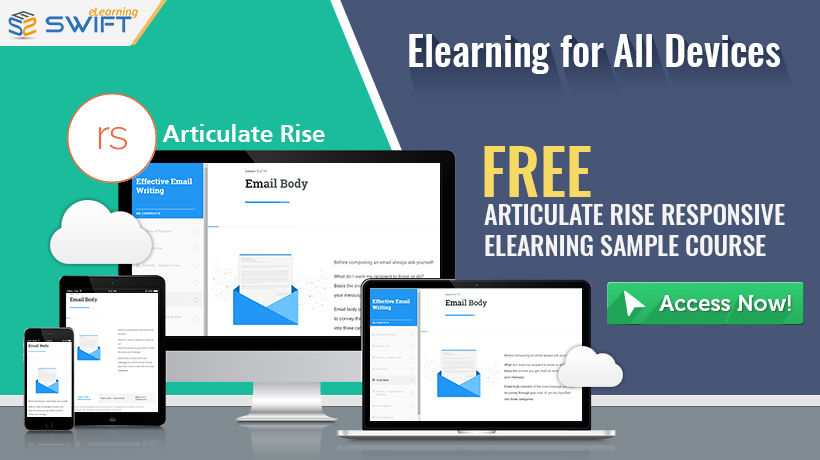 In this multi-device world, no one wants to spend hours on lengthy eLearning courses sticking to desktops. And this throws a challenge for eLearning developers to design responsive eLearning that is compatible with every device. And this is where Articulate Rise by Articulate comes into play. Wondering what Articulate Rise is capable of? Check out our Responsive eLearning course sample on "Effective Email Writing" which has been created using Articulate Rise at the end of this blog.
Now let's have a brief look at the key features of Articulate Rise for a better understanding.
Articulate Rise to Create Fully Responsive eLearning Content
Articulate Rise, part of Articulate 360 package, is the web-based authoring tool that allows you to create fully responsive eLearning courses that are multi-device compatible. As the name suggests, Rise – rises up to the challenge of designing mobile-friendly digital learning content that adapts for every device. And no coding/programming knowledge is required. It also enables you to create mobile learning Android apps.
Top Features of Articulate Rise – An Online Authoring Tool:
Pre-Built Interactive Lessons: Using this feature, you can easily add interactive multimedia elements such as audio, video, graphics, create sorting activity, build interactive quiz and so on.
Learning Blocks: These flexible learning blocks enable you to create custom lessons. All you have to do is choose the blocks, arrange them in your desired order, add content and you are done!
Mobile-Friendly eLearning Interactions: Engage your learners with mobile-friendly interactions that support swiping and tapping. These interactions can be used for activities such as timeline, process steps, labelled graphics and sorting.
LMS Options: With Rise, you can seamlessly create eLearning courses that are SCORM and AICC compliant. Rise supports SCORM 1.2, SCORM 2004 and AICC. Articulate Rise may support TinCan in the near future.
Recently Added New Features in Articulate Rise:
Knowledge Check Block: Rise now enables you to create knowledge checks at the end of each learning block (formative assessment). You can even add media to the multiple-choice questions and provide feedback to the learner.
Cover Photos: Articulate introduced "Cover Photos" feature to enhance the look and feel of your course while customizing the courses to match your organizational branding requirements. You can either search the cover image from the library or upload your own image.
Flashcard Interaction Block: Increase learner engagement through flashcard interactivity. Once the learner clicks on the flashcard, the card flips and displays the text or image. This type of flip card interaction is ideal for mobile learning courses.
To conclude, Articulate Rise, the cloud based eLearning authoring tool, simplifies the responsive eLearning development. We have created a sample course on "Effective Email Writing" for demo. Click the below button to access the course.


Our Services: eLearning Solutions Company, Convert PowerPoint to eLearning, Rapid Development Solutions
https://www.swiftelearningservices.com/wp-content/uploads/2022/09/Swift-eLearning-Services-logo_220.png
0
0
Godwin
https://www.swiftelearningservices.com/wp-content/uploads/2022/09/Swift-eLearning-Services-logo_220.png
Godwin
2017-02-02 18:39:53
2023-11-06 16:33:19
Elearning for All Devices – Free Articulate Rise Responsive eLearning Sample Course