Big data: How Elearning Can Benefit From It?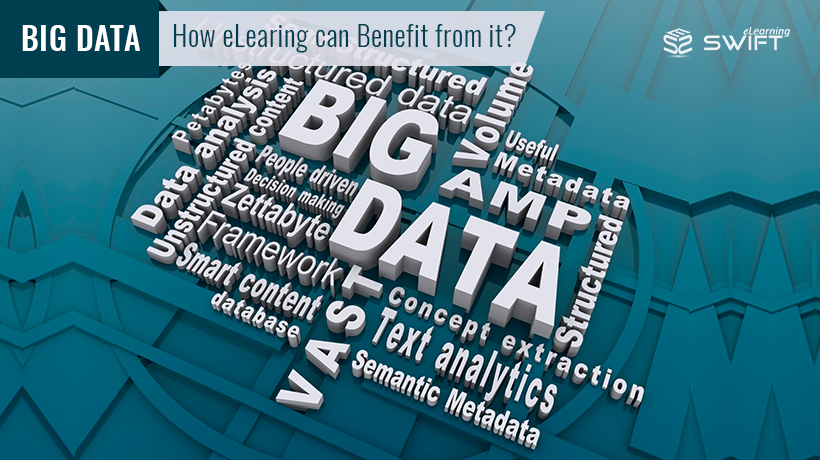 In this data-driven world, have you ever thought of capturing learner's activities while learner takes the online training course (to improve learning experience)?
Big Data in eLearning has answer for this!
Having a clear idea on big data and learning analytics can help you design more personalized eLearning courses. In this blog we will explore how eLearning or digital learning can be benefited from big data and data analytics from learning management system (LMS).
Let's First Look at What Big Data is!
To put precisely, Big Data is the huge amount of structured or unstructured data that gives insights into decision making. In the eLearning context, big data is the data generated about the learners while they are going through an eLearning module.
The data collected from learner's interaction via LMS provides valuable insight into the learner's achievements. Analyzing this data helps us create personalized eLearning tailored to meet learner preferences and organizational needs.
What Are the Benefits of Big Data in Elearning?
The big data can provide new possibilities in eLearning. Many organizations have already started experiments to explore its potential to the fullest. And the competency lies in ability to manage the big data effectively to streamline your eLearning instructional strategy.
Big Data empowers online training. Learning analytics from LMS can provide a better scope to evaluate learner's interaction with the learning content. And this in turn will help us track:
When and why the learners are struggling to complete the course – course completion rates
Their learning styles and preferences to create personalized learning experiences
Whether the eLearning program solved workforce's performance problems or not
The efficiency of online training program while measuring its cost-effectiveness
The areas of course where learners get stuck
What is being used more and what is not considered
Can Big Data Improve Elearning Industry?
Big data can certainly change the perspective of eLearning designers who might now refine the way a course or a subject could be designed. Forecasting could also be done with the help of statistical analysis which could explain" WHAT SHOULD BE PRODUCED"? And where do the drop points actually lie in the context. Big Data can help you determine course content which could also play a major part in growth and interest of the learner.
What Might be the Conclusion?
Many people were suggesting that big data might be a threat if misused to many sectors including learning and development. But its mountainous benefits could override its issues. Thus big data could make a huge impact and could be used as a long term approach for solving the problems in the eLearning landscape. However the competency lies in ability to manage this big data effectively to improve your next eLearning instructional strategy. It's time for eLearning providers and L&D managers to tap into big data to and improve the digital learning content.
Click the below button to gain access to our free responsive eLearning course.


Our Services: Flash to HTML5 Migration, eLearning Content Development, eLearning Service Provider
https://www.swiftelearningservices.com/wp-content/uploads/2022/09/Swift-eLearning-Services-logo_220.png
0
0
Santosh Borse
https://www.swiftelearningservices.com/wp-content/uploads/2022/09/Swift-eLearning-Services-logo_220.png
Santosh Borse
2017-02-01 18:54:18
2022-01-06 18:19:53
Big data: How Elearning Can Benefit From It?