Top Instructional Design Trends for 2017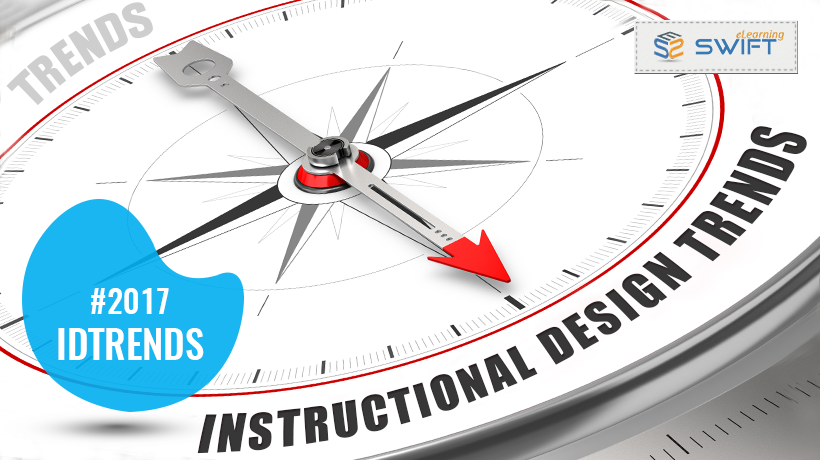 2016 was an amazing year for Instructional Designers with respect to the innovations, adaptability and change we have witnessed in different aspects of eLearning course design. This is a result of continuous process of evaluation of existing approaches, standards and styles.
Following are the three major drivers of trends in Instructional Design:
Performance expectations in the workplace – performance expectations are ultra-oriented towards results, behaviours and actions you choose to perform your job
Availability of innovative Rapid authoring tools to create digital learning content – Articulate Storyline 360, Elucidat, Lectora 17 Inspire etc.
Learner's suitable or preferred manner of learning with respect to mobile or smart course delivery platforms (e.g. mobile learning), learning readiness – attention span to receive learning (microlearning) and of course individual learning styles
An Instructional Designer's job is to design instructional strategy to fulfil the above learning needs.
In the previous blog, we have discussed #top eLearning trends of 2017 in reference to learning technologies. In this blog, we will discuss the three key instructional design trends for 2017.
Gamification
#gamification is one of the most discussed trends in the eLearning industry.
Gamfication helps us develop interactive and immersive learning experience.
Gamification Definition: The use of game elements and game design techniques in non-game context.
Here, the non-game context is the learning content and following are a few game elements and game design techniques:
| | |
| --- | --- |
| Game Elements | Game Design Techniques/Mechanics |
| Points | Puzzle guessing |
| Badges | Piece elimination |
| Leader Boards | Structure building |
| Timer | Dice |
| Avatar selection or customization | Race |
| Interactive conversations | Bidding |
Instructional Design Approach:
Gamification is about incorporating game elements and game design techniques in learning content to drive learner's utmost interest and engagement.
Gamification is not turning complete learning schema into a game. Game elements and techniques has intrinsic motivation factor; these becomes drivers and carriers in learning process. Gamification is a gaming environment which challenges learner to learn and apply its learning to win the game.
Example:
Here is the case study on gamified learning assessment.

Microlearning
#microlearning is comparatively older concept than the Gamification, but it has popped-up to cater new learning challenges.
The general perception among educationists and scientists is that human attention span is decreasing. If we compare the average attention span from pre-digital era to present era of internet, we can easily recognize the duration of the time we pay attention towards one concept. Microlearning addresses this quick distractive nature of human attention effectively.
Moreover, microlearning meets just-in time performance-based learning requirement at the moment of need. It is the right fit or mobile learning strategy.
Instructional Design Approach:
Divide larger courses having multiple learning objectives to achieve a single objective course nugget – one objective one module with appropriate assessment and retention strategies.
Example:
Health and Safety at Workplace eLearning course is a very large concept which includes around 40 topics. We have divided it into several micro modules or learning nuggets. Cardiopulmonary resuscitation (CPR) is one such nugget. This learning nugget provides just-in-time information with fewer efforts and can be delivered any-time any-where using mobile platforms.

Contextualized eLearning
Contextual learning is a constructivist approach towards learning.
Following are the principles of contextual learning:
Learning is to solve real-life problems – problem solving
Learning should be built on the learner's prior knowledge
Learning material should be relevant to the future challenges
Instructional Design Approach:
Your content may have only elements of learning such as facts, concepts, process etc. Try to build a relevant context similar to an environment where learner will be applying his/her learning. Integrate content into the context and present as one unit.
Example:
A course on Anti-bribery and Corruption has been designed for corporate workforce. This course challenges learner to put him/herself into the context and respond in accordance to their learning.

Hope these predictions would help you devise the appropriate learning and development strategy in your organization for 2017. Watch out this space for future developments and trends in instructional designing.
Our Services: Custom eLearning Solutions, eLearning Translation Services, Flash to HTML5 Conversion
https://www.swiftelearningservices.com/wp-content/uploads/2022/09/Swift-eLearning-Services-logo_220.png
0
0
Abdul Wahab
https://www.swiftelearningservices.com/wp-content/uploads/2022/09/Swift-eLearning-Services-logo_220.png
Abdul Wahab
2017-01-31 11:22:08
2023-11-10 11:31:17
Top Instructional Design Trends for 2017