What is the Rationale of using eLearning in Business Application Training?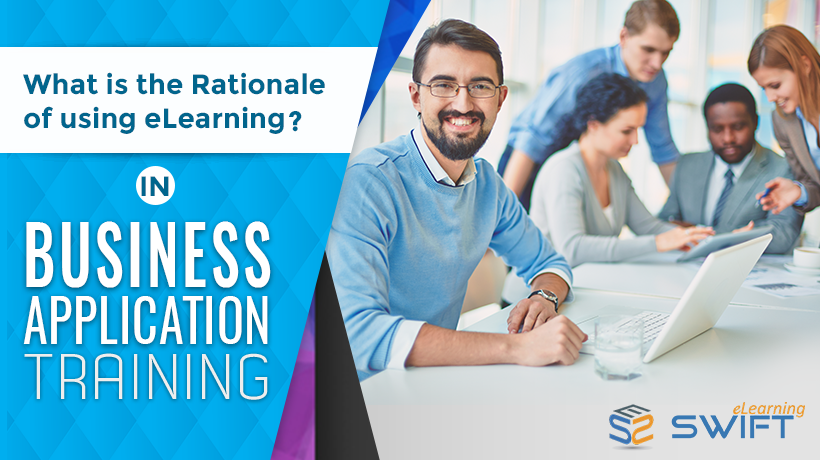 Business Application Training is one of the very important corporate training programs in organizations. It helps organizations to improve their business efficiency by enhancing individual workforce skills.
Business Application Training is a wider concept which includes every learning need that has influence on organizational brand and future business prospects. In this blog, I will be covering three learning needs which are common for broader spectrum of industries. We will also discuss rationale of corresponding preferred learning solutions.
Decision Making
Decision making capability is one of the most important capability of an individual as well as an organization. How wise or un-wise decisions you make today will have decisive effects on your future endeavors. Fortunately, decision making is a learnable skill. Decision making training is a combination of subject matter and past experiences.
Preferred Learning Solution: An eLearning course on 'Effective Decision Making'
Rationale: Why eLearning compared to traditional 'Instructor-Led Training' (ILT) program?
One of the major rationales is – an Instructor-led Trainer program includes 'human' element which is highly susceptible in omitting or changing the approved interpretation of the past case-studies.  So, among the other available modes, eLearning would be the most dependable platform for institutions like corporates and academics in delivering consistent accuracy and quality of predefined or well decided trainings. As decision making requires contemplation and peer collaboration to interpret appropriate conclusions on case-studies; I would suggest Micro Learning form of eLearning which delivers learning in comprehensible learning nuggets probably through online via Learning Management System (LMS).
Business Correspondence
Business Correspondence in other words is the communication with your customers and other business stakeholders via exchange of letters. It is a critical element in maintaining relationships and goodwill with your customers and suppliers. It is cost-effective mode as well as convenient.
Preferred Learning Solution: Flipped Classroom model blended with eLearning
Rationale: Why Flipped Classroom should blended with eLearning, why not standalone ILT or classroom session?
Effective Business Correspondence is a soft-skill training which requires discussions between trainer and a trainee to understand fine areas of written communication. Prior to these advance sessions, learner can go through the basics of Business Correspondence using effective custom eLearning courseware. This will save trainers cost on basic concepts. Later, learner can have face-to-face session for advance concepts. This forms a Flipped Classroom model blended with eLearning. The nitty-gritties of Business Correspondence needs time to come into practice – the learning content must be available for reference at the time of need (any-where any-time). So, mobile learning form of eLearning is preferred.
Note: To reduce cost, basics as well as advanced courses can be created using eLearning mode. One-time investment on SME will suffice to incorporate all learning needs in the course.
Application Software Training
Application Software Training is one of the largest training segments in organizations. It helps organizations improve work efficiency as well as business prospects.
Following are the three major areas of software training programs:
Compulsory skills enhancement programs at regular intervals
Project based technology training programs
Software training for certifications – this helps organizations showcase their resources to new business prospects
Preferred Learning Solution:  Simulation based Application Software eLearning program
Rationale: Ceteris Paribus, simulation-based training is considered as the best instructional technique for application software training such as Microsoft Office, ERP, HCM or LMS etc.
Application software simulation training is designed based on the constructivist's approach. Here the learner will be presented with simulated version of real operations – this is a perfect example of 'What You Learn is What You Do' WYLWYD.
Simulation based eLeanring programs creates best learning opportunities using 'Watch', 'Try' and 'Do' approach.
Examples to check-out:

Conclusion:
The one-time investment in eLearning for Business Application Training can definitely be a strategic move to ensure business continuity and improve business competitive advantage.
Our Services: Rapid e-learning Development, eLearning Development, Flash to HTML5 Migration Service
https://www.swiftelearningservices.com/wp-content/uploads/2022/09/Swift-eLearning-Services-logo_220.png
0
0
Abdul Wahab
https://www.swiftelearningservices.com/wp-content/uploads/2022/09/Swift-eLearning-Services-logo_220.png
Abdul Wahab
2017-02-06 17:44:52
2022-07-15 16:20:00
What is the Rationale of using eLearning in Business Application Training?