Section 508 and WCAG – Compliances to Increase Accessibility in Elearning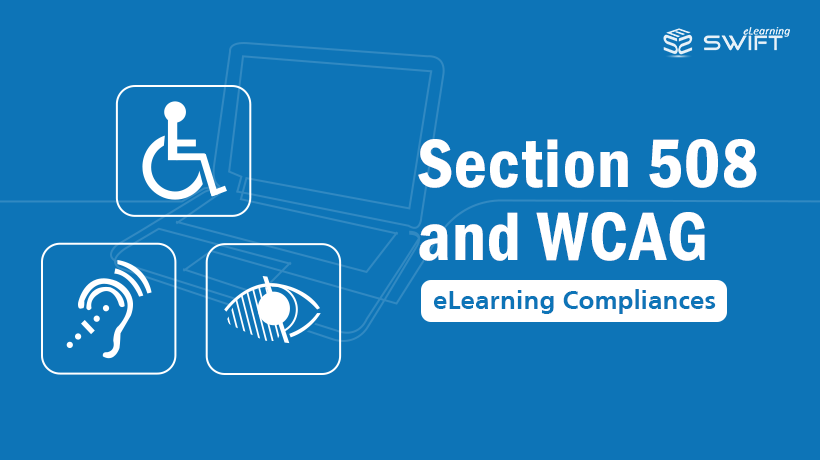 Have you ever imagined how a person with disability would access your eLearning course? May be you haven't given a thought of designing eLearning in that perspective. But eLearning accessibility has been the industry hot topic now. And an eLearning course should be designed such that it works for everyone across the organization so that no one misses the training opportunities. In this blog, we will discuss the eLearning course accessibility challenges and corresponding compliances – Section 508 and WCAG (Web Content Accessibility Guidelines).
According to UNESCO, "Education is a fundamental human right and essential for the exercise of all other human rights."
eLearning courses are not completely accessible to hearing or visually impaired learners – they miss-out some or major portion of the course content. And brings the need to create eLearning courses for differently abled learners. So as a learning designer we should know the challenges that Differently Abled Learners face while accessing the content.
Elearning Course Accessibility Challenges For Differently Abled Learners
A non-compliant course will pose following challenges for differently abled learners:
Visually impaired students can't identify graphic elements present on the screen
It is difficult for a color blind learner to recognize differences in colors
Cognitive impaired learners find it difficult to comprehend the logical branching of course topics
Hearing impaired learner may completely miss-out the course narration or sound signals
Section 508 and WCAG Compliances to Increase Accessibility in eLearning
In particular to US residents, the Rehabilitation Act of 1973 and for global learners, the World Wide Web Consortium (W3C) has developed accessibility norms for differently abled.
Section 508 and WCAG compliances in corporate eLearning development follow learner-centered approach to ensure your course is accessible to all.
What is 508 Compliance?
Section 508 is a law from Rehabilitation Act of 1973 that states U.S. Federal agencies to develop their electronic and information technology accessible to people with disabilities.
What is WCAG Compliance?
WCAG is an international standard by World Wide Web Consortium (W3C) that suggests guidelines for making web content more accessible to people with disabilities.
Note: Section 508 is a law in US, but WCAG is a recommendation for global learners.
Design considerations to follow while developing Section 508 or WCAG compliant courses:
No information should be conveyed using colors or variations in colors
Have fewer variations in slide layouts
Maintain consistency in structure, content, and other elements
Provide transcript for course general narration, videos and animations
Provide alternative text (alt text) for every non-text elements such as images, graphs, interactions
Provide brief descriptions about the links that take learner outside of the course such as internet / intranet
Do not have automatic navigations
Allow learner to access the complete course using short-cut keys in parallel with mouse interactions
Conclusion
As Instructional Designers, we must not only consider the special needs of differently abled learners but be equipped with required expertise to develop an accessibility-compliant eLearning course that meets Section 508 and WCAG standards.
We will come-up with more on Section 508 and WCAG accessibility compliances in our next blog post. So stay tuned.
Our Services: PPT to eLearning, eLearning Provider, Flash to HTML5 Migration Service Provider
https://www.swiftelearningservices.com/wp-content/uploads/2022/09/Swift-eLearning-Services-logo_220.png
0
0
Abdul Wahab
https://www.swiftelearningservices.com/wp-content/uploads/2022/09/Swift-eLearning-Services-logo_220.png
Abdul Wahab
2017-02-07 18:57:21
2021-07-12 16:04:55
Section 508 and WCAG – Compliances to Increase Accessibility in Elearning