Benefits of using eLearning Templates for Rapid eLearning Development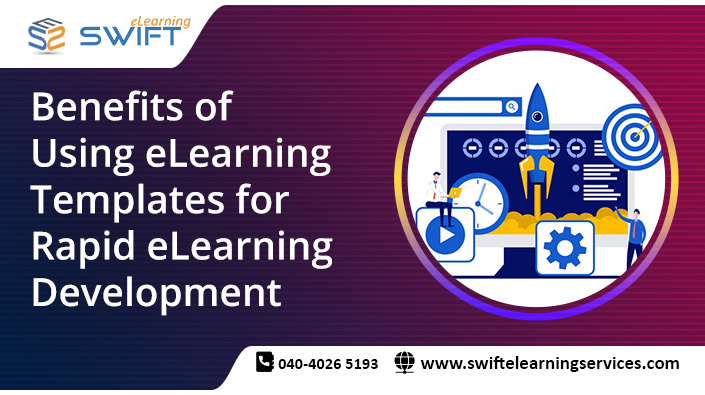 eLearning development is a time-consuming process. Numerous organizations rely on eLearning templates to expedite the online training process and cut costs. Therefore, using eLearning templates greatly improves your productivity and enhances the overall quality of your eLearning courses in lesser time.
Also, eLearning templates allow to create professional-looking, visually appealing, and highly interactive courses to grab learner's attention.
Here are some of the notable benefits of using rapid eLearning templates for your online training course.
1. Speed Up Development Process
One of the significant benefit of using rapid eLearning templates is to reduce development time. ELearning templates allow organizations to produce courses in a small fraction of time without much development process.
So, by using eLearning Template, you don't need to spend a lot of time and effort to develop assessments, interactivities, infographics, designs, etc. as everything is inbuilt. This maximizes return on investment and helps to achieve greater and better results.
2. eLearning Templates Increase Flexibility
Rapid eLearning templates gives the flexibility to choose from a diverse set of preconfigured interactions to keep up with the compliance and evolving learner needs. This also fulfils instructional requirements as well as client needs. Also, they allow quick updates and revisions to eLearning course designs without time wastage.
3. Increased Learner Engagement
Learner engagement is the most important aspect of corporate training. That's because learning is an activity, not a passive process. The lack of engagement affects not only the effectiveness of your training program but also the knowledge retention and productivity of your learners.
Therefore, learner engagement and participation is ideal to enhance eLearning experiences. Pre-defined elearning templates provides the developers a wide range of ideas for visuals and interactivities which can promote active learning for the learner.
4. Ensure Consistency
Uniformity or Consistency is a vital part of any eLearning course that helps learners to navigate within it. ELearning templates increase consistency regarding the look and feel of your eLearning course by providing standardized pre-defined colours, fonts, sizes, and layout, all of which result in a high-quality eLearning course.
Also, customized templates improve learners' productivity by ensuring consistent course quality without any compatibility issues.

By the above-given points, it is clear that using ready-made or customizable eLearning templates greatly improves your productivity and enhances the overall quality of your eLearning courses. Without any doubt, eLearning templates are quite useful for all eLearning professionals, as they consist the quickest, the safest, and perhaps, the most effective resources to develop high-quality eLearning courses.
4. Apart from the above benefits, eLearning templates also help in
Delivering a bug-free training

Reduce development costs

Ease of usage

Effective use of company resources

Our Services: Rapid eLearning Development, Custom eLearning Development, Convert PowerPoint to eLearning, Flash to HTML5 Conversion Services, Learning Management System, Translation and Localization
https://www.swiftelearningservices.com/wp-content/uploads/2021/06/Benefits-of-using-eLearning-Templates-for-Rapid-eLearning-development.jpg
395
705
Swift Elearning Services
https://www.swiftelearningservices.com/wp-content/uploads/2022/09/Swift-eLearning-Services-logo_220.png
Swift Elearning Services
2021-06-14 17:05:46
2022-01-05 15:11:32
Benefits of using eLearning Templates for Rapid eLearning Development