Tips To Design User Interface (GUI) For Elearning Courseware Development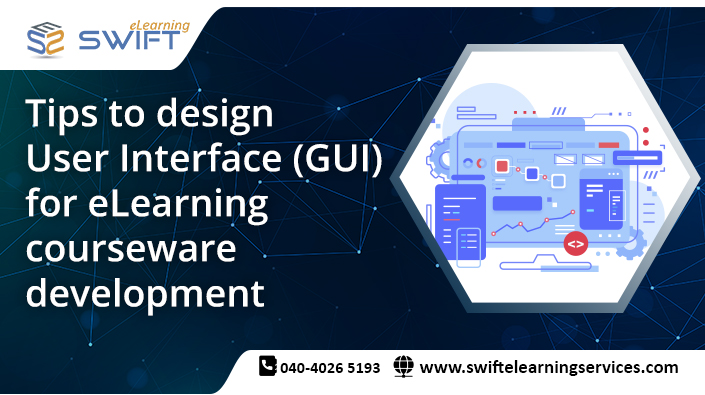 In this blog, we are going to discuss about the use of visual elements for designing eLearning courses, that is, Graphic User Interface (GUI)/ User Interface (UI) for an eLearning courseware development.
Human beings are visual in nature, we respond to visual data more than any other form of data. The human brain processes visual/images 60,000 times quicker than text, and 90 percent of information transferred to the brain is visual.
Did you know, experts trust that the information is 6 times more likely to be stored in brain when presented visually.
So, we can utilize this natural skill in eLearning development process to enhance eLearning design. It makes learning/collaboration easier, that impact organizational performance. Visually rich design keeps the learner's eyes occupied, and the brain will be alert and active to consume information.
Many people think of visual communication is for only look and feel or graphic design of your eLearning course – for example; the images, icons, colors, font, font sizes, object placement, and functionality, etc. certainly, this is important, but it is furthermore than that. If you are creating a design for eLearning course, you need to be thinking about how your Graphic User Interface (GUI)/User Interface (UI) supports the whole eLearning User Experience (UX) — One of the famous book ("Don't Make Me Think – A Common Sense Approach to Web Usability" – by Steve Krug.) gives detail explanation about web usability for web product developers and designers.
Below are the tips for eLearning content development to improve eLearning GUI/UI/UX through better visual communication.
Navigation
Layout
Instruction
Reuse elements
Navigation:
The important principle of great GUI/UI/UX course design is consistency. For example, navigation buttons — like Menu, Note/Transcript, Closed caption, Resource/Reference, Help, Exit, Audio, Play/Pause, Submit, Next and Previous — should always look the same in color, size, position and be in the same spot.
Layout:
Smart layout choices can make learners' brain easy to absorb information – respecting learners' time and avoiding frustration. Now, take a look at some standards to keep in mind while you are designing your course.
Screen presentation: Always try to use the Golden Ratio Design Principle for your slide/page layouts. Provide balanced white space effectively on screen, will making the learner absorb the information quickly.
Text: Use 2 – 3 fonts maximum — For Title/Heading, Body text and buttons. Make sure fonts are legible and avoid fancy or hard-to-read fonts with high contrast colors.
Alignment: Alignment is a design principle that refers lining up visual elements on a page. Slide/page with poor alignment will look cluttered and unfinished. Aligning elements (Title/heading, Body Text, what next instruction etc.) on the slide/page will organize your layout design and make it easier to read.
Other elements: Make sure image, icon, and background graphic, etc. should be meaningful and related to the subject. Use icons that are clearly recognizable.
Button: Set standards for buttons while designing your course. For example, Shape, size, colors, fonts, shadow, normal and hover states, etc. Make sure button design should grab the learner eyes.
Instruction:
Always include on screen instruction whenever learner action necessary. This is the easy way; you can ensure your learners to know what to do next.
Reuse elements:
This is another important principle of GUI/UI/UX design. Create a consistent visual strategy by creating recognizable and reusable elements style. For example, buttons, icons, colors, etc.

Our Services: Translation and Localization, Rapid eLearning Development, Custom eLearning Development, Convert PowerPoint to eLearning, Flash to HTML5 Conversion Services, Learning Management System
https://www.swiftelearningservices.com/wp-content/uploads/2021/06/Tips-to-design-User-Interface-GUI-for-eLearning-courseware-development.jpg
395
705
Swift Elearning Services
https://www.swiftelearningservices.com/wp-content/uploads/2022/09/Swift-eLearning-Services-logo_220.png
Swift Elearning Services
2021-06-11 17:29:50
2022-01-05 15:12:35
Tips To Design User Interface (GUI) For Elearning Courseware Development