Why Elucidat is the Simplest Cloud-Based eLearning Authoring Tool?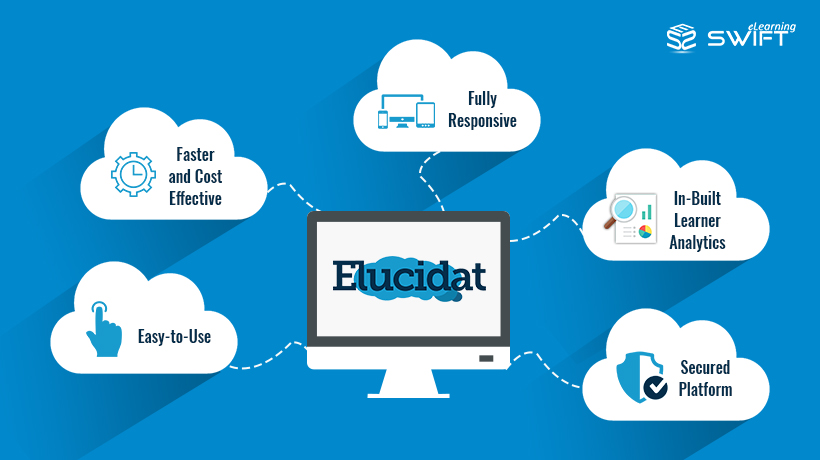 Elucidat, the cloud-based eLearning authoring tool, simplifies rapid eLearning development while delivering HTML5 multi-device / responsive eLearning courses. In this blog, we will see what makes Elucidat the simplest cloud-based eLearning authoring tool for developing online training.
Emerging learning technologies are changing the way we create and deliver digital learning to improve workplace training. Modern eLearning authoring tools are designed to deliver multi-device learning which is the need of the hour. Most of the eLearning providers or vendors rely on rapid eLearning authoring tools with in-built cloud publishing to accelerate the eLearning development. And Elucidat is one such online authoring tool that can help even a non-technical user to design and deliver high quality HTML5 based responsive eLearning.
1. It is ridiculously easy-to-use
Yes, this rapid eLearning authoring tool is very easy to use with simple learning curve compared to other tools.
No coding knowledge or special training on tool is required
Simple and intuitive user interface to create engaging eLearning content – Thanks to Layout Designer
Updating courses is effortless – With Rapid Release feature, Elucidat enables you to make change and update to course at one go
2. Deliver eLearning 50% faster
Elucidat eliminates unwanted steps in the eLearning development so that you can deliver quality eLearning in less time.
Save over 50% in production time while reducing eLearning development costs
Spend less time collating feedback and spend more time on authoring eLearning – with the in-built online collaborative authoring feature
Elucidat's fully editable pre-built templates, Master courses and interactions help eLearning developers to author eLearning content quickly and easily with custom branding guidelines
3. Create fully responsive eLearning courses
With Elucidat, you can author once and publish the eLearning content to various devices. The responsive slider helps you create seamless multi-device interactive eLearning courses while delighting learners with great control over 'look and feel'.
4. Advanced analytics
Analytics in online training can be critical as it enables you to track learner progress and performance. The in-built learner analytics eliminate the need of traditional LMS by closely tracking learner progress and helps you improve course effectiveness.
5. Security
Security and privacy becomes the concern when it comes to cloud-based authoring. Elucidat is as secure as any other market-leading LMS providers and ensures your data remains safe.
Access control: Multi-factor authentication options
User and Data Access control security
Network security is subject to high-level SSL
Data backup in multiple locations
Encryption: Encryption of sensitive data at rest
Verdict:
With the ease of use and the flexibility it offers, Elucidat can be the simplest cloud-based eLearning authoring tool when compared to other eLearning authoring tools. At the same time, it is also secured, fully responsive to meet modern learning requirements.
We have created a sample course using Elucidat on Responsible Service of Alcohol (RSA). Please click the button  to access the course.

Our Services: Flash to HTML5 Migration, eLearning Content Development, eLearning Service Provider
https://www.swiftelearningservices.com/wp-content/uploads/2022/09/Swift-eLearning-Services-logo_220.png
0
0
Santosh Borse
https://www.swiftelearningservices.com/wp-content/uploads/2022/09/Swift-eLearning-Services-logo_220.png
Santosh Borse
2017-02-21 18:03:08
2022-08-18 19:56:26
Why Elucidat is the Simplest Cloud-Based eLearning Authoring Tool?