Tips For Creating Engaging Micro-learning Courses To Enhance Learning Experience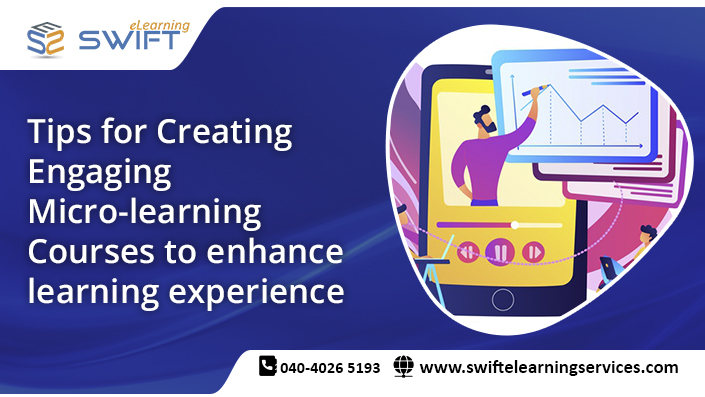 When the training is too hard to digest and gives your learners a heartburn, a bite-sized approach is an adept solution to make learning engaging and fun-based. This is where micro-learning comes into the picture.
Micro-learning is one of the most efficient content delivery methods that many organizations include in employee training programs. It can be incorporated into any type of training, traditional or otherwise, and have the power of engaging e-learners and keeping them focused on the subject.
Micro-learning holds a great deal of effective elearning solutions in today's fast paced corporate training world to provide learner-centric information in a short span of time.
To create effective, small, relevant, and digestible courses, information must be provided in an engaging package that closes immediate knowledge gaps.
Here are some effective tips for creating engaging micro-learning courses that will enhance learning experience and boost productivity.
Know Your Audience.

Make sure to understand your target audience, their capabilities, their current level of skills and the knowledge gaps that need to be plugged. It is one of the important steps to drive learner engagement conveniently and effectively.

Keep it simple and use 'Real World' examples.

Use scenarios, real world examples, and experiences in your storyboards. Learners will be able to relate with those examples and be motivated by them. As a result, knowledge retention will be quicker. Also, keep courses short and simple, as microlearning videos are meant to deliver concise, concrete, and highly useful bits of information that can help increase employee performance.

Correlate Audio.

Effective micro-learning modules should always have a professional human voice with correlated videos. Since the idea is to keep it clear, simple and focused to enhance learner engagement, it is worth streamlining your content for audio-visual excellence.

Use Videos, Info-graphics, and demos.

Incorporating different multimedia elements like videos, info-graphics, and demos is an effective way of ensuring knowledge retention and creating impactful micro-learning. These types of visuals create strong impression on learner's mind and give learners the opportunity to actively take part in the learning process. In addition, simulations, interactivities, games, etc., give the learners the scope to practice their attained knowledge and retain information.
Micro-learning is indeed the future of learning. It is an effective tool for employee training that aims at delivering on-demand, just-in-time, and useful bite-sized information for your learners. However, it is a complementary part of blended learning program that need to be focused, and can be absorbed on the go, at any point of time, on any device.

Our Services: Translation and Localization Services, Custom eLearning Solutions, Convert Flash to HTML5 Services
https://www.swiftelearningservices.com/wp-content/uploads/2022/09/Swift-eLearning-Services-logo_220.png
0
0
Swift Elearning Services
https://www.swiftelearningservices.com/wp-content/uploads/2022/09/Swift-eLearning-Services-logo_220.png
Swift Elearning Services
2021-06-10 19:22:19
2022-01-05 15:32:50
Tips For Creating Engaging Micro-learning Courses To Enhance Learning Experience