5 eLearning Interactions to Hook Your Learner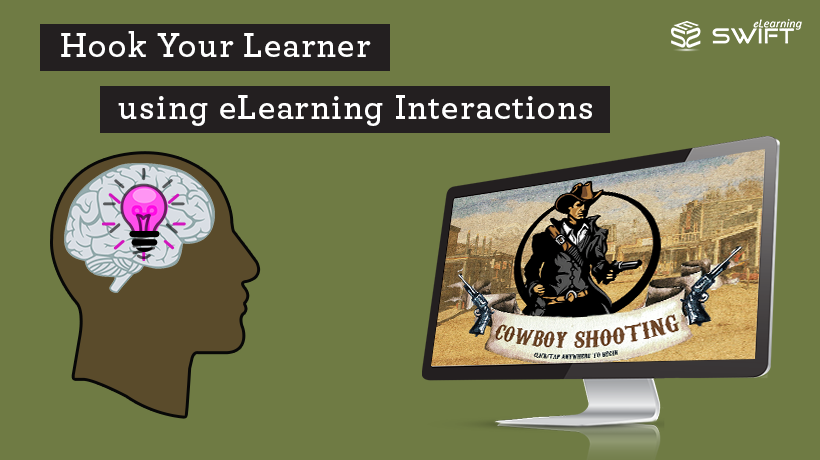 eLearning is a technology platform which enables you to unleash creativity and develop impactful learning experiences. One of the best strategies to enhance learning effectiveness is to keep your learner engaged with the course content. And this can be achieved via meaningful eLearning interactions that hook your learners and facilitate an active learning in self-paced eLearning courses.
Let's discuss 5 eLearning interactions and the corresponding engaging utility.
1. Cowboy Shooting – Gamified eLearning Assessment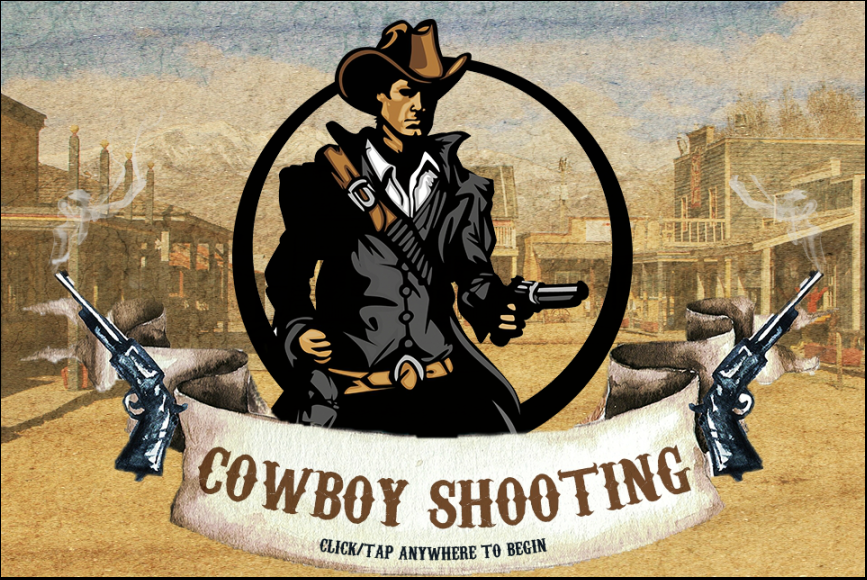 Assessments are generally least appealing slides in a course. Dull slide design and the mundane assessment feedback are the major factors of learner discomfort.  The Cowboy Shooting is created to address both the downsides.
Cowboy Shooting is one of the best examples of gamified elearning assessment (time-based). Following are the salient features of the interaction:
Challenge:
Solve all the questions by selecting correct answers within the predefined time. Successful completion will win you the title 'Sheriff'.
Mechanism:
The game is divided into three levels. Each level will have question sets.
Learner will not be allowed to progress to next level until he/she doesn't answer or clear all the questions of current level.
Rules:
You will presented with bottle/bottles and a handgun.
You are prompted to aim the bottle by mouse selection. Upon selection of bottle/bottles, questions will be displayed with multiple options.
If you correctly answer the question, the handgun will fire automatically breaking the bottle.
If you fail to select the correct answer or select the answer in specified time, the handgun will fire automatically but doesn't break the bottle.
You have to solve number of questions equal to the number of bottles presented in each level.
2. Employee Details – An Interaction to Explore the Specific Information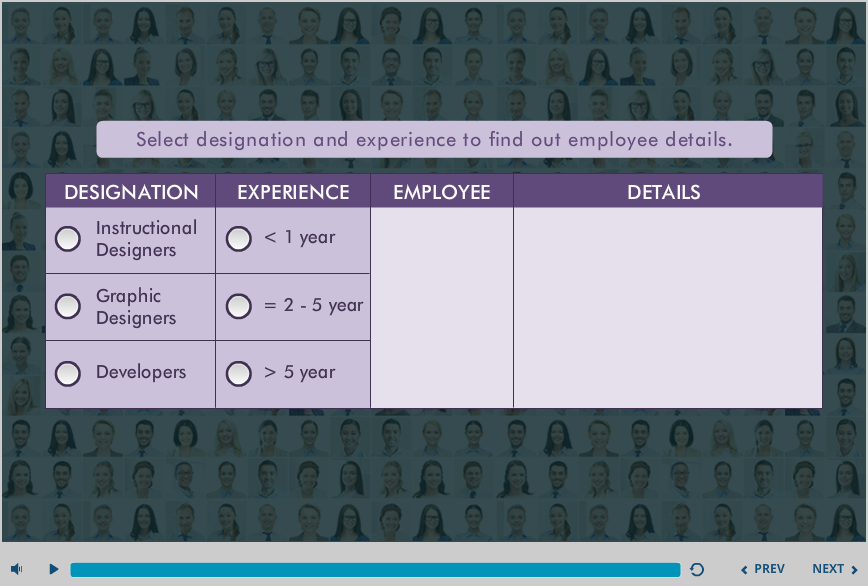 It's a branching type of activity where learner can make choices at three levels. Based on his/her selection path, the specific information will be provided.
As a sample an interface is created for HR to find-out specific employee details.
This interaction is suitable for following types of case scenarios:
If the content is of hierarchical structure
If learner is required to study the variations with the change of different inputs
3. Musical Instruments – Memory Enhancement Activity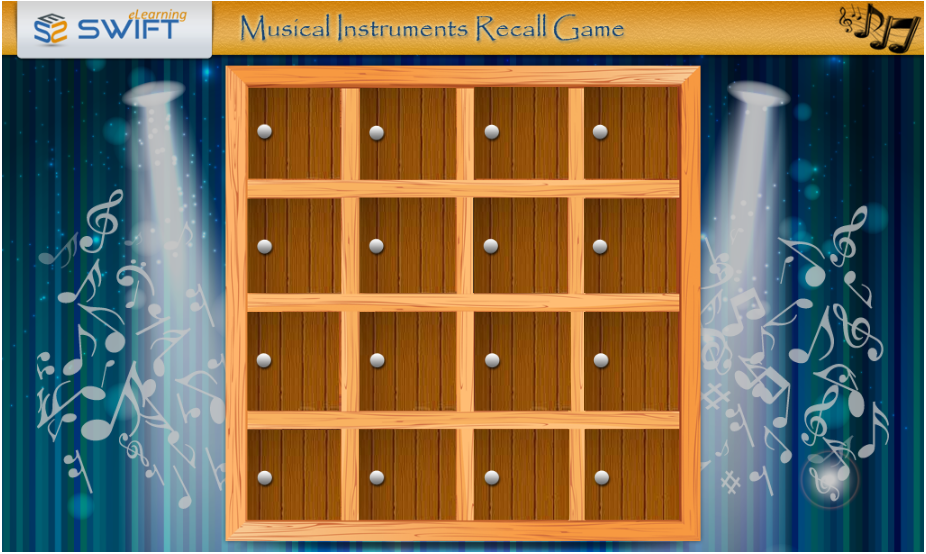 8 pairs of instruments are used to enhance your short-term visual memory.
This interaction comprises a wooden rack of 16 shelves with clickable doors to open. As and when learner clicks on the door to open, an instrument will be shown.
Challenge:
Complete the game in shortest possible time by selecting the shelves containing the same instruments.
Mechanism:
In each instance of encountering an instrument first time, learner needs to remember the instruments and the corresponding shelf. At second instance of encountering the same instrument, leaner needs to recall and identify the shelf of first instance.
There is no limit on number of wrong attempts.
4. Slide Interaction – Helps You Learn in Certain Sequence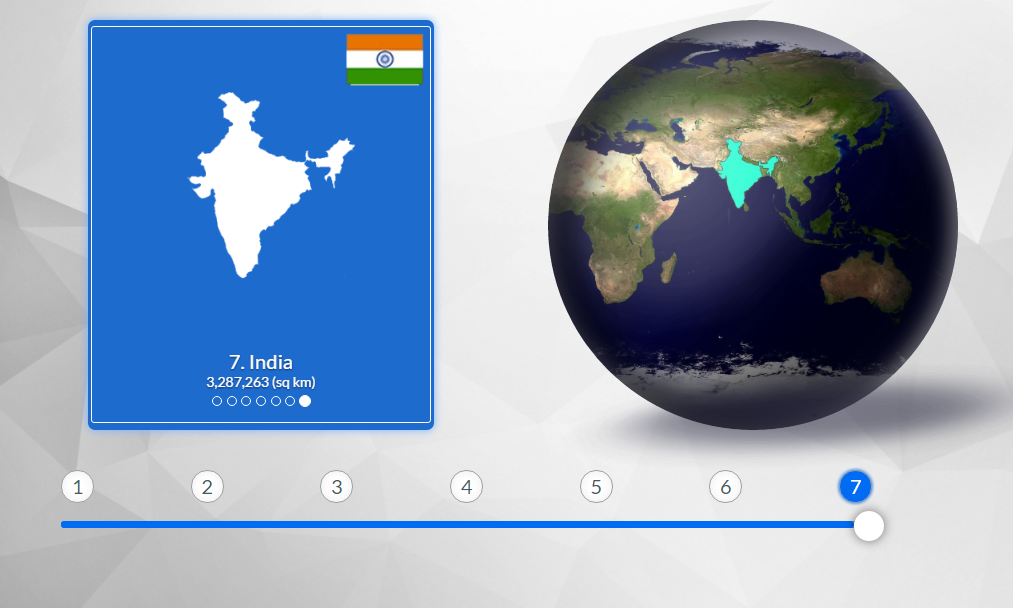 A slider interaction that enables you learn in specified sequence. You are required to drag the pointer on each stage and find content displayed at dedicated place. You can display textual as well as visual content.
As a sample, an interaction to explore important information about 7 different countries has been created.
5. Grammar Check – Text Entry Interaction to Drive Learner Engagement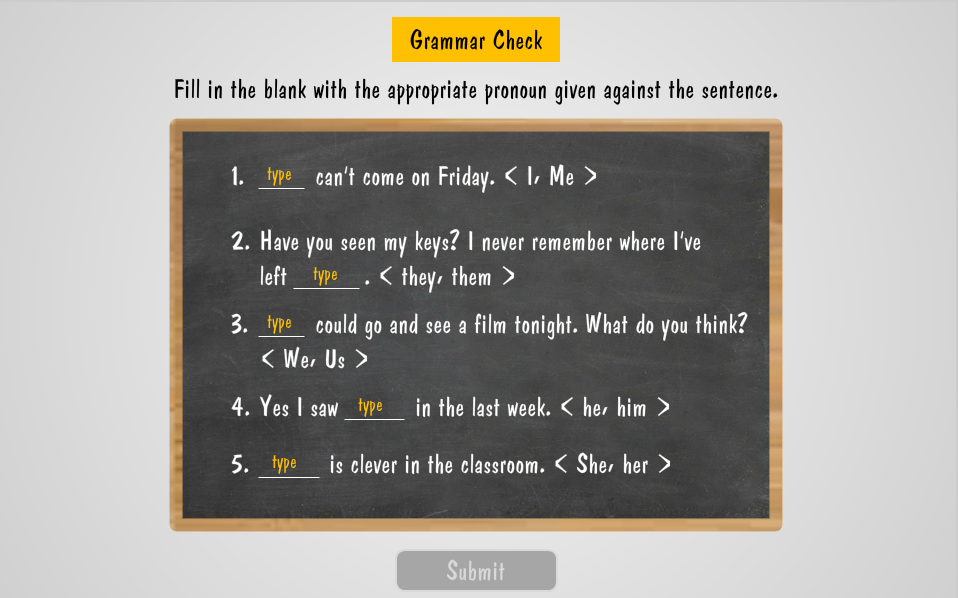 A text entry interaction that enables learner to type words of their choice. Learners will be provided options to choose. This will not be a click and go activity; it will drive learner's higher level of attention. To choose the correct option, learner needs to read the sentence or statement and manually type the preferred option into the corresponding blank.
Bottom Line
eLearning provides a platform to create engaging activities that drives learner's utmost interest and help him/her measure capabilities in fun way. Be it any kind of eLearning format – Custom eLearning, Rapid eLearning, Mobile Learning or Microlearning, eLearning interactions always do matter in eLearning. Because they provided a medium to interact with the learning content rather just looking at it.
Our Services: eLearning Vendor, Convert PowerPoint to eLearning, eLearning Translation Services
https://www.swiftelearningservices.com/wp-content/uploads/2022/09/Swift-eLearning-Services-logo_220.png
0
0
Abdul Wahab
https://www.swiftelearningservices.com/wp-content/uploads/2022/09/Swift-eLearning-Services-logo_220.png
Abdul Wahab
2017-02-17 18:00:59
2022-03-15 16:33:03
5 eLearning Interactions to Hook Your Learner