Converting Legacy eLearning courses to Articulate Rise – Read Before You Do It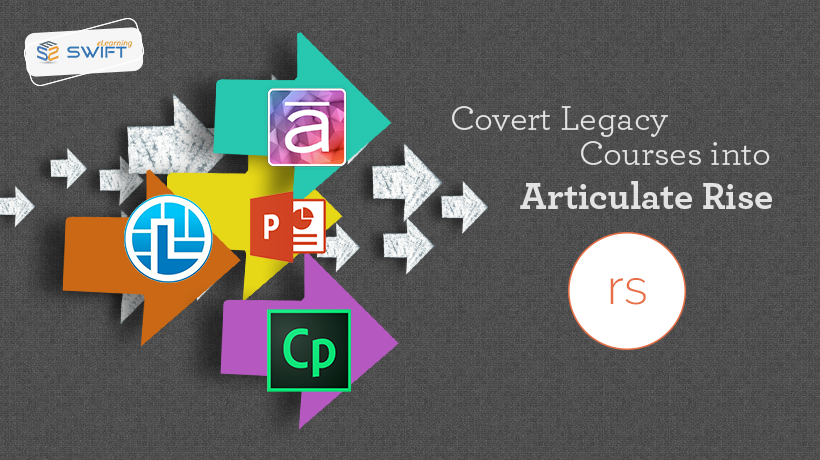 Articulate Rise, the new online authoring tool, is gaining momentum since it has been launched. It can be a major player in driving eLearning demand for multi-device/mobile learning in 2017. It carries brand value from its predecessors Storyline and Storyline 2.
Since the beginning of 2017, we have received many enquiries to check 'feasibility' of converting legacy eLearning courses developed in Storyline 2, Lectora, Captivate, etc. to Articulate Rise.
To help you take wise decision on converting, we would like to share our experiences.
Relax, you will not lose anything while migrating to Articulate Rise!
Your existing course may have interactions, videos, images and graphical elements that delivers great value on the learning impact. Articulate Rise is capable of incorporating the same elements using its following two features:
Pre-Built Lessons
Block Lesson Options
In addition, Articulate Rise excels with its performance in following areas:
Excellent navigations – Seamless interactions and course navigations
5-Star mLearning experience – Rise delivers excellent mobile learning experience
Elegant design – Articulate Rise follows minimalist-design approach which has less or no cluttering of unnecessary graphics or colors
No animation for graphic elements, so no synching of elements with narration
The current version of Articulate Rise has no motion paths as in Storyline 360. You can't animate any object except giving an entry and an exit animation. To help learner draw more meaning out of the screen elements, the course designer can incorporate an audio file which can be played and stopped as and when required.
Yes, branching can be done in Articulate Rise
"Button" and "Button Stake" lesson blocks can help you create branching experience similar as other authoring tools. The important thing to mention is, you can't place restriction to move further in the course by clicking Next or Forward buttons – no restriction for linear movement.
To provide a feel of branching, you need to add a back-button to each child slide in order to take the learner back to the parent slide.
Limited Branding Options
Yes, you can customize the course, but it would be quite difficult to exactly match with your choice of branding style. However, Articulate Rise offers broader spectrum of color palette. This online authoring tool has very few options in font style list. No slide-by-slide customization is allowed. The font styles can be applied to only Titles and Body Text; whichever style you choose, will be applied throughout the course.
One of the best authoring tools for Mobile Learning
Articulate Rise will enhance your legacy course for best learning experience on mobile devices. Seamless navigation, mobile friendly slide layouts, intuitive learner interactions will definitely add value to your eLearning course.
Verdict
Rise is an excellent responsive course authoring web application. After conversion you may lose the benefit of motion-path animations, but it will add value on over-all course learning effectiveness.
Our Services: Flash to HTML5 Conversion, Rapid eLearning, Custom eLearning Solutions
https://www.swiftelearningservices.com/wp-content/uploads/2022/09/Swift-eLearning-Services-logo_220.png
0
0
Abdul Wahab
https://www.swiftelearningservices.com/wp-content/uploads/2022/09/Swift-eLearning-Services-logo_220.png
Abdul Wahab
2017-02-16 23:36:49
2022-03-15 16:35:24
Converting Legacy eLearning courses to Articulate Rise – Read Before You Do It