Importance Of Anti-Bribery And Anti-Corruption Awareness During Induction Training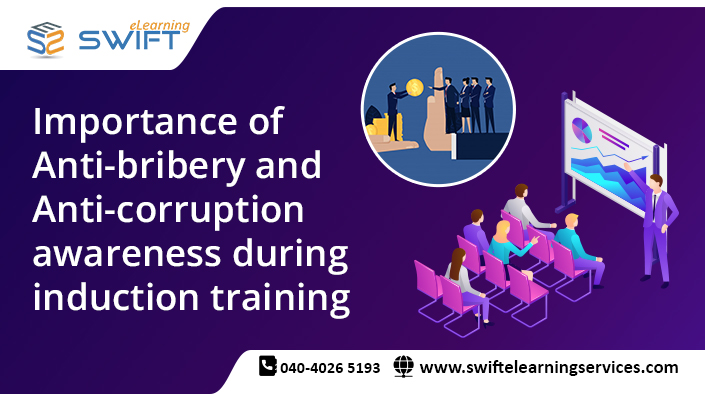 In this blog we will look at what bribery and corruption means and the importance of bribery and corruption during induction training.
What does bribery include?
Bribery is not limited but includes anything of value. It could be in the form of:
Cash, equivalents of cash (gifts/ vouchers), stock, personal property, and assumption or absolution of a debt.
Political contributions.
Charitable gifts – if a charity is made at the direct request of a government official or private business partner, it is an indirect bribe paid to acquire or maintain a business or to obtain or retain to secure the inappropriate business benefit.
Internship awards or Job offers – offers to government officials (or their relatives) can present a risk of violating anti-bribery or anti-corruption laws regulations.
Before making such offers, compliance must be consulted.
Why is anti-bribery and anti-corruption training important?
Best practices are designed to avoid bribery and corruption in organizations, so a company needs to apply them. Bribery and corruption are not only against the corporate principles, they are also illegal and can result in fines and penalties, including imprisonment and reputational damage, for both the employee and the company.
In Principle, bribery is never allowed. We shall not try to influence others, either directly or indirectly, by proposing, paying, or accepting bribes or kickbacks, or by using any other process that is unethical, unlawful, or detrimental to our reputation for honesty and integrity. Employees and corporate representatives are expected to turn down any opportunity that may damage our ethical beliefs and reputation. While some regulations only apply to bribes paid to government officials (both domestic and international), this policy also applies to non-government business partners.
Importance of training on Anti-bribery and corruption during induction training
Induction (process that introduces a new employee to the work and the organization) is a technique for rehabilitating a new employee into his surroundings and introducing them to the organization's practices and policies.
Many organizations do not consider themselves at risk of bribery but they must go through anti-bribery and corruption laws. Anti-bribery training is a necessity, and this is especially true for organizations that are operating in a global market.
Staff must be involved in effective way of anti-bribery and corruption training. Employees need to understand what anti-corruption means and why it is important and make personal commitments to ethical behavior.
5 Benefits of anti-bribery and anti-corruption training during induction training
Attitude Towards Compliance Training:

Learning compliance requires a change in the general performance of learners because learners tend to believe that compliance training is dull, boring, and irrelevant. So the organization should focus on raising employee awareness on the importance of compliance policies and why it is important for the employees.

Communicating policies and procedures:

Anti-bribery policies and procedures are embedded and understood throughout the organization during induction training, making information available, and increasing awareness and knowledge through communication.

Preventing private sector corruption:

Focusing on rules and regulations alone often fails to meet these high expectations of ethical business practices. Therefore, an effective ethics and compliance program, which goes beyond mere compliance and promotes a culture of integrity. Stakeholders such as employees, consumers, shareholders, business partners, and civil society expect higher standards of integrity and ethical business practices than just enforcing rules.

Educated Workforce

Anti-bribery training will ensure that staff is fully educated about the bribe and its various forms, the implications of taking a bribe, and how crime can be reported.
For anti-bribery training to be effective, it needs to resonate with staff. Employees need to relate to the material presented in their training or it will not be effective to implement it. Hence an effective training can lead to a well-educated workforce.

Example:

Staff training sessions, such as training for sales staff or other staff members who may be at risk of corruption in their work line.
Discussions at staff conferences or team building events to help raise awareness of the importance of fighting bribery and corruption

Typically, the specialist training courses are designed at:

Organizations of all sizes and across all sectors and Compliance teams,
Corporate affairs
Senior and non-native management

Training and awareness:

The training identifies the knowledge and skills required to comply with the organization's procedures and to deal with any problems or issues related to bribery that are appropriate for the staff and any associates.

This should be proportionate to the risk, but even if the risk of taking bribes is low, some training may be needed to establish a culture of zero tolerance.

Training should:

Be mandatory for new employees or agents as part of the recruitment Process
Cover reporting/whistleblowing procedures, and
Be monitored and reviewed regularly
Conclusion-
ELearning provides a cost-effective way to train staff on bribery and corruption. Employees can learn through small breaks, which greatly increases their ability to engage in training materials.
Through the use of attractive content and character-based scenarios, staff can learn about bribery and the consciences it poses to their organization. At the end of each training course, employees will complete a test to demonstrate their understanding of what a bribe is and the importance of acting ethically in the course of business.
Our Services: Flash to HTML5 Conversion Services, eLearning Services, Custom eLearning Content Development
https://www.swiftelearningservices.com/wp-content/uploads/2022/09/Swift-eLearning-Services-logo_220.png
0
0
Swift Elearning Services
https://www.swiftelearningservices.com/wp-content/uploads/2022/09/Swift-eLearning-Services-logo_220.png
Swift Elearning Services
2021-06-10 00:06:05
2022-01-05 15:34:17
Importance Of Anti-Bribery And Anti-Corruption Awareness During Induction Training