Are Mobile Learning Apps a Necessity or Just a Fad in Corporate Training?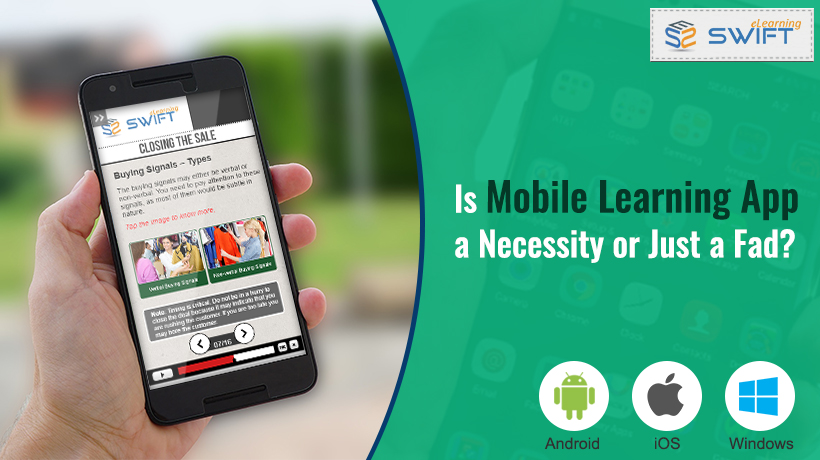 Traditional eLearning is transforming. Mobile learning or mLearning is being widely used to deliver training at the point of need. Recent statistics on Mobile App usage reveal that the mobile learning via apps is currently a major means for most of the organizations to reach-out their diverse workforce to provide on demand corporate online training. Introduction of mobile apps in eLearning is trending across the globe irrespective of gender and work-processes.
So, what is so special about mobile apps in eLearning? Well, the most exciting benefit of native app is, training on the go without internet connection. Learners can simply download the app and get started. For example, the sales team on the field can take the full advantage of the mobile learning apps – download the course and use it offline. The sales team can go through the mobile learning nuggets or mobile apps at ease saving their time while traveling.
In Australia, The University of Sydney mobile app – "Sydney Uni app" is one of the best cases which provides online training and/or eLearning courses as well as library facilities to its students. Central Board of Secondary Education in India has launched their mobile application 'e-cbse' to provide eLearning material for students and teachers. It is an initiative taken as part of Digital India movement.
Besides academics, corporates like SAP offers mobile application based learning. For example, training on Sybase Unwired Platform 2.1 Mobile Application Development. List of hundreds of general to specific purpose mobile learning and training applications are available in public domain such as Google Play.
Following are a few areas of mobile application implementation:
Study material
Organizational training
Vocational training
On-job performance enhancement training
Epidemic control supports
Courses on basic nursing, fitness programs, special need education like childcare, etc.
Mobile Application Based Learning Advantages
Effective implementation of microlearning
Off-line performance support applications anywhere and anytime
Better control on tracking and learning measurement
Simulation and game-based learning
The important question is…
How feasible is the development of Mobile Application for Learning?
Custom content development companies devise learning strategies for mobile learning suitable to specific needs of an organization. Developing courses for mobile devices is not same as delivering on desktop. The mobile platform has distinct capabilities as well as limitations to cater for an effective implementation of training programs.
On technical side, there are many tools available in the industry to choose that best suits for the requirement and budget. Following are a few tools that can be used to create responsive eLearning courses and stand-alone mobile eLearning applications.
Our mobile learning experts understand what goes into mobile learning app development starting from designing to technical standpoints. We are expertise at creating fully optimized custom mobile learning content for all devices to deliver an immersive learning experience.
Contact Swift to discuss how we can maximize the impact of mobile learning via mobile learning apps that could benefit your business.
Our Services: Custom eLearning Solutions, eLearning Translation Services, Flash to HTML5 Conversion
https://www.swiftelearningservices.com/wp-content/uploads/2022/09/Swift-eLearning-Services-logo_220.png
0
0
Abdul Wahab
https://www.swiftelearningservices.com/wp-content/uploads/2022/09/Swift-eLearning-Services-logo_220.png
Abdul Wahab
2017-01-06 20:28:21
2021-07-12 14:48:54
Are Mobile Learning Apps a Necessity or Just a Fad in Corporate Training?