Ignoring Instructional Design is a Mistake You Should Avoid for an Effective Mobile Learning
Technology is changing the way people learn. Mobile Learning or mLearning is one such training strategy that appeals tech-savvy learners, while improving workplace performance. People generally perceive it as more of mobile technology than a learning strategy – due to technical concerns such as device compatibility, responsive design framework, screen size and resolution. However, instructional designing can be one of the most significant aspects that you cannot afford to ignore to create effective mLearning.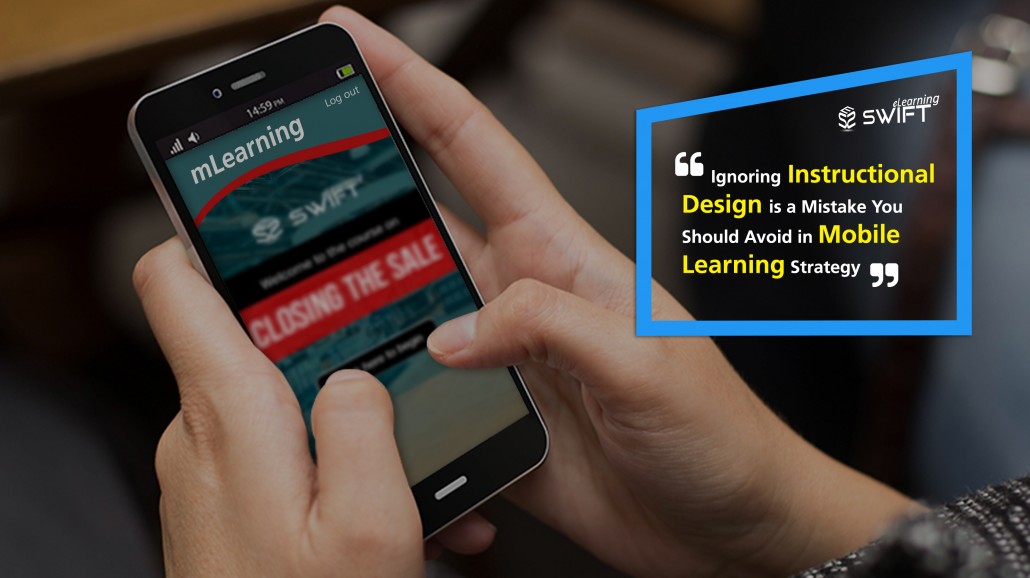 The holistic approach of instructional designing brings the instructional value to the mobile learning and deepens the learner's understanding. This in turn helps organizations to maximize their Return on Investment (ROI) for their Mobile Learning initiative.
This blog provides an insight into the best practices of instructional design approach specific to mobile learning. Here are the top 8 considerations while designing a mobile learning solution from an Instructional Design perspective.
1. Analyze Learning Requirements
To create an engaging mobile learning experience:
Analyze the mobile learning requirements and target audience (to identify its appropriateness)
Define the learning outcomes
Map out the raw content to the learning outcomes
Remember, mobile learning is a best fit for performance support that can be delivered as a refresher course or just-in-time learning.
2. Keep Navigation Simple
Simple and intuitive navigation is the key to mLearning success. Remember that learners navigate with the moving fingers so make sure it can be easily accessible.
3. Use Simple Interactions
As there is limited real estate, creating interactions is a challenging task in mLearning. Use simple, user-friendly interactions such as:
Tap to reveal
Timeline interactivity
Tap the image
Slideshow interactivity
Tabbed interactivity
Hotspot interactivity
Augmented reality/ virtual reality
Incorporating videos
Podcasts
Flashcards, quizzes, checklists
Videos
Using gamified elements such as virtual currencies, scores, points, etc.
4. Keep the Content Relevant and Contextual
Mobile learners are subject to distractions and interruptions. To overcome this hurdle:
Create the learning content that is relevant, interesting and compelling
Tell a story or present a scenario
Avoid irrelevant graphics and text
5. Writing for Mobile
Consider the following:
Use plain language
Avoid jargon
Put the most important ideas in the first sentence
Highlight keywords
6. Create Bite-Sized Content
Considering the limitations of mobile devices (for example, smaller screen size), bite-sized content is the right fit for learning on-the-go.
Structure, chunk and present the content into small, logical units so that it is easy to view and quick to digest – Avoid Cognitive Load
Prioritize the content that matters the most
Minimize the scrolling
Use bullet points to present the supporting ideas
7. Keep Audio/Video Short
Customize the video or audio to match the learning context
Assess the videos to see if they can be divided into smaller units
8. Adopt Responsive Design Framework
Consider adopting responsive design provides an optimal viewing experience across all devices – multi-device learning. HTML5 allows you to develop device-agnostic content easily.
Conclusion: Mobile learning wouldn't be an effective solution without a sound instructional design specific to mLearning. And just pushing the content for the sake of information transfer to the learner is not Mobile Learning.
Curious how mLearning could help your organization reach its business goals? Talk to us to discuss your mobile learning needs, and to find out the range of options our experts can offer.
Our Services: eLearning Solutions, Best Learning Management System, eLearning Development
https://www.swiftelearningservices.com/wp-content/uploads/2022/09/Swift-eLearning-Services-logo_220.png
0
0
Santosh Borse
https://www.swiftelearningservices.com/wp-content/uploads/2022/09/Swift-eLearning-Services-logo_220.png
Santosh Borse
2016-09-12 19:55:02
2021-07-10 19:41:02
Ignoring Instructional Design is a Mistake You Should Avoid for an Effective Mobile Learning