What's New in Lectora 17?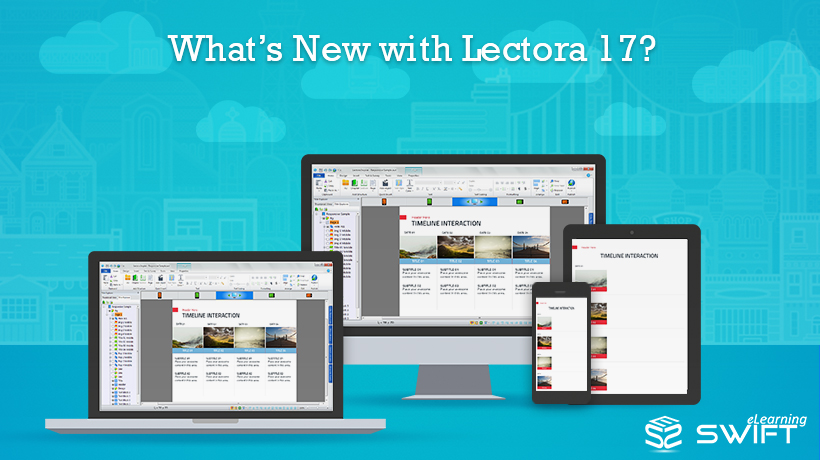 In the year 2016, Trivantis introduced Lectora 16 with its revolutionary responsive course design (RCD) designed to develop responsive eLearning courses with ease. Now with the New Year 2017, the new upgraded version – Lectora 17 has been launched.
Lectora 17, the new responsive eLearning authoring tool from Trivantis has finally arrived as a Christmas gift for eLearning professionals! Lectora 17, the latest version of Lectora, comes with exciting new features, enhancements and functionalities to create rapid eLearning courses both engaging and interactive.
Excited to see what's new in Lectora 17? In this post, we will take a look at the brief overview of all the new features in Lectora 17 that were not available in Lectora 16. 
What's new in Lectora 17?
Seamless play publish options
When the publish for "Seamless Play" option is selected, the titles will smoothly flow from page to page, eliminating the screen wipe commonly associated with loading HTML pages.
Auto-play media on mobile devices
Background sound will now play continuously across pages, and will be triggered by Play, Pause and Stop actions.
Persisting background audio
Media files will honor the Auto-Start selection on mobile devices, allowing simplified use of page narration and videos.
BranchTrack Scenario-based simulations
Lectora partnered with BranchTrack to include Scenario based interactions with BranchTrack Simulation builder.
Updated Camtasia and SnagIt versions
Lectora 17 comes with latest version of Camtasia 9 and SnagIt 13
Camtasia allows you to create screen recording as you are working with the application on your computer.
SnagIt allows you to capture and edit images, highlight images, add shadows and many other effects.
Anchor the position of your objects
This property allows you to specify whether an object will maintain its location on the page within the view, even when the view is scrolled.
This works best for mobile users:
Headers/Footers
Logos
Navigation
Images/Diagrams
Video
Convert shapes to buttons
A button can be any shape. Now a shape can be quickly converted into an entire button will all the states like normal, hover, down and disabled.
Initially disable state for buttons
Set the button properties to immediately display in disable state when a page is viewed.
Create images buttons with disabled state
Add disabled state to custom Image buttons when created
SVG rendering of shapes and buttons
Using scalable vector graphics technology, published content will remain crisp and scalable on high-resolution displays.
Maintain aspect ratio for videos
When you resize a video on the page, the original width and height aspect ratio is maintained to prevent distortion. If the Maintain Aspect Ratio option is off and the video becomes stretched or squeezed, use the new Reset to Original button to restore the original dimensions.
Set default for closed caption for display
Using a preferences setting, determine whether viewers will see closed captions immediately or need to turn on captioning.
Improved characters properties
With Lectora 17 you can now easily change the character and their proses directly from the ribbon. You no longer need to delete the character and add new one.
Target List grouping
All the items in the "Target List" are now rearranged and grouped perfectly by Object Type in the alphabetical order.
Control how to open the media library
If you have worked on earlier version on Lectora inspire, you definitely might have experienced popping up of media library interrupting your work when you get too close to the right end of the window.
This will no longer happen in Lectora 17. You can simply go to the preferences and choose to only open the media library when you click on it.
Improved CSV question file handling
Use comma-separated value (CSV) files to import and export nine question types, as stand-alone questions or contained within a test or survey.
System-generated alert message
Beginning with this release, when a title created with a previous version is opened, you are alerted with a system-generated note to the presence of modified functionality within your title.
Conclusion:
Though Lectora has many good features to create engaging eLearning till date, we still need to dig deeper into brand new Lectora 17 to know what's more in store to help us make better eLearning courses.
Stay tuned to our blogs for more reviews on Lectora 17!
Our Services: eLearning Translation and Localization Services, Custom e-learning Services, eLearning Solutions Company
https://www.swiftelearningservices.com/wp-content/uploads/2022/09/Swift-eLearning-Services-logo_220.png
0
0
Godwin
https://www.swiftelearningservices.com/wp-content/uploads/2022/09/Swift-eLearning-Services-logo_220.png
Godwin
2016-12-13 12:48:43
2021-07-12 15:08:30
What's New in Lectora 17?