Why Microlearning can be the Best Strategy for Sales Training?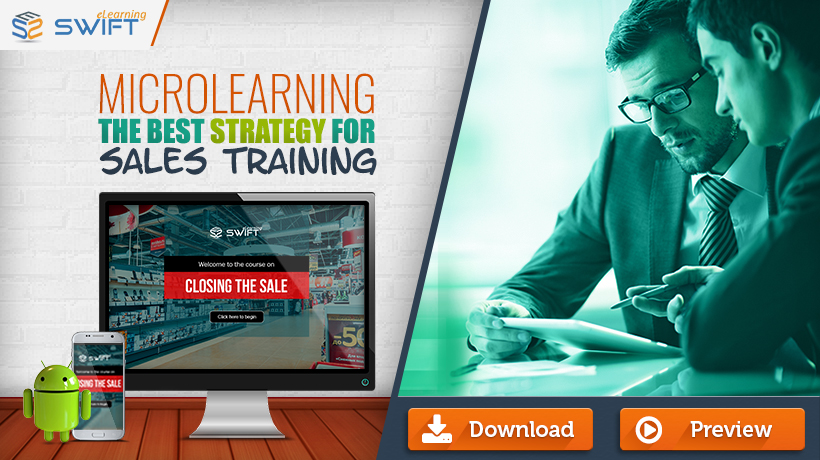 "Microlearning is an effective sales training strategy that involves bite-sized learning nuggets focused on a specific product features or a sales task providing just-in-time learning."
Ever wondered how to train sales team with engaging training content so that they can translate the knowledge immediately on the field! But do they have time to take training given their sales targets and tight schedules? Probably, NO. Even if they take, the learning is not reinforced post sales training and this is a big drawback. Sales teams must be regularly trained to build effective training skills. And Microlearning is so apt for sales reps who are constantly on the move as it fits beautifully in the sales training landscape.
Let's see why Microlearning can be the best strategy to train sales representatives.
Provides Just-in-Time Training: Microlearning can be a great performance support tool at the point of need and reinforces learning. Yes, you not only can teach new concepts, but provide a refresher training on what has been learnt.
Waiting Time Can be the Learning Time: With microlearning in place, waiting time can now be the learning time as sales reps don't have to be idle or wait for long hours during their travelling via mobile learning apps.
Easy Retention: For sales reps, the short microlearning nuggets can be the perfect ways to improve information retention. For example, a short microlearning nugget or a video on effective communication can boost the confidence of sales reps before they could actually meet the client.
Easy to Update: Short bite-sized nature of microlearning makes it hassle-free to update and maintain as opposed to a 2-hour eLearning course. When there is a change in product or a strategy, you can easily update the microlearning course and roll out saving your time and money.
Mobile-Friendly: The sales team can access this mobile-friendly eLearning anywhere and anytime via smartphones and tablets.
Better Completion Rates: Microlearning provides an incredible benefit in the form of completion rate. Sales reps who are on the go, find it convenient to take the courses via mobile and tablets which results in higher completion rates.
If your sales training strategy is still the tiring and lengthy eLearning course with longer seat time, it's time to take advantage of microlearning to make the most of it.
Based on similar strategy, we have created a microlearning course sample on "Closing the Sale." This bite-sized module focuses on how to close the sale effectively.
Our Services: eLearning Service Provider, eLearning Content Development, Flash to HTML5 Conversion
https://www.swiftelearningservices.com/wp-content/uploads/2015/01/logo_220.png
0
0
Santosh Borse
https://www.swiftelearningservices.com/wp-content/uploads/2015/01/logo_220.png
Santosh Borse
2017-01-27 15:33:58
2022-02-02 14:46:43
Why Microlearning can be the Best Strategy for Sales Training?