International Women's Day: Influential Women Who Made Impact in eLearning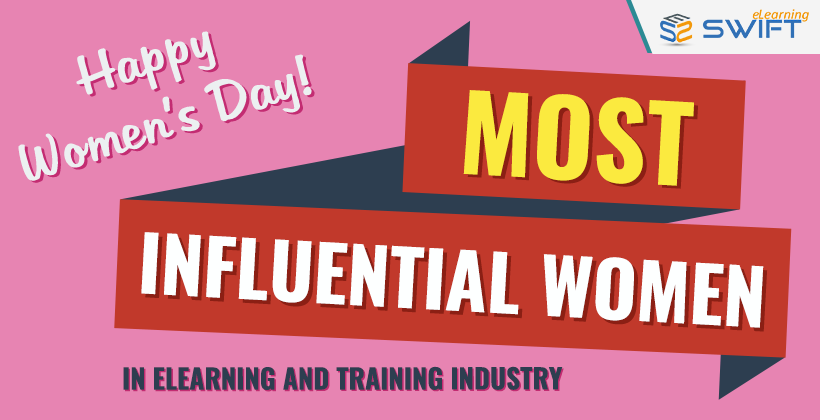 "A woman is the full circle. Within her is the power to create, nurture and transform." This quote by Diane Mariechild reiterates the power of a woman, her ability to mold herself to the tough situations, and transform the world with her thoughts and ideas. On the occasion of International Women's Day, we bring you the Influential and Inspiring Women who are also the thought leaders in eLearning 2017. These women have made their mark in the eLearning or corporate training world with their thoughts, books, ideologies, philosophies, and so on.
Rebecca Stromeyer – Owner of ICWE
She is the co-founder and Director of Integrated Communications, Worldwide Events (ICWE) that organizes International Conferences, Workshops and Exhibitions focusing on education and training. As a conference organizer, she has been organizing education events in all parts of the world. She runs ONLINE EDUCA Conference series, eLearning Africa and OEB Global in Berlin. Her project, eLearning Africa, responds to the need for ICT-supported learning on the African continent. Besides this, she is also the founding director of E-Cubed Communications, advisory member to ELIG and a board member of the Global Business School Network. "Immersive learning and gamification of content are emerging as excellent tools for creating memorable experiences" says Rebecca.
Laura Overton, Founder and CEO of Towards Maturity
As Managing Director of Towards Maturity, Laura is passionate about helping organizations deliver improved performance through learning innovation. She is also an eLearning industry expert, author, columnist and speaker who conducts workshops and debates.
Authored 'Linking Learning to Business in 2004 along with 40 other independent reports and a number of articles
Currently serves on the advisory boards of Learning and Performance Institute, Online Educa Berlin and Learning Technologies UK.
First female recipient of the LPI's Colin Corder Award for outstanding achievement
Connie Malamed, Learning and Visual Design Consultant
An experienced eLearning, information and visual designer, Connie shares actionable strategies and resources to design, develop and understand online learning. She authored two books – Visual Design Solutions and Visual Language for Designers. These books are very helpful resources for learning professionals seeking to raise the bar on their graphics and visual design. She also published "Instructional Design Guru" a quick reference mobile app for learning designers. She facilitates workshops on instructional design and visual design.
Jane Hart, Social Media and Learning Consultant
Jane is a social media and learning consultant, writer and international speaker. She helps organizations understand how new technologies can be used for learning. She is the founder of Centre for Learning & Performance Technologies (C4LPT) where she shares information on new learning trends, technologies and tools. She is the author of Learning in the Modern Workplace 2017, which focuses organizing and managing learning for people.
Patti Shank, Founder, Learning Peaks, LLC
Patti Shank, PhD, is an instructional designer, speaker, writer, author who helps others build valuable information and instruction. Her areas of primary interest include how and why we learn, how we "know," research methods and data use, and ways to have an extraordinary life. She is the President of Learning Peaks LLC, an internationally recognized consulting firm that provides learning and performance consulting. She is a keynote speaker at training and instructional technology conferences. She is a co-author of Making Sense of Online Learning and editor of The Online Learning Idea Book.
Cammy Bean, Vice President of Learning Design for Kineo
Cammy Bean has worked as an eLearning instructional designer since the mid-90s. She designs learning solutions for a various organizations to build their internal capabilities through workshops and consulting engagements.
An acclaimed public speaker, Cammy gets fired up about instructional design, avoiding the trap of clicky-clicky bling-bling, and ways to use technology to create real behavior change. She writes the blog "Learning Visions". She is the author of one of the top Instructional Design books – The Accidental Instructional Designer. "I'm on a humble quest to keep getting better at my craft — the more I know about instructional design, the less I understand," says Cammy Bean.
Our Services: Custom eLearning Course Development, eLearning Vendor, eLearning Solutions
https://www.swiftelearningservices.com/wp-content/uploads/2022/09/Swift-eLearning-Services-logo_220.png
0
0
Santosh Borse
https://www.swiftelearningservices.com/wp-content/uploads/2022/09/Swift-eLearning-Services-logo_220.png
Santosh Borse
2017-03-06 12:00:20
2021-07-12 17:10:40
International Women's Day: Influential Women Who Made Impact in eLearning