Impactful Elearning: What Instructional Designers can Learn From Pencil?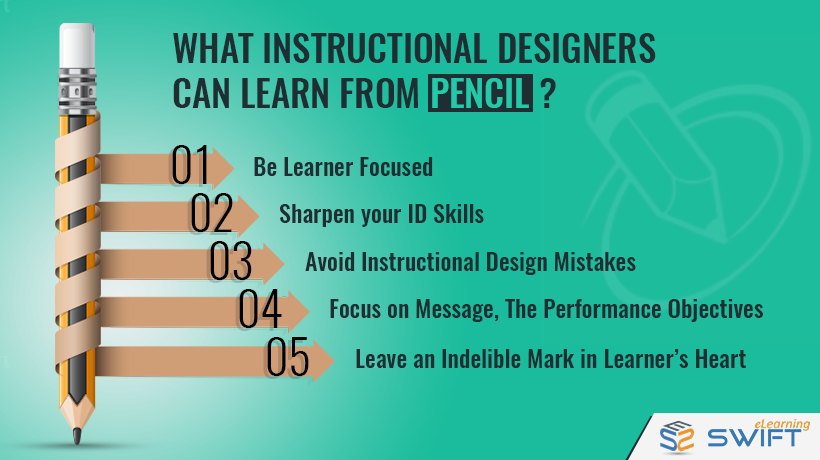 We, eLearning Instructional Designers, are here by accident. We have inspiring personal stories. We enjoy our job to the core because it teaches new things everyday – that are aligned with our interests and strengths. We figure out the ways to teach our learners effectively so that it translate the knowledge into performance. We embrace both traditional learning methodologies as well as the modern technologies. While designing and developing learning experiences, we tend to wear many hats, juggle many roles, work with many stakeholders…  Huh, the list goes on!  In this restless rush, we sometimes get overwhelmed and rarely take a pause to find out how holistic our eLearning design is?
In this blog, I am not going to explain the tips to enhance your instructional design career but I want you to take a pause to figure out the five important lessons you can learn from pencil. Wondering, what pencil has to do with ID career…? Hold on!
First Quality:
"You are capable of great things, but you must never forget that there is a hand guiding your steps. We call that hand God, and He always guides us according to His will."
Be Learner Focused: No matter what training you design, you must ensure it is learner-centered to create an impactful learning experience.
Get to know your learners
Step into learner's shoes to understand how they learn
Be mindful while working with SMEs. Ask for examples. Take notes. Remember, less is more in eLearning
Second Quality:
"From time to time, you need to stop what you are writing and use a sharpener. This makes the pencil suffer a little, but in the end it becomes sharper. So, learn how to bear some pains, because they will make you a better person."
Sharpen your ID Skills: As an instructional designer (ID), this is the most important quality you should have. Sharpening your ID skills will make a better learning designer. The struggle and endurance to understand new things, processes and businesses keep you going. You should regularly update yourself to keep abreast of emerging learning technologies and modern instructional design principles.
Third Quality:
"The pencil always lets you use an eraser to rub out what was wrong. Understand that correcting something that we have done is not necessarily bad, but rather something important to keep us on the path of justice."
Avoid Instructional Design Mistakes: At times, due to looming deadlines and eLearning project uncertainties such as scope and specifications, we may tend to make mistakes or overlook certain aspects. But don't let that be an excuse for poor instructional design. The simple way to avoid the instructional design mistakes is "Being Mindful." Remember, you can always check the following common mistakes and avoid it.
Cluttered eLearning screen
Heavy on-screen text
Wrong graphic or image
Unnecessary animations
Lack of transition from one page to another
Fourth Quality:
"What really matters in the pencil is not the wood or its outer shape, but rather the lead that is inside it. So, always take care of what happens inside you."
Focus on Message, The Performance Objectives: This holds true for instructional designers. The media-rich eLearning course with enhanced aesthetics and interactions might grab learner's attention, but what is the use if it couldn't deliver the message. No matter what the look and feel is, instructional designers should always focus on delivering the right message while translating the knowledge into performance.
Fifth Quality:
"Finally, the pencil's fifth quality is it always leaves a mark. In the same way, know that everything you do in life will leave traces, and try to be aware of each and every action."
Leave an Indelible Mark in Learner's Heart: As pencil leaves a mark, an Instructional Designer should tailor the eLearning courses such that it creates memorable learning experience that sticks with the learner. Relevance is the mother of engagement. The more relevant your eLearning course is, the more likely it is going to succeed. It takes passion, persistence and skill to create eLearning that really makes a difference. To do this you need to be creative and think out of the box. Remember, there is no place for mediocre eLearning.
Summary:
To wrap up what we've discussed, the "Pencil" teaches five essential qualities that make us a good to great Instructional Designer. These can be the top 5 qualities of an ideal Instructional Designer. So, the next time you're designing an eLearning course, be conscious! Think and design from learner's perspective and don't forget these qualities of Pencil! Doing so will make your eLearning more meaningful, memorable, and motivational. (This analogy has been adapted from the book, "Like the Flowing River" by Paulo Coelho.")
Let us know what Instructional Design best practices you follow for eLearning development. Also do share your thoughts and comments on this blog.
Before you leave, I would like you to take a look at our eLearning showcase courses. Click the below button to access our eLearning portfolio.
Our Services: Rapid eLearning, Custom eLearning Solutions, Flash to HTML5 Conversion
https://www.swiftelearningservices.com/wp-content/uploads/2022/09/Swift-eLearning-Services-logo_220.png
0
0
Santosh Borse
https://www.swiftelearningservices.com/wp-content/uploads/2022/09/Swift-eLearning-Services-logo_220.png
Santosh Borse
2017-03-07 18:54:10
2022-01-06 17:25:11
Impactful Elearning: What Instructional Designers can Learn From Pencil?