How to Write an eLearning RFP (Request for Proposal) For Hiring a Vendor?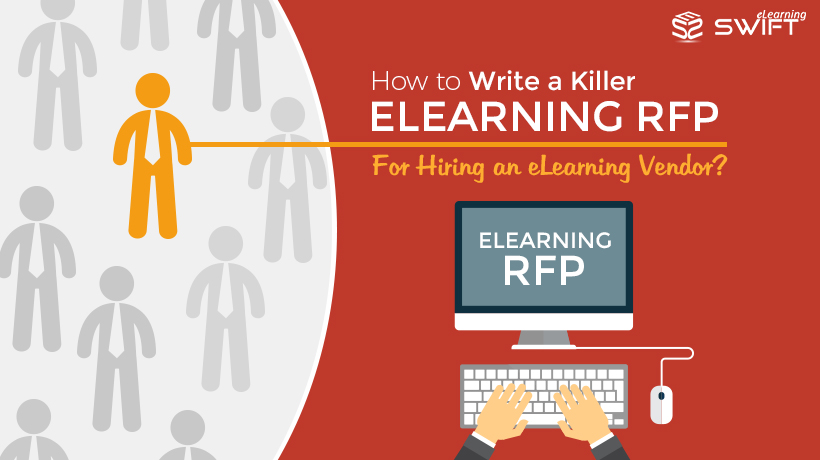 We come across many companies who want to initiate eLearning as a training strategy in the organization for which they assign the budget, but eventually get into mess. They couldn't make corporate training initiative a success because they fail to select the right eLearning vendor who not just develops the content but also guides them providing a complete training solution instead of just an eLearning output.
Every company wants a good Return on Investment (ROI) from the eLearning solutions, but there will be many questions which, if not answered, will not see the light of the day.
These questions include:
In this blog, I will walk you through the essential tips to write an effective eLearning RFP for hiring an eLearning vendor while boosting the ROI.
What is RFP from eLearning Perspective?
RFP is a document that explains:
– your eLearning project requirements in detail,
– highlights your priorities and
– enables you to compare and evaluate potential vendors.
Simply put, it is an invitation to the potential eLearning providers to submit a proposal on your eLearning requirements.
Choosing the right custom eLearning provider for your eLearning development requires a great deal of thought and attention. For this, you need to issue a clear and detailed RFP that reflects your project requirements.
Here are the seven key tips to write an effective RFP that helps you find the right online training partner to deliver quality courseware on time and within your budget.
1. Know your eLearning Requirements:
Before drafting an RFP, you need to do some homework.
Conduct a thorough online training needs assessment and scope out your custom eLearning needs
Have a clear understanding of your eLearning needs to effectively communicate it with the prospective eLearning providers
Define your approximate budget for the project
2. Set the Context:
Provide a brief overview of your organization along with the mission and vision statements. This helps the vendors to get some idea about your company and eLearning project.
3. Describe eLearning Project Goals:
Next, provide the basic summary of your overall eLearning project.
Identify and explain the goals of eLearning project – What is the main goal you are trying to achieve?
Elaborate the nature and scope of your project
For example, you can mention – "Provide the Learning & Development Manager with self-paced custom eLearning courses that can be deployed through the enterprise-wide Learning Management System (LMS) for all employees to access."
4. Define Target Audience:
Describe the learner profile (target audience) that includes learners' age, demographics, job position, and their technical needs. You may also include the size of the learner base.
5. Define Project Deliverables and Specifications:
This is the key section of the RFP. It helps you communicate your expectations related to eLearning project. Keep it more detailed to receive the most accurate cost estimate from the vendor.
Define the level of efforts required from eLearning developer.
Total estimated seat time of eLearning course/s
Course development time
Instructional design
Content Research & Storyboarding
Logo and brand guidelines
Graphic design & Media production
Programming & functionality
Existing Technical Environment – LMS integration
Consider including:
Preferred eLearning authoring tools such as Adobe Captivate, Articulate Storyline, Lectora, Camtasia, etc.
Bandwidth restrictions
Define technologies
Deliverables for each phase
Number of review cycles and evaluation
6. Specify Development Pricing and Timelines
Based on your understanding of the project and its complexity, ask the vendor to provide :
Proposed development cost breakdown – provide a ballpark budget range
Project timelines from start to completion – along with the time-driven project milestones
 7. Work References/ Samples:
In this section, you will ask the vendors to provide client references to check whether the vendor has provided custom eLearning services for similar clients/customers and how did it work.
You might also ask for eLearning samples to see the quality and validate the vendor's eLearning development capabilities. Also know their experience, skill sets, and qualifications.
Conclusion:
In a nutshell, a well-written eLearning RFP helps you choose the best-qualified eLearning provider helping you in e-learning outsourcing process. Outsourcing eLearning projects to capable eLearning professionals is always a better option when compared to the in-house team.
If you are looking to outsource your eLearning development project but not sure where to start? You are in the right place!
Whether you are looking to develop new online learning initiatives, upgrade existing training or leverage digital learning, Swift Elearning Services is happy to help you. Talk to us about how we can help you to design a learning solution that makes a difference.
Click the button to gain access to our showcase courses/eLearning portfolio.
Our Services: eLearning provider, Flash to HTML5 Migration Service Provider, PPT to eLearning
https://www.swiftelearningservices.com/wp-content/uploads/2022/09/Swift-eLearning-Services-logo_220.png
0
0
Santosh Borse
https://www.swiftelearningservices.com/wp-content/uploads/2022/09/Swift-eLearning-Services-logo_220.png
Santosh Borse
2017-03-28 19:07:15
2023-05-19 10:20:12
How to Write an eLearning RFP (Request for Proposal) For Hiring a Vendor?