How To Choose The Right eLearning Vendor – The Ultimate Guide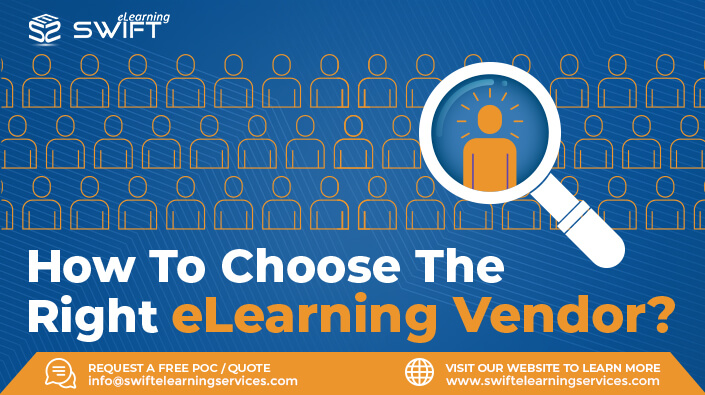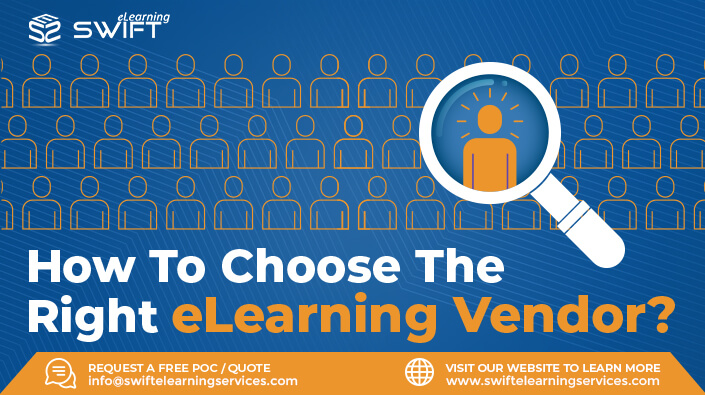 Choosing the right eLearning vendor in eLearning is the most significant way to deliver training and educational content. With the increase in demand for eLearning solutions, the number of eLearning vendors in the market has also increased significantly.
With the right eLearning vendor and ongoing evaluation, your organization can create a successful eLearning program that meets its learning and development goals.
However, choosing the right eLearning vendor can be a daunting task and one should be well aware of different factors that need to be considered.
Looking for eLearning solutions? Contact us today or email us at [email protected] to learn more.
Factors to consider when selecting an eLearning vendor
In this blog, we will discuss some essential factors to consider when selecting an eLearning vendor.
1. eLearning Vendor's Portfolio
The first and foremost consideration is the vendor's portfolio of work. You should review their portfolio to see if they have worked on projects similar to your organization's needs. This can give you an idea of their design style, quality of work, and the types of solutions they offer.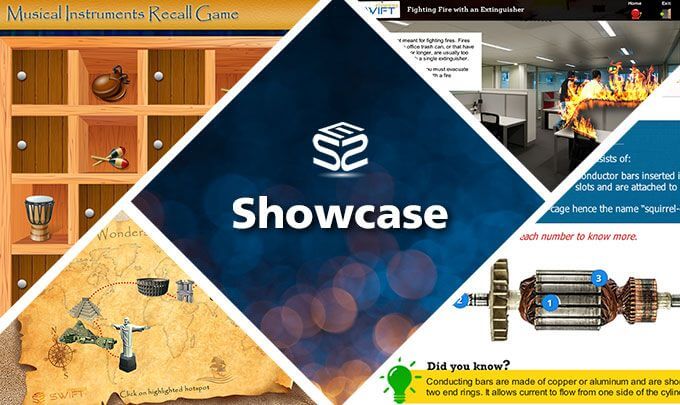 Take a look at our eLearning samples – click here to explore now!
2. Expertise and Experience of the eLearning Vendor
One of the most important factors to consider when selecting an eLearning vendor is their expertise and experience in delivering eLearning solutions. You should choose a vendor who has experience in creating eLearning courses and has a good understanding of instructional design, learning theories, and pedagogy.
Look for a vendor who has worked with clients similar to your organization and has experience in creating eLearning courses on the subject matter relevant to your organization. Ask the vendor for case studies, testimonials, and references to validate their expertise and experience.
3. Customization and Flexibility of the eLearning Vendor
Every organization has unique requirements, and eLearning solutions should be tailored to meet those specific needs. Look for an eLearning vendor who offers customization and flexibility in their solutions.
The vendor should be able to customize the eLearning courses according to your organization's branding, design, and content requirements.
Flexibility is also essential as your organization's needs may change over time. The vendor should be able to accommodate those changes and provide a scalable solution that can grow with your organization.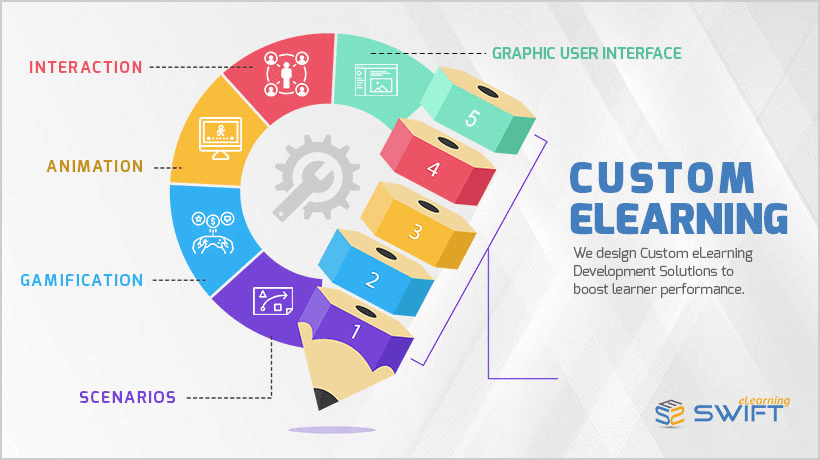 Develop a customized solution that meets your organization's training needs. For more details, get in touch with us. 
4. Technology and Integration of the eLearning Vendor
The eLearning vendor should have expertise in the latest eLearning technologies and platforms. The vendor should be able to provide a user-friendly platform that is easy to navigate and accessible from multiple devices.
Integration with your existing technology is also crucial. The vendor should be able to integrate their eLearning solution with your Learning Management System (LMS) or other HR systems to ensure a seamless user experience.
5. Project Management of the eLearning Vendor
Select an eLearning vendor with excellent project management skills because it is crucial to ensure the timely delivery of your eLearning program. The vendor should have a dedicated project manager who will be responsible for managing the project's timeline, scope, and budget.
The project manager should be able to communicate effectively with your organization's stakeholders and provide regular updates on the project's progress.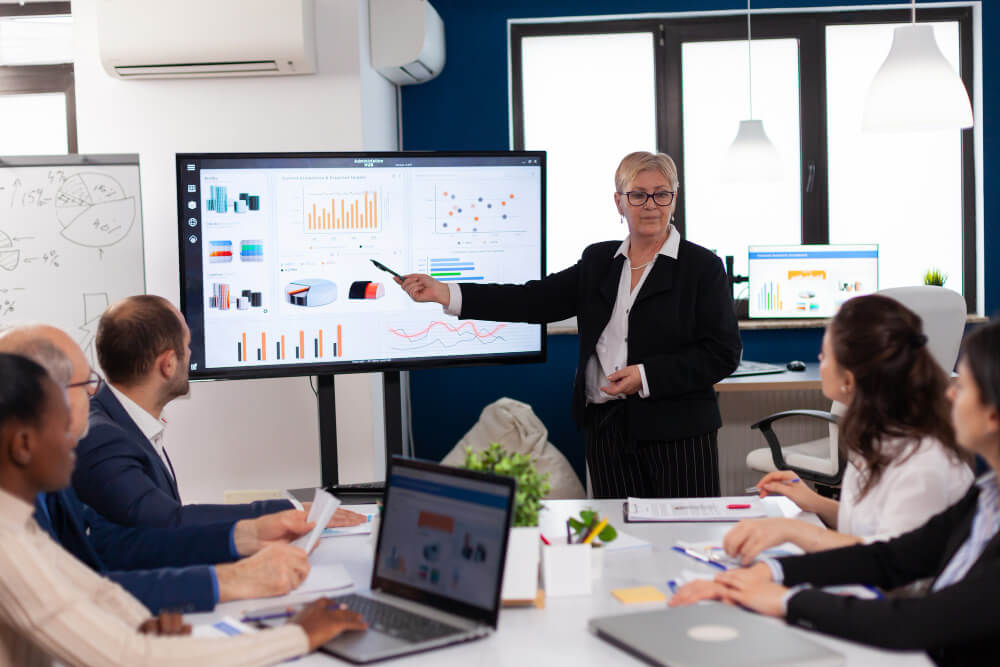 Also consider the vendor's design and development process. A vendor with a well-defined process can ensure that the project is completed efficiently and effectively.
The vendor's design process should include creating a storyboard, designing the user interface, and developing the content. A vendor with experience in instructional design can help create engaging and effective eLearning courses that cater to different learning styles.
When it comes to development, the vendor should use the latest technologies and tools to ensure that the eLearning courses are compatible with different devices and operating systems. The vendor should also test the courses thoroughly to identify and fix any issues before deployment.
Looking for eye-catching and interactive eLearning content? Look no further! Transform your learning experience today by contacting us for a FREE Consultation.
6. Pricing by the eLearning Vendor
Pricing is a significant factor when selecting an eLearning vendor. The vendor's pricing model should be transparent, and there should be no hidden costs. Look for a vendor who offers a pricing model that aligns with your organization's budget and requirements.
The vendor should be able to provide you with a detailed breakdown of the costs associated with creating the eLearning courses, including development, design, and licensing fees.
7. Accessibility Criterion of the eLearning Vendor
Don't forget to check with the vendor about their approach to accessibility. It's crucial to ensure that eLearning courses are accessible to learners with disabilities.
The vendor should follow accessibility guidelines, such as the Web Content Accessibility Guidelines (WCAG), to ensure that their courses are accessible to everyone.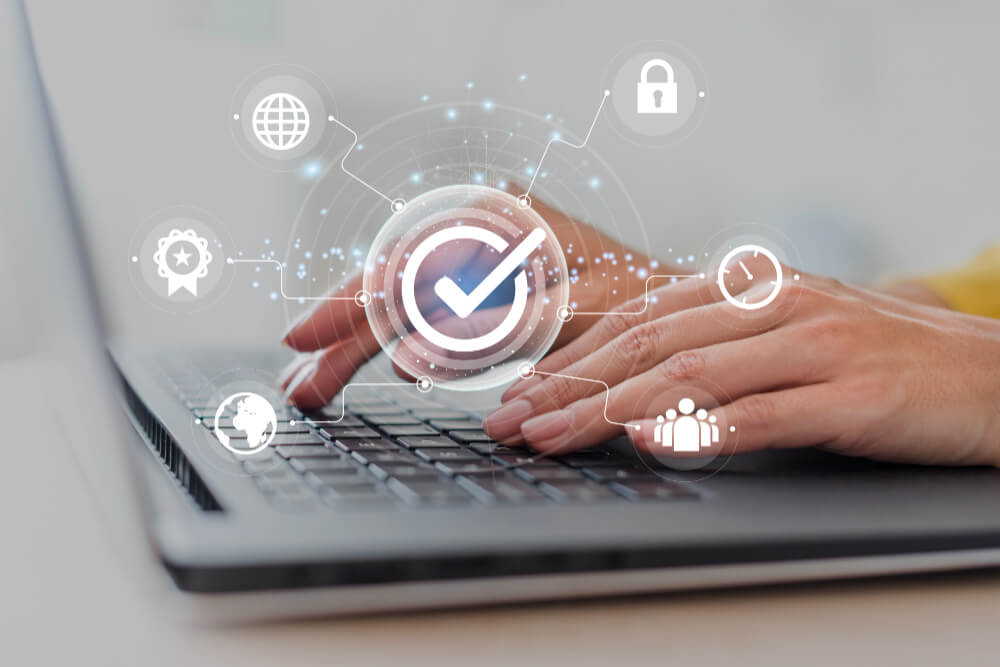 8. Support and Maintenance by the eLearning Vendor
The vendor should offer ongoing support and maintenance to ensure that the eLearning program remains up-to-date and effective. This can include providing updates and improvements, troubleshooting issues, and offering technical support to ensure the smooth functioning of the platform.
The vendor should also offer maintenance services to update the eLearning courses with the latest content and technologies.
9. Compliance and Security by the eLearning Vendor
When delivering eLearning courses, compliance and security are critical considerations. The eLearning vendor should comply with all relevant laws and regulations related to data privacy and security.
The vendor should have robust security measures in place to protect your organization's data and intellectual property.
Look for a vendor who has obtained relevant certifications such as ISO 27001 to demonstrate their commitment to security and compliance.
The vendor should also adhere to industry standards and best practices for data security and privacy, such as the General Data Protection Regulation (GDPR) and the Health Insurance Portability and Accountability Act (HIPAA).
10. Open Communication with the eLearning Vendor
It is essential to maintain open communication with the vendor throughout the entire process. This will ensure that both parties are on the same page and can work together effectively to achieve the desired results.
During the evaluation process, it's important to consider the vendor's level of customer service and support. The vendor should provide clear and timely communication throughout the project and be responsive to any issues or concerns.
11. Create an RFP for the eLearning Vendor
Once you have identified potential eLearning vendors, it's important to narrow down your list and choose the best fit for your organization.
One effective approach is to create a Request for Proposal (RFP) that outlines your organization's needs, requirements, and expectations. The RFP should include detailed information about the project, such as the scope, timeline, budget, and evaluation criteria.
The vendors can respond to the RFP with their proposals, which should include their approach, methodology, team structure, timeline, pricing, and references. This allows you to compare and evaluate the vendors' proposals based on the criteria outlined in the RFP.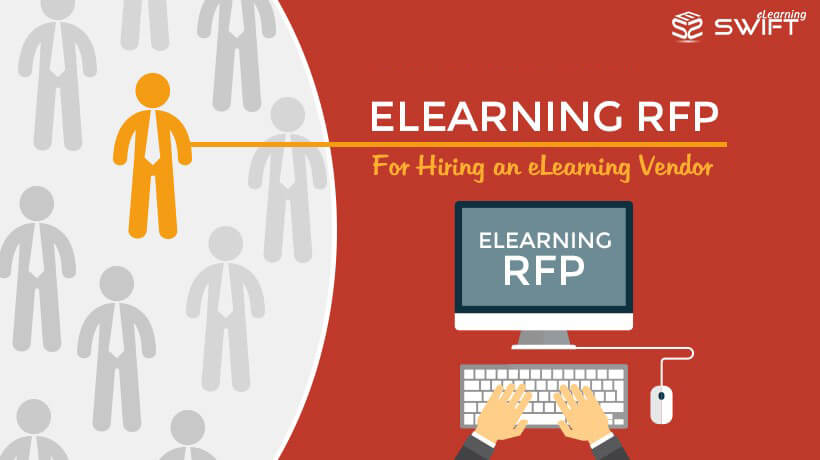 Looking for expert assistance with your eLearning project? Look no further!
If you have any eLearning RFP or RFI, don't hesitate to contact us at [email protected]. Our team of professionals is ready to provide you with the support you need.
Interested in learning how to create an eLearning RFP? Visit our blog at https://www.swiftelearningservices.com/how-to-write-an-elearning-rfp-request-for-proposal-for-hiring-a-vendor/ for valuable insights and step-by-step guidance.
Get in touch with us today and let's take your eLearning journey to the next level!
Conclusion
Choosing the right eLearning vendor is a critical decision that can significantly impact the success of your eLearning program.
You should consider factors such as expertise and experience, customization and flexibility, technology and integration, project management, pricing, support and maintenance, and compliance and security when selecting an eLearning vendor.
By carefully evaluating these factors, you can select an eLearning vendor who can deliver high-quality, customized eLearning solutions that meet your organization's unique needs. Remember to thoroughly research and compare different vendors to ensure you make an informed decision.
Swift has been offering effective eLearning solutions for its diversified clients across the globe. We create the best learning experiences while combining the best of instructional design and visual design strategies to create effective corporate learning solutions.
Ready for a game-changing eLearning experience? Reach out to us and let's create a personalized eLearning solution tailored to your needs.
Frequently Asked Questions (FAQs)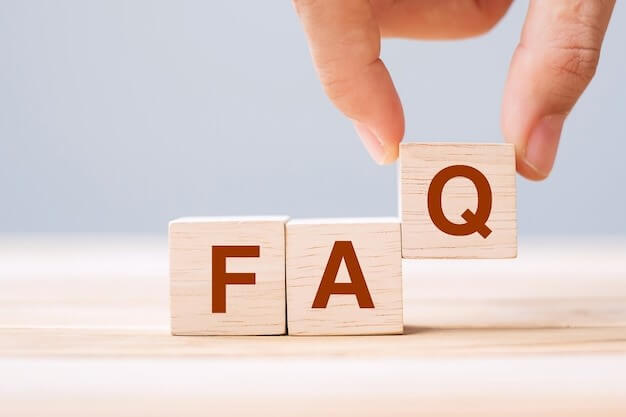 What are some important factors we need to consider in choosing the best eLearning vendor?
Choosing the best eLearning vendor can be a complex process. However, there are some factors to consider to help you make an informed decision such as:
Vendor's Portfolio
Expertise and Experience
Customization and Flexibility
Technology and Integration
Project Management
Pricing
Accessibility Criterion
Support and Maintenance
Compliance and Security
Open Communication
What kind of technology should they be using for eLearning development?
Ensure that the vendor's technology is up-to-date and aligned with industry standards. Also, check if they can create eLearning courses that are compatible with various devices, operating systems, and browsers.
What should be their project management approach?
A vendor's project management process should include clear communication channels, project timelines, and milestones. Ask about their project management process and how they ensure that projects are completed on time and within budget.
Our Services: Custom eLearning Solutions, eLearning Translation, Articulate Storyline 360 Free Training Tutorials
https://www.swiftelearningservices.com/wp-content/uploads/2023/05/how-to-choose-the-right-elearning-vendor-–-the-ultimate-guide.jpg
395
705
Navaneeth S
https://www.swiftelearningservices.com/wp-content/uploads/2022/09/Swift-eLearning-Services-logo_220.png
Navaneeth S
2023-05-18 13:47:40
2023-09-25 11:33:00
How To Choose The Right eLearning Vendor – The Ultimate Guide