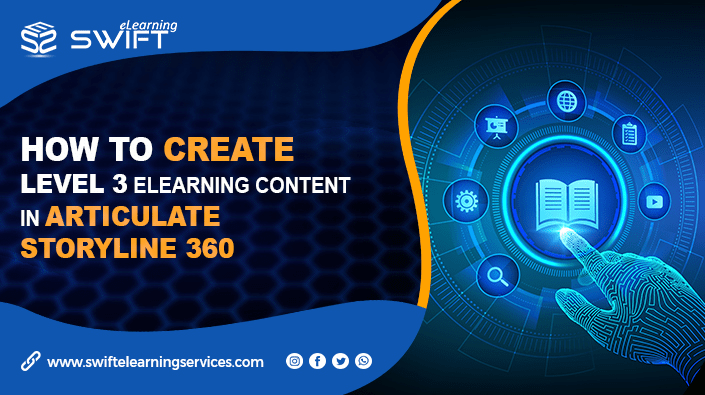 How to Create Complex Animations in Articulate Storyline 360
Animations can create an engaging atmosphere for the learners while training. Applying a few animations, transitions motion paths to normal slides will make it more realistic by bringing the objects, content, images, and characters to life.
Animation plays an important role in e-learning content development:
Animation has the power of visualizing the content in an effective way.
Animation has the potential to bring out the best in the learners and improve knowledge retention.
Animations help in simplifying complex concepts.
Animations add value and engagement to your e-learning experience making online learning an interactive platform for learners.
Animation in Storyline 360:
A few of the entry and exit animations provided in Articulate Storyline 360 are Fade, Grow, Fly, Random Bars, Spin, Spin & Grow, Grow & Spin, Float, Zoom, Split, Swivel, Wipe, Bounce, Shape, Wheel, and Motion Paths that can control the movements of the objects moving across linear or non-linear directions.
The Storyline also provides slide transitions like Fade, Push, Split, Random Bars, Circle, Diamond, Plus, In, Out, Uncover, Cover, Newsflash, Dissolve, Checkerboard, Binds, Clock, Zoom.
In addition, the Storyline provides slide layers which helps to develop complex interactions in a better way. Splitting the content and objects using slide layers makes it easier to develop and animate complex interactions.
Pros and Cons of using animations in Articulate Storyline 360:
There are few Pros and Cons of animations in Articulate Storyline 360.
Tips to create animations using Articulate Storyline 360.
Every object in your course has an entry and exit animation with multiple motion path animations.
Animation can be applied to objects in slide layers, slide master, states, and feedback master.
For each shape, animations can be changed and adjusted according to the requirement of the interactions.
Motion path animation's speed can be adjusted to faster or slower, based on the requirement. By default motion path animation duration will be 0.75.
Most of the animation's behaviour can be twisted by effect (entry and exit animations) and path (motion path) options.
These motion paths can move freely with the object to which they are applied. Motion paths are unlocked by default. But when it's locked, movement will be independent of the applied object.
One of the options in the motion path is the Relative Starting point, where more than one motion path action can be added from the same object, and begin new from the new location of the object by selecting the Relative Start Point.
Slide transitions, animation, and motion paths combined can do wonders in your project, transitions from one slide to the other give your slide a video look.
Pro's:
It helps in creating complex interactions easily.
It keeps the interface clean and structured.
Articulate Storyline helps in creating effective click-by-click interactions.
As bulk content and objects could not be placed in the base layers, it also allows working with layers for the development of complex interactive scenarios.
Media types such as audio, video and web objects can be applied to shapes and triggered wherever possible depending on the concept, such as pausing an audio while clicking another object, playing a video and applying links to one particular text.
Cons
The animation in the storyline can be limited when developing a high-end interaction.
Character moments cannot be applied properly like walking and lip syncing.
Here is a sample animation-based elearning course:
https://www.swiftelearningservices.com/micro-learning-sample/
https://www.swiftelearningservices.com/wp-content/uploads/2021/08/How-to-create-Level-3-eLearning-content-in-Articulate-Storyline-360.png
395
705
abdullah m
https://www.swiftelearningservices.com/wp-content/uploads/2022/09/Swift-eLearning-Services-logo_220.png
abdullah m
2021-08-21 11:59:03
2022-08-03 15:34:23
How to Create Complex Animations in Articulate Storyline 360