Does Outsourcing eLearning/Online Training development Make Sense?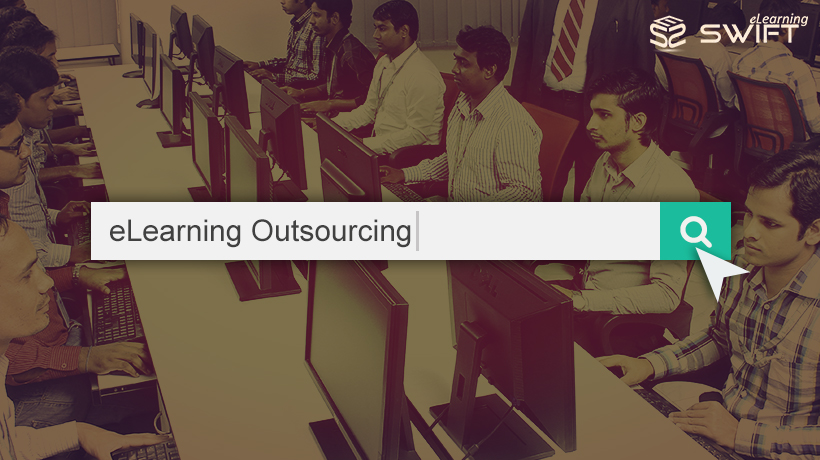 Why and how to outsource eLearning or online training development services?
Why and how to outsource eLearning/online training or eLearning development services?
Outsourcing has become an indispensable part of an organization. It is no more an alternative to save money, but an essential option to break through the roadblocks an organization comes across while carrying a business. It becomes quintessential when it comes to eLearning and online training. As you know, creating interactive eLearning content with instructional design values need expert skills and eLearning providers. The in-house eLearning development team may not be competent enough to deliver eLearning projects as expected or the in-house team may not have expertise in all the areas required in the complete cycle of eLearning development. So outsourcing eLearning projects can cut down your chase and save significant time and money. However, there are many e-learning content development companies and selecting a capable eLearning service provider is a challenge in itself.
In this blog, we will cover the aspects you need to consider while e-learning outsourcing to a suitable vendor.
Outsourcing is one of the best strategic moves from business perspective due to the following rationales:
Avoid derailing from core business goals
In-availability of internal resources
Improve Return on Investment (ROI) on training activities
Easy scalability
Increase online training quality
Well, an organization might desire to address the above aspects. However, to tackle with these business hindrances, designating the services to a capable vendor is an excellent idea. But, the hard part is:
How to select a capable outsourcing vendor?
Let's discuss the prerequisites of outsourcing training development or eLearning services before you could choose your learning partner. Check eLearning vendors' expertise and competency before you actually engage them. Ensure they have a dedicated team that is specialized in eLearning development.
India is a well-known destination for global outsourcing services, especially eLearning. Considering the established work process for outsourcing in India, it is recommended that you must be ready with the following details before signing the work. Click here to download the document that explains how to select a capable outsourcing vendor.
Define the scope of work or service
Stack all your eLearning requirements using clear and definite terminologies. For example: "Convert "abc.pdf" into an online training module using:
Real/illustration graphics
Animations and intuitive learner engagements
Knowledge check questions in-between the major topics
Final assessments at the end of all the topics
Convey all the specifications to the vendor.
Here is a sample of 'Design Specification Document' that you can use to define an eLearning outsourcing project.
Describe the process of vendor engagement
Generally, eLearning companies have a high level of adaptability with their client processes. So, layout the preferred process that suits your organization.
Following are the important components of a typical process that you need to include.
Process Stages
List of deliverables at each stage
Key persons to contact
Approval authorities
Here is an example of Agile-elearning-outsourcing-process. You might need to make the necessary changes to suit your requirements.
List of terms agreed upon, standards and compliances
Create a vendor agreement which includes the details required for the smooth and protected implementation of businesses for both source and destination entities.
Conclusion
The success of eLearning outsourcing lies on how well we manage the process. It has more advantages over its risk factors. Outsourcing helps companies stay focused on their core business and stops them from deflecting.
At Swift, we design effective eLearning solutions customized to meet your specific business needs that translate to improved job performance or change behaviors. To achieve this, we follow the learner-centered approach – keeping learners at the heart of our business. With well-crafted stories, relevant scenarios, gamification, and other instructional strategies, we create an immersive learning experience.
Whether you are looking to develop new online learning initiatives, upgrade existing training, or leverage digital learning, we are here to help you. Talk to us about how we can help you to design a learning solution that makes a difference.
Our Services: Translation Service Providers, eLearning Content Development, Convert Flash to HTML5
https://www.swiftelearningservices.com/wp-content/uploads/2022/09/Swift-eLearning-Services-logo_220.png
0
0
Abdul Wahab
https://www.swiftelearningservices.com/wp-content/uploads/2022/09/Swift-eLearning-Services-logo_220.png
Abdul Wahab
2017-01-12 21:00:42
2021-07-10 19:41:16
Does Outsourcing eLearning/Online Training development Make Sense?