Adobe Captivate 2019 Virtual Reality Project – A Developer's Review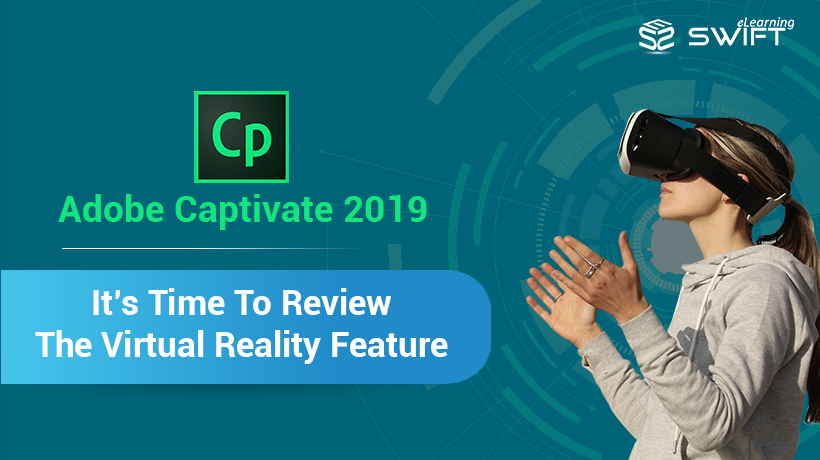 Adobe Captivate is one of the leading authoring tools to develop rapid e-learning courses with its unique features. In its recent update, Adobe Captivate 2019, it has created an exceptional achievement in its arena. In this blog, we are going to review Virtual Reality feature in Adobe Captivate 2019.
Virtual Reality in Adobe Captivate 2019 is capable of:
Creating immersive learning experiences with 360 degree virtual reality
Leveraging life-like scenarios in the tool to enhance the learner engagement
Using 360 degree slide in 2D captivate project to experience the 360 degree learning
From the welcome screen, under the New tab, Virtual Reality project can be launched. Since this is a virtual reality project some of the icons made unavailable in the captivate ribbon. A new option, Hotspot is added to create interactions for the learners to use in 360 degree slide like jumping to another slide, adding questions, media (audio and image), etc., from the actions tab in the properties inspector.
In Virtual Reality course you can:
Add only 360 slide from the slide menu
Add two types of question formats, True or False and multiple choice questions
Add Hotspots to the 360 slide and assign actions or simply add text label
Add/Import custom 2D hotspots to the 360 slide
Conclusion:
To conclude, Adobe Captivate 2019 maximizes the learning landscape and helps to create engaging VR content containing equirectangular images or videos. This feature might be the silver bullet to develop 360 degree virtual walkthrough courses.
We have created a sample demo course on "Adobe Captivate 2019" for your reference. Click the below buttons to access the course.
We are just a step away to provide you our eLearning services. For any learning solutions on course-ware / Digital content development please contact us at [email protected].
Our Services: Custom eLearning Development, Flash to HTML5 Conversion Services, eLearning Company
https://www.swiftelearningservices.com/wp-content/uploads/2018/11/Adobe-Captivate-2019-The-Virtual-Reality-Feature-New-N.jpg
460
820
Swift Elearning Services
https://www.swiftelearningservices.com/wp-content/uploads/2022/09/Swift-eLearning-Services-logo_220.png
Swift Elearning Services
2018-11-06 15:37:21
2022-08-18 19:09:56
Adobe Captivate 2019 Virtual Reality Project – A Developer's Review