Adobe Captivate 2019 – Virtual Reality Project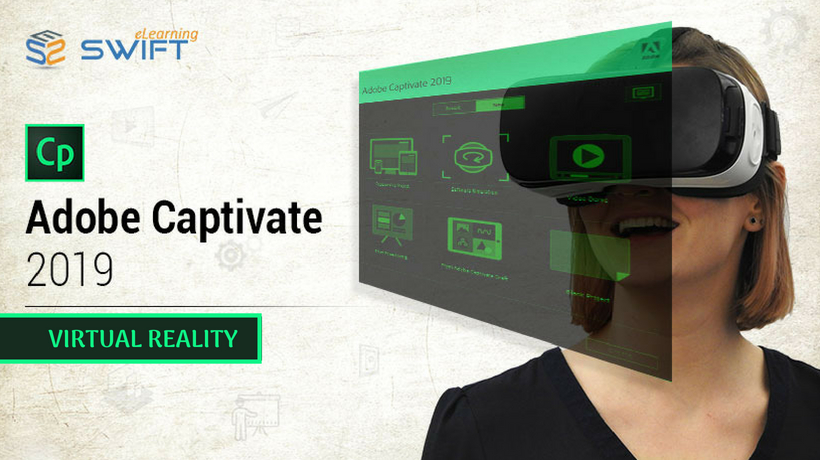 In the latest release of Adobe Captivate 2019, the Virtual Reality feature is included. With this feature, one can provide a low cost and high performance courses. In this blog, we are going to see how to create a virtual reality project in Adobe Captivate 2019.
You can open virtual reality project in two ways:
New > Virtual Reality Project
File > New Project > Virtual Reality Project

To add a 360 image or video, click + icon on the screen.

A popup window will appear on the screen. Navigate to your local drive and select 360 image or video.

You can see this popup window from the second time when you import 360 image/video.

You can add interactive elements like Hotspots on the image. To do so, click on Hotspots option in the menu bar and select any hotspot from the drop-down list.

Then assign interaction to the Hotspot. For this, double-click on the Hotspot, and choose an action under On Click drop-down list from the properties inspector. Here, we have taken Display Text action.
Note: You can assign more actions by adding more hotspots.
You can develop project in two ways – Guided and Exploratory.
Guided: Screen rotation will be navigated automatically in the sequence that you had added the hotspots, when you preview the project.
Exploratory: User should explore the screen and identify the hotspots. As default, the focus of the screen remains same as in the editing stage when you preview or publish the project.

Once you've selected Guided or Exploratory option, you can see Display Duration where you can increase or decrease the time of the text that is displayed on the screen.

Then assign a text label to the hotpot. To do so, click on Text on the Menu bar and select Label option from the drop-down.

Type the caption text in the label field given under properties panel. You can also make necessary changes to the text.

Click Publish to preview the project. Then, click on hotspot in runtime to check the interactivity.

The text appears as shown below.

You can see a visited tick mark once you click the hotspot.

Publish settings of Virtual Reality Devices:
Click Publish > Publish for Virtual Reality Devices

Enter the project title and the location. In the publishing options, see Publish project as HTML5.

After publishing your project, upload your project assets on a web server. The assets are in folders which are as follows:

vr
dr
callers
assets
art
project.txt
index.html
goodbye.html


By adapting this feature in Adobe Captivate 2019, you can create immersive learning experience taking learner engagement to the next level.
We have created a sample demo course on "Adobe Captivate 2019" for your reference. Click the below buttons to access the course.
Our Services: eLearning Service Provider, PowerPoint to eLearning, Flash to HTML5 Migration
https://www.swiftelearningservices.com/wp-content/uploads/2022/09/Swift-eLearning-Services-logo_220.png
0
0
Swift Elearning Services
https://www.swiftelearningservices.com/wp-content/uploads/2022/09/Swift-eLearning-Services-logo_220.png
Swift Elearning Services
2018-08-30 18:52:04
2022-01-05 18:42:26
Adobe Captivate 2019 – Virtual Reality Project