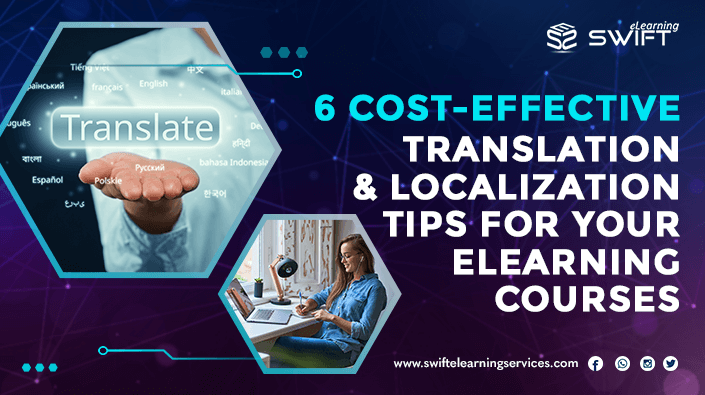 Cost-effective Translation and Localization Services
Are you looking for a cost-effective translation and localization service for your eLearning courses? Want to make translation and localization, culture-friendly while saving money?
This blog will help you minimize eLearning translation and localisation costs, without compromising the quality and efficiency of your eLearning course.
As the demand for multilingual online learning courses is evolving rapidly, the need of corporate training are increasing drastically to meet the new potential global market. However, without proper planning, content translation and localization can be expensive and challenging. As a result, the more prepared an organisation is, the more cost-effective translation project will be.
It is essential for companies to use translation and localization services appropriately and to their advantage, in order to compete in an increasingly global market. The challenge will be, how to maintain a balance between high-quality content translation and a limited budget?
Here are a few of the most cost-effective eLearning translation and localization tips to improve your eLearning projects without compromising quality.
Plan ahead of time for the translations
Before you begin the eLearning translation process, start with proper planning to meet the demands of your multilingual learners. Make sure your eLearning translation and localization approach isn't a last-minute decision.
A well-thought-out plan is essential for a cost-effective translation process. It allows you to strategize ahead of time, and choose the best resource for your translation assignment and, of course, reduce translation expenses.
To produce eLearning translation for your global workforce, you must plan and build your source-language training modules with globalisation in mind. Your training should be connected with your company objectives from the start, anticipating future eLearning translations. In simple terms, your planning should include – estimated turnaround time, project scope, budget, and number of languages, beforehand for the successful eLearning translation.
Make sure the eLearning content is easy to translate
When creating information for global learners, it's best to eliminate jargon, slang, clichés, idioms, culturally unique words, and abbreviations. Maintain consistency in dealing with careful signs and symbols to avoid rework, and misinterpretation.
Make the best use of cost-saving technology
Making the best use of cost-saving technology helps save cost, increase translation speed, language consistency, and ensure translation quality assurance. Translation memory technologies are one of the most cost-effective choices for businesses preparing for translation and localization. Thanks to translation memory in CAT (Computer aided translation) tools, these tools reduce translation costs significantly and are even more effective for long-term translation projects.
Many CAT tools have built-in translation memory that allow you to reuse translated sentences by ensuring that the phrases used are consistent. This aids in the creation of effective translations of your eLearning content, while cutting down the time and cost.
Prepare a translation guide for the translators
During the translation process, a variety of errors can occur, including typos, improper word choices, and so on. Preparing guidelines is an unavoidable step in completing a successful translation job in the right direction with excellent quality.
Style guide, terminology, reference material, glossary, design, and layouts should all be included in the instruction for translators. This will aid in the consistency of the translated material, resulting in high-quality eLearning content localization.
Use Text-free images and supportive templates
As eLearning translation and localization are effective in meeting the ongoing demands of globally dispersed learners, it's best to stay away from distractions like text on images and irrelevant templates for better results. The choice of right templates that support target languages and text-free images simplify eLearning translation and localization process, while reducing the quantum of re-work.
Avoid multiple vendors
Have a knowledgeable and single point of contact (SPOC) when managing multiple vendors to ensure effective communication, collaboration, and better translation.
The context and goal of the online course are important factors in the eLearning translation process. You must properly communicate the goals of translation and dispel the translator's uncertainties. Organizing all of your translation and localization needs into a single point of contact will streamline effective workflows, minimize internal management, and boost accountability.
Conclusion
Any organization's investment in eLearning translation and localization is critical, and it necessitates careful planning and thinking. Planning ahead of time will help you produce cost-effective translation and localization of your e-learning content.
You must guarantee that the content of your online course is easily translated, utilising the capabilities of CAT software, supportive templates, translation-friendly eLearning content, text-free images, and providing effective guidance using a SPOC. These factors will streamline eLearning translation and localization services in cost-effective and timely manner.
We, at Swift eLearning, consider all the clients requirements with effective collaboration followed by pre-planning and strategizing under our expert team of linguistics to deliver amazing eLearning translated projects in a very cost-effective manner.
For eLearning Translation and Localization Services, contact us.
https://www.swiftelearningservices.com/wp-content/uploads/2022/01/Translation-and-Localization-Services.png
395
705
Swift Elearning Services
https://www.swiftelearningservices.com/wp-content/uploads/2022/09/Swift-eLearning-Services-logo_220.png
Swift Elearning Services
2022-08-03 15:36:32
2022-09-22 12:05:59
Cost-effective Translation and Localization Services