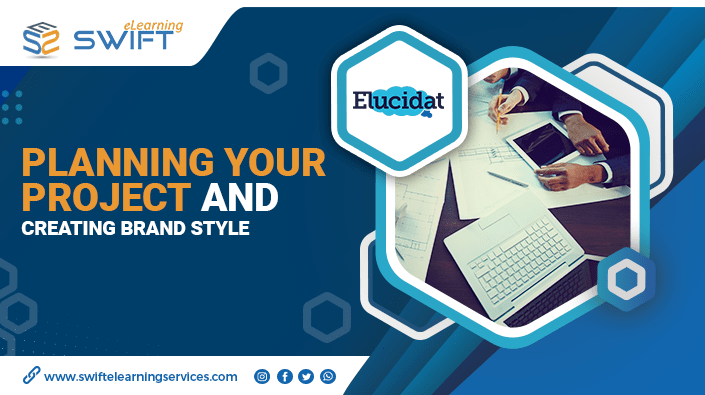 Planning your project And Creating Brand Style – Elucidat
In Elucidat authoring tool, with the help of its default features and inbuilt templates, we can create courses in less time. Though Elucidat does not allow extensive customization, it allows us to create our own templates to an extent. The output can be easily viewed in all devices.
The different navigation types that can be used in an Elucidat course are:
Scrolling type course
Navigation course
Scrolling type course
If you're going with scrolling type courses, then need to add sections on the single page in the project and add the content in the layout mode, which will be viewed as a scrolling type course.
Navigation course
If you're going with navigation, then you can add different pages and add links to navigate through different slides. This is ideal when you are dealing with large content and need to link slides.
Creating Brand style:
Once we are done with project planning, we need to create a style for the project. Style in Elucidat is all about the look for the project, which includes the colors, fonts, font size, logo, Elucidat elements colors, padding, button, button colors, and other features. So once we design the style with our standard colors and requirements, then every time we insert any element (accordion, flip-card intaerctivity, etc.), the color, font and other standards will be set as required.
Your brand style can be created by following the below steps:
Step 1: Click the 'Theme'
Step 2: Click on 'New Style'
Step 3: Give your Style a name
Step 4: Apply the colors, logo, font, etc.
Step 5: Once you are done with all the changes, click the 'Save Changes' button and the style is ready.
The options we will go through in creating the style will be of two types. One will have basic styles and other will have advanced styles. The list of all the options are shown below:
Basic Styles
Specific Logo
Background colour for all pages
Background image for all pages
Font size
Font for titles and headings
Text colour
Text background colour
Advanced Styles
Buttons
Graphs
Main Navigation
Media Player
Pages
Popups
Typography
Once all the changes are applied, we can use these style when we create a project. On clicking 'Create new project', you will be directed to select the 'Style' and 'Name' option. And if we want to make any further changes, simply click on 'Edit Style' from your project or go to 'Styles' and make the changes.
https://www.swiftelearningservices.com/wp-content/uploads/2022/01/Planning-Your-Project-and-Creating-Brand-Style-in-Elucidat.png
395
705
Swift Elearning Services
https://www.swiftelearningservices.com/wp-content/uploads/2022/09/Swift-eLearning-Services-logo_220.png
Swift Elearning Services
2022-08-03 15:41:25
2022-08-03 15:41:25
Planning your project And Creating Brand Style – Elucidat