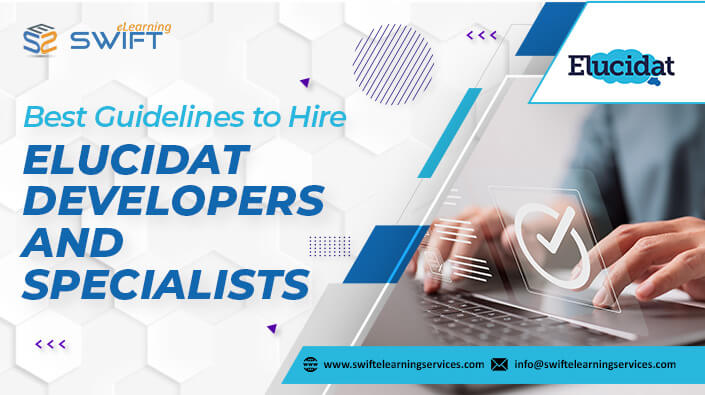 Best Guidelines to Hire Elucidat Developers / Specialists
You have reached the right place in search of hiring the best Elucidat developers at affordable prices. Now, it's no looking back!
Swift eLearning Services has been a front runner in the eLearning industry, offering cost-effective and quality-oriented eLearning services, for more than a decade. Among our well-trained, proficient workforce, we have numerous Elucidat developers who are efficient at handling the tool, to cater for all your eLearning needs.
Elucidat – Nothing is too late to make a mark!
Though joined a bit late in the authoring tool race, Elucidat today stands among the top 5 best eLearning authoring tools. Thanks to its fully cloud-based and powerful authoring platform, Elucidat allows its user to produce high-quality digital learning, on a global scale, on any device.
As its name suggests, Elucidat is known for its clarity and ease of use. It is well-suited both for new and experienced professionals. Its pre-built themes and templates allow users to design effective online courses.
Elucidat is also reputed for making eLearning development and training easy for corporate organizations. It provides eLearning professionals with the opportunity to develop learning content which loads and runs quickly on any browser or mobile device. This tool features a custom theme builder, pre-built templates, user-friendly design interface and collaboration tools.
Elucidat has won a number of prestigious industry awards over the past years. One of them is Brandon Hall Gold Award for Best Advance in Course Authoring in 2020.
In addition, on Capterra, Elucidat is ranked 4.6 for ease of use.
Recruiting the best developers at affordable prices is the challenge of the day!
As Elucidat entered the eLearning domain relatively a bit late, there is a probability that professionals with hands-on experience of the tool might be fewer, when compared with other well-established authoring tools. However, the number of developers and experts, who are learning the tool is increasing day by day.
Connected with the context, we would also like to share what we can offer you. With a bunch of world class Elucidat experts at hand, we are entitled to provide you some valuable guidelines, on how to recruit Elucidat experts at affordable prices.
So, choosing the right candidate with an appropriate skillset is pivotal for any project's success. In this regard, this blog presents you with some effective guidelines to overcome the problem.
#1. Test Holistic Tool Expertise of the Job Aspirant
When it comes to eLearning authoring tools, thorough knowledge of the tool is a must, because the requirements may not be same all the time – they are client/project based and they keep on changing constantly. Hence, a holistic tool expertise is what needs to be checked.
Here is a detailed checklist to go through against the aspirant's skillset:
Handling pre-built themes and templates
Creating game-like quizzes
Handling multi-language feature
Creating scenario-based learning
Expertise in using audio/video players
Using rules, branches and badges
Knowledge about points, timers
Hands-on with layout designer
Auto playing soundscapes
Social polling and gamification
Managing analytics dashboard
Using learning accelerator
Handling learning Launchpad
Getting best out of WYSIWYG interface
#2. Look for other Skillset and Experience
In-depth authoring expertise: Check if the job aspirant has a thorough knowledge about the usage of the tool and if they are able to build content and design the way you prefer it. This can be tested by assigning them some sample creation.
Design-orientation: This is to check their designing approach while they develop content following the design process.
Optimization of the authoring tool: This is to observe how best they can streamline the authoring processes and use the pre-built templates, which helps in speeding up production.
#3. Plan to hire from countries which offer affordable prices
Hiring Elucidat freelance developers or expects from countries which offer relatively at low prices is lot more affordable than to spend money for full-time employees in your organization.
In this context, the following information about what we can best offer would be of much help to you.
Swift eLearning Services can assure you to save yourself around 40-50% of business cost by hiring Elucidat developers from us. Hiring with us is safer than you contemplate, because your money is released to the freelance developers only after we receive your written confirmation that the work is done satisfactorily.
Conclusion
We expect that the guidelines provided here are of good help to you. For any eLearning services, you can contact us.
Related Frequently Asked Questions (FAQs)
1. Elucidat is well noted for being a cloud-based authoring platform. But, why to use a cloud-based platform?
Cloud-based authoring tools allow eLearning teams to author and review online, enabling them to always work on the latest versions of the tool. The cloud-based option enables to launch updates much quicker than in desktop tools. As a cloud-based authoring tool, Elucidat allows for multiple authors to work on the same project – simultaneously.
2. Is Elucidat authoring tool SCORM compliant?
Course created in Elucidat are fully SCORM compliant. Its SCORM for LMS release mode allows users to use the re-release feature to push updates into the LMS, rather than uploading a new SCORM file.
3. In how many languages is the Elucidat plat available?
The Elucidat platform is at present available in English, Spanish, Italian, Dutch, Japanese, Portuguese, French, Brazilian and Mandarin.
https://www.swiftelearningservices.com/wp-content/uploads/2022/01/best-guidelines-to-hire-elucidat-developers-or-specialists.jpg
395
705
Swift Elearning Services
https://www.swiftelearningservices.com/wp-content/uploads/2022/09/Swift-eLearning-Services-logo_220.png
Swift Elearning Services
2022-01-10 10:44:39
2022-01-10 10:44:39
Best Guidelines to Hire Elucidat Developers / Specialists