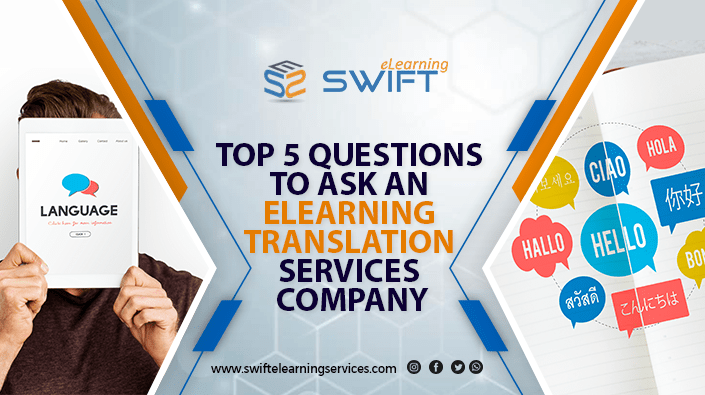 5 Questions to ask an eLearning Translation Services Company
Let us begin with looking at two scenarios where we need the support of an eLearning translation services company.
Scenario 1: With the purpose to meet the language preferences of your global work force situated in different geographical locations, you decide to translate your training content into relevant languages.
Scenario 2: You would like your well-made eLearning courses to reach other geographical areas of the world in their native language, to increase market scalability. So, you decide to translate your courses.
In both these scenarios (or in other similar situations too), what all you need is a reliable translation service provider, who can best serve your translation needs. However, finding a right translation partner is not that trivial a task as one may think.
There are many instances of training/ eLearning companies who suffered a setback to their reputation due to their wrong choice of the translation provider. Once entered into a hasty translation business agreement, you cannot help but bear the brunt of their poor performance, if you are not alert before you plunge in.
To avoid a situation like that, it is shrewd to know what questions to ask them before you get engaged into the irrevocable translation business deal.
Find here 5 most important questions to ask an eLearning translation services company to derive the best results:
Question # 1. Can we see your translators' profiles?
Generally, in a translation service provider company, there are a bunch of translators, belonging to different languages, with some individuals offering freelance services to the company. In fact, for a translation service provider, language translators are everything. The quality of the output that you get at the end, primarily depends on them.
Ask the translation service provider for the profiles of the translators, relevant to your target language. Ensure that their profiles are matching the industry standards. Check their:
Educational qualifications
Years of Work experience
Proven track record
Their nativity

Their work samples

Translation tools known
It is an added advantage if the translators are native speakers as it can give some edge over the non-native people in terms of localization aspects. The native translators can efficiently handle the subtle cultural aspects and we can rely on them for fool-proof translation.
Swift eLearning Services has highly professional, experienced and trained translators in more than 100 world languages for translation. Check our Translation and Localization services to learn more.
Question # 2. What criterion will you follow in choosing translator(s) for a project?
Just as each project of a domain is distinctly different from others, the calibre and forte of individual translators also vary clearly.
Once you explain your requirements to the translation service provider, ask them straight about the strategy they are going to follow to meet your project requirements. An experienced, professional translation service provider would take no time to explain you, their plan of action – in detail.
Because, not all translators can handle each and every subject matter with the same ease. It is the experience and shrewdness of the service provide to choose specific translator for a specific task.
Question # 3. What is your strategy to meet the timelines?
In fact, for every project, the two primary expectations are – 'maintaining quality' and 'meeting the timelines'. The translation service provider is no exception for these requirements.
As the translation service provider is already aware of the amount of translation work involved in your project, ask them what specific strategy they would follow to complete your project – in time. The significance of this question is multi-dimensional, because many factors come into picture for a project not be completed in time.
Instead of having sudden surprises later, it is ideal to check their work plan initially. As their translators are working on multiple projects, it is important to ensure that their schedule doesn't affect your stipulated timelines. As you receive translated copies from them at regular intervals, their work flow should align with the development process of yours.
Question # 4. Can you tell us about your quality control process?
Contrary to the source content, which is primarily English, the QC process for translation of any target language is of two-tier:
For localization errors
For language errors
Ensure that when you pose this question to the translation service provider, they should talk about the two level QC process.
Once the source content is translated into the target language, it should be checked by the QC team – ideally by a translator who has command over the native language to identify the subtle cultural nuances, in the form of words and phrases.
The thorough second level QC should check for any spelling mistakes, grammatical errors and punctuation errors as well.
Question # 5. What measures will you take to protect our intellectual property?
'Last but not least' is the question to ask about their measures for protecting your intellectual property (IP).
The translation service provider should maintain security standards related to file transferring, data protection and tracking files. Ask the provider details about standard certification that they maintain so that your IP remains protected.
Final Thoughts
Asking the right questions get you correct information to take a decision. Before asking other questions related to your translation project, check if the translation service provider has satisfactory answers for these basic, important 5 questions.
Swift eLearning Services, with more than a decade long relevant experience in translation and location services, is ideal to be your translation service provider.
Request a demo for all your queries.
Related FAQs
#1. What is translation memory? How is it used?
Translation memory (referred to as TM) is a database which stores text segments, paragraphs, sentences that are already translated.
Translation software work closely with this database to automatically suggest similar stored matches when new documents are being translated.
This whole process is helpful in minimizing the work as text segments, paragraphs and sentences that are already translation need not be translated again. Translation memory is highly useful in the translation and localization process in augmenting speed, quality and efficiency in every translation task.
#2. What is machine translation? How dependable is it?
As the name suggests, machine translation (MT) is automated translation, in which computer software works to translate the source text into the target language.
In machine translation, massive amount of source text can be translated into the target language, in no time. However, the quality of translation varies. The general opinion is that the transition looks accurate in one dimension, but in terms of providing the context-related meaning, it may not be accurate all the time. For this reason, for accurate translation, many companies resort to human translation, despite the lengthy time it takes.
https://www.swiftelearningservices.com/wp-content/uploads/2022/01/eLearning-Translation-Services-Company.png
395
705
Swift Elearning Services
https://www.swiftelearningservices.com/wp-content/uploads/2022/09/Swift-eLearning-Services-logo_220.png
Swift Elearning Services
2022-01-10 10:36:39
2022-01-10 10:36:39
5 Questions to ask an eLearning Translation Services Company