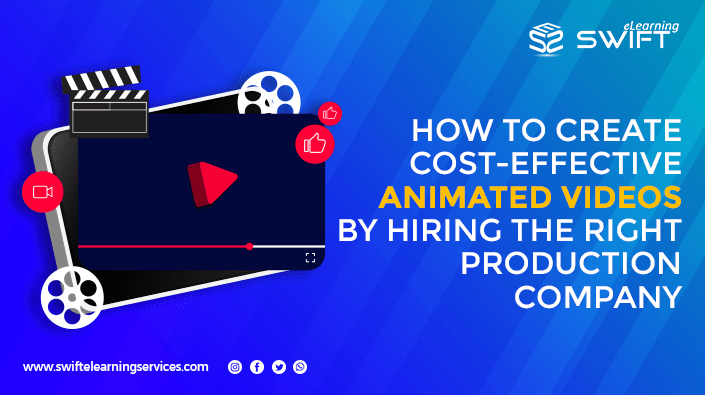 How to Create Cost-effective Online Animated Videos
Why animated videos are so sought-after?
You can check this on your own! Take a simple topic – as simple as 'fixing a leaking tap'.
Now, try to learn about it – i.e., gain knowledge about the concept – in the following ways:
Read the related text
View related images
Listen to related audios…and finally,
Watch a related animated video
Which activity of learning gave you a comprehensive idea about the topic? Undoubtedly, it is the animated video which makes your learning quick, accurate, engaging, retainable and long-lasting.
Animated videos have the exclusive ability to impart learning to auditory, visual, and kinaesthetic learners, at the same time. This is the power of animated videos in online training.
It is said that 'a picture is worth 1000 words'. And, we are yet to find how many words in terms of an animated video.
Animated videos have made their mark in online training as they are engaging and interesting on one hand; and learning-efficient, 100% result-oriented and time-saving on the other.
Perhaps for these reasons, animated videos in eLearning services are so popular and much in demand, compared to any other online training elements – barring gamification. If you want your employees enjoy the mandatory training programs, animated videos help a lot!
In the present fast-paced generation, majority of learners prefer to watch animated videos, compared to other modes of learning. Whether it is about training your employees instantly or helping them learn a new skill elaborately, animated videos are quite helpful.
Still, animated videos are a distant dream for many eLearning companies!
Today's scenario is: many eLearning companies know the significance and requirement of animated videos to be incorporated into their training programs. Yet, only big eLearning companies are able to afford fully functional animated videos. Many small to medium eLearning and training companies avoid animated videos at the very first thought.
Small and medium level eLearning companies are limiting themselves by strictly retaining to the initial levels of eLearning content, not successfully offering to the training program – what it really deserves.
In fact, these companies cannot be blamed for the situation. The reality is quiet in sync. Let us examine why!
The regular eLearning training programs are limited to instructional design, storyboarding and content development. But, in case of creating animated videos, there are special requirements such as animation and filming which include live action, animation or a combination of both of them.
But, the production for these elements cost you extra money and time, and may need the related expertise which may not be available in-house.
How to make cost-effective animated videos with the help of right production company
For these special requirements of filming and animations, eLearning companies need to depend on production specialists. When you hire a production company for the purpose of creating animation videos, you can avoid spending money on licencing the software and equipment; you need not train your staff on the tool either.
In this context, to create effective, and at the same time, budget-friendly animated videos, you need to get the right production company to pair with.
Let us look at some tips in choosing the right partner company for creating animated videos.
Tip #1 – Know about different animation companies
Here are different types of companies, based on their working mode:
DIY animation companies:
It is the 'Do it Yourself' company. You can opt this option when you don't need to hire a professional to do an animation. Your team will work on the task without any direct assistance from any expert. These companies allow you (as a user) to make short videos for free. But, they will charge you if you want the water mark logos to be removed.
Explainer animation companies:
These explainer companies produce short videos which help portray your ideas into simple, engaging animation videos of 2 minutes. You can take audios from these companies, but they will be charged extra. To use both DIY and explainer companies, no certification is needed, but you need many working hours to learn. On an average, to learn and create a 4 minute animation video, you need approximately 15-20 hours to work on the task.
eLearning companies:
These eLearning companies have a team of animators who can take up your task. To these companies, making animation videos is one among many other eLearning tasks. As there are a lot of limitations when dealing with DIY and explainer companies, many companies, with specialized animated video requirement, would choose eLearning companies for their project work.
Swift eLearning Services stands in this category, serving its clients for more than a decade. Other than animated videos, we offer you gamification as well.
Animation-focussed eLearning companies:
For these companies, the primary service is providing animation services. Generally, such companies would take any kind of animation task, irrespective of the amount of work involved.
They have a lot of work force, who are professionally trained to make animation videos. They help you with almost all types of eLearning animations, and the widespread notion is that they are not much cost-effective.
Tip #2 – Search the production company based on your requirement
We have seen in detail, different types of animation production companies. The next step is to gather your requirements and to check which model will suit best to your needs.
You can in fact choose a DIY company for a simple, generic requirement 'or' and go for an eLearning company for a specific, customized requirement. Your requirements will also take into account your budget, your timeline and the style of animation you need.
Tip #3 – Seek for samples and negotiate on the quote
Now, you know the different animation services offered and your requirements are at hand. You can search in Google or take inputs from referrals, or through website information for suitable animation video production companies.
Make a call or chat, in detail, about your requirement. Once you explain your requirement, ask for related samples. A work sample will give an understanding about their work style. Finally seek a quote for your task requirement and don't forget to negotiate on the quote based on your budget criterion.
Final Thoughts
When you are not able to make your animated videos in-house, it is ideal to rely on an outside production company for your requirements. Understanding the work nature of the company and how well it is suited for your requirement is the need of the hour.
For all you tasks related to animated videos, you can contact us for cost effective and in-time delivery solutions. Contact us for any queries.
Related FAQs
#1. How best can an animated video production company understand my requirements?
As an ideal animated video production company, we interact with you to understand your business requirements. Post-kick-off, we start working with script development and subsequent storyboard creation.
Once the storyboard is approved, we prepare the voice-over, do illustrations, and animations. At every level of the animated video development, we seek your inputs, update you with our work status, so that there won't be any communication gap.
#2. How long does it take to make an animated video in general?
A straight answer may not serve better here. However, we can give you an understanding related to the query.
With our decade-long experience, we can deduce timelines to give clarity about it. For a 1 minute animated video, it takes around 5-7 productive weeks, beginning from the kick-off date to the final delivery.
https://www.swiftelearningservices.com/wp-content/uploads/2022/01/How-to-Create-Cost-effective-Animated-Videos-Hiring-The-Right-Production-Company.png
395
705
Swift Elearning Services
https://www.swiftelearningservices.com/wp-content/uploads/2022/09/Swift-eLearning-Services-logo_220.png
Swift Elearning Services
2022-01-10 10:24:28
2022-01-10 10:24:28
How to Create Cost-effective Online Animated Videos