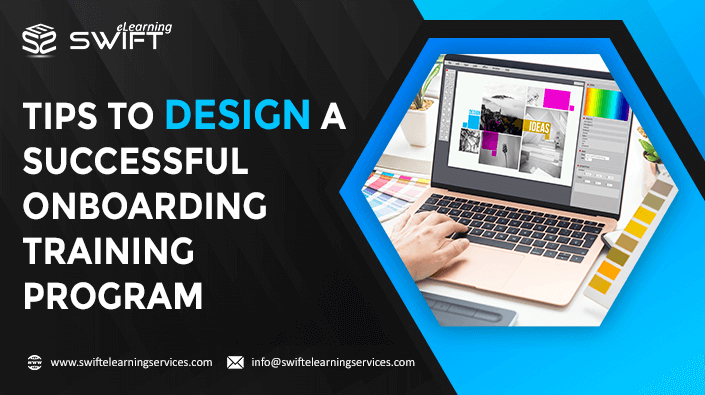 Tips to Design a Successful Onboarding Training Program
In this blog, you will learn some important tips to design a successful onboarding training program. Now, imagine a scenario!
Its Tom's first day at ABC company. A fresher from campus, he has many aspirations and was choosy about the organization he has just joined.
But, much to his surprise and dismay, the welcoming activities were awful and filled with chaos. He was not provided relevant material to learn about the company, its operations or activities. Neither was he introduced to the rules and regulations that he should follow as an employee.
He was just provided a computer, and after three days, he was attached to a team and he was plunged into project tasks, without even being properly introduced to the whole team.
After a month, Tom is now a dejected employee, with least enthusiasm for his own tasks – leave alone the company's growth and productivity.
This scenario – which is prevalent in many companies – explains the significance of a successful onboarding training program, to enhance the confidence and skillset of employees.
The very purpose of onboard training is welcoming new employees and to ensure that they are well-equipped with all the required information to succeed at their job. It should serve as a guiding path for them to achieve career goals.
Here are some important tips to design an effective onboarding training program.
Tip #1. Think from the perspective of the newly joined employees!
Imagine the mind-set of a newly joined employee of an organization. Though everyone around is cordial with them, they still feel jittery to some extent, trying to adjust themselves to the new environment. They expect all the required information is clearly explained to them – step by step – in a systematic way. The HR team and the co-workers speaking politely to them is not just enough. They need answers for so many questions that float on their mind.
If you understand their needs in the first step and then, simultaneously, think about the required information that needs to be imparted to them from the organization's perspective, then, you can structure the onboarding training program well. It is even ideal if you take feedback from the newly joined employees through a designed format, which would help you update your program further.
Tip #2. Build a comprehensive eLearning course with a good ID strategy
Organizations which are well aware of the importance of onboarding program are still not considering eLearning as an option to build a comprehensive training program for onboarding. They would like to manage with the tedious corporate handbook, some random PDFs and PowerPoint presentations with mediocre quality and insufficient information.
In case of eLearning content, the employee can go through the material multiple times at their own pace. It is ideal to initiate the ID strategy to build the onboarding training course, once all the requirements are gathered. Plan the eLearning course with a structured table of content and create a detailed storyboard for the design purpose. Plan the course to divide into multiple segments with sub categories, making it easier for the employee to digest the content in an easy way.
Tip #3. Use mix of media elements to enrich the training program
Just as the general trend from the company perspective is to treat onboarding training as a formality, for the newly joined employee, going through the provided onboarding content has become just a boring and mandatory experience. In this scenario, it has become a challenge to make the onboarding process engaging and to ensure that the employees retain the required information.
The best way is to choose a good rapid authoring tool for the purpose. Use text, images, videos, animations intermittently and consistently, according to the requirement.
The golden rule said about the usage of media elements is 'to use them appropriately in places where they fit well'. If text is sufficient, you can place text. If the context demands for an image to best explain, insert an image. Similarly, go for videos and animations according to the requirement. Mix of media according to the context yields best results in content creation.
Tip #4. Try to make it 'personalised training' as far as possible
In the current business world, 'personalization' is making miracles. With the advent of data analytics, all marketing strategies are revolving around 'personalization' of their customers. If used effectively, personalization can be effective even in onboarding training as well.
Design the onboaridng eLearning course in such a way that the newly joined employees get exposed only to the relevant units of learning that they need. This is possible when employees are effectively categorized based on their job roles or regular job activities. This method of personalization ensure that the employee need not refer to all the information that he is not connected with.
Tip #5. Do evaluate the employee's Onboarding learning
Perhaps an eLearning training program can best be utilized with this purpose. The summative assessments of the course can evaluate the learning outcomes of the employee.
While creating the assessment questions, ensure that they are not 'so obvious' that the question and options reveal the answers themselves. Try to test their real learning out of the course, by posing some tricky and analytical questions.
Tip #6. Extend support throughout the onboarding duration
It is, in fact, part of the onboarding training program to support the newly joined employees as they keep on learning theoretically as well as practically (on the job) throughout the first three months – which is generally considered to be the onboarding period. During this period, they get acquainted well with the theory part, which will be established in their minds as they apply it in their everyday job activities.
During this time, respond to their queries patiently and try to explain complex information in an easier way, with some examples. You can provide supporting additional information if there is a need.
Conclusion
Aristotle said, "Well begun is half done".
An employee's journey in an organization, if well started with the best designed onboarding training program, will last long fruitfully in the organization, yielding successful results for personal career growth as well as company's overall development.
Swift eLearning Services has been a front runner in the eLearning industry, offering cost-effective and quality-oriented eLearning services, for more than a decade. Along other eLearning services, we will develop onbording eLeaning training programs, to cater for your employee's needs. For more details, contact us for a demo.
Frequently Asked Questions (FAQ)
Are onboarding and employee training same?
Though they co-exist in the organization's activities, they are two seperate activities.
Onboarding training helps the new employee get accustomed to the rules and regulations of the organizations, know the company's activities and operations, the culture, ethics and philosophy.
The training, on the other hand, is meant to impart the required technical skills needed in his/ her job role. Training can address the employee's job efficiency issues and productivity problems so that they can improve their performance and contribute to the organization well.
Tags: translation and localisation services, flash to html5 conversion services, mobile learning, rapid elearning solutions
https://www.swiftelearningservices.com/wp-content/uploads/2022/01/Tips-to-Design-a-Successful-Onboarding-Training-Program.png
395
705
Swift Elearning Services
https://www.swiftelearningservices.com/wp-content/uploads/2022/09/Swift-eLearning-Services-logo_220.png
Swift Elearning Services
2022-01-10 10:13:22
2023-09-29 11:24:29
Tips to Design a Successful Onboarding Training Program