Translation and Localization of e-Learning Course in Articulate Rise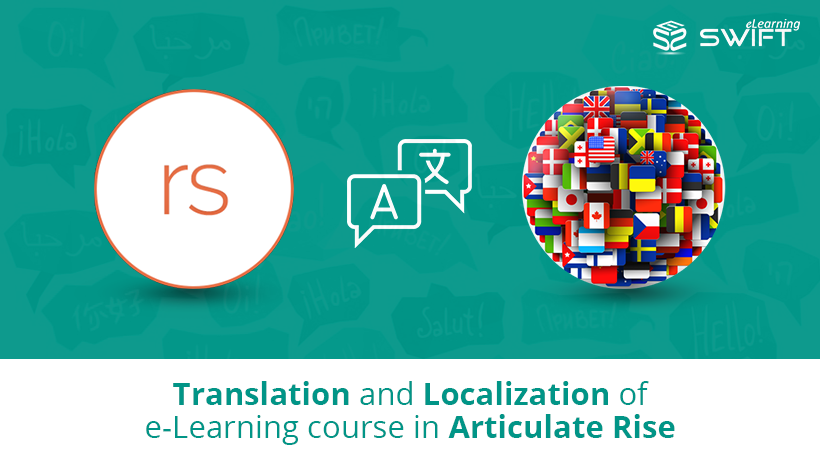 In the previous versions of Articulate Rise, it was difficult to develop a non-English content since there is no translation option. But Articulate Rise, in its enhanced version, released a feature to translate your Rise elearning courses into desired languages.
Let's have a look on how to translate your course in simple steps:
First, duplicate your Rise course. To do so,
Go to the Rise menu, click on the three dots in the course title and select the duplicate option.
Now, save the course with a new name.
Next, export the course as XLIFF file. To do so,
Open your new course (duplicated) and click on

settings

.
Navigate to the

translations

tab.
Then, click on

export XLIFF file

option from that section.
Now you need to use any of the professional translators that are available in google to edit your EXLIFF file.
Next,

Import Translated Text

into your course. To do so,
Open your new duplicated course.
Click on

Go back to course settings

and navigate to Translations tab.
Click on

Import Translated Text

option from that section.
Now, select your

XLIFF

file and click Open.
Finally, translate the text of your

Labels

. To do so,
Go to

Labels

tab in course settings.
From

Custom Course Labels

section, use the drop-down list and make a selection.
Then, click on

Close button

when you are done.
This is how you can create e-learning courses in multiple languages by using articulate rise translation and localization feature to reach the global training requirements.
We are just a step away to fulfill your e learning requirements. For any requirements on course-ware development please contact us at [email protected].
Our Services: eLearning Solutions, eLearning Content Development, eLearning Vendor
https://www.swiftelearningservices.com/wp-content/uploads/2022/09/Swift-eLearning-Services-logo_220.png
0
0
Swift Elearning Services
https://www.swiftelearningservices.com/wp-content/uploads/2022/09/Swift-eLearning-Services-logo_220.png
Swift Elearning Services
2018-08-03 12:28:50
2021-07-13 18:54:46
Translation and Localization of e-Learning Course in Articulate Rise