TOP 7 IMPACTS OF ELEARNING ON CLINICAL RESEARCH TRAINING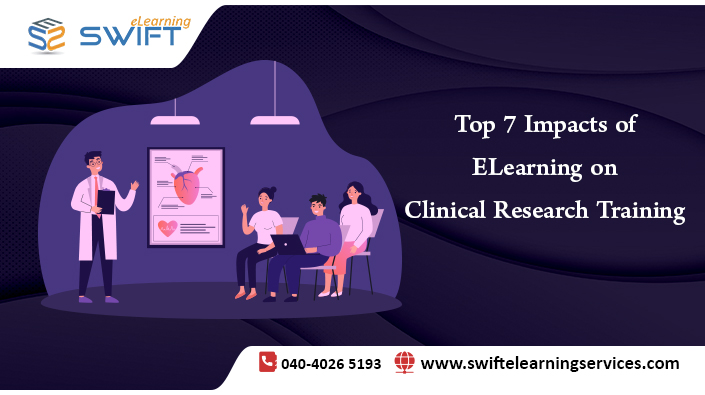 Clinical research is the branch of science that determines the safety and effectiveness of medications, devices, diagnostic products, and treatment regimens intended for human use. Pharmaceutical and life sciences companies always have a requirement to train their employees to be up-to-date with the scientific and technological advancements of the health sector.
Traditional classroom training might be a hassle as it can cost a lot of resources and time, which can be rather used in research and development. Hence eLearning can be a boon to the L&D sector of the Pharmaceutical and life sciences companies as they are the efficient, cost-saving, and time-saving way of training the employees.

7 Ways eLearning Can Impact Clinical Research Training
1. Ease of training
Unlike classroom training, where a large group of people is gathered and trained at a given time, eLearning helps the learners to be trained anywhere and anytime. This helps learners to focus on their daily routine and take the training whenever it is compliant to them.
In pharmaceutical companies where the workforce is large and training on a number of topics is required, classroom training can be tedious to the L&D managers. Hence eLearning can help solve this problem by preparing virtual training modules for each topic required and the best part is that these modules can be used a number of times even in the future.
Especially during a pandemic where gathering your workforce at one place is hazardous, eLearning can be very useful as it helps in remote offline and online training.
2. Personalized training
The customized eLearning approach for content development can help to achieve specific training objectives and target each individual, further enhancing the learning experience. Different instructional design strategies provide just what your learners need to understand so that they are ideal for your workforce.
3. Hands-on virtual training
Strategies like scenario-based learning, game-based learning, simulations, etc., can help the learners to have hands-on training in a risk-free atmosphere where they can explore the consequences of their decisions and apply the knowledge in their real life.
In life sciences companies where you deal with hazardous chemicals and equipment, a single mistake can lead to dangerous consequences. eLearning can help in training the employees by giving them constant feedback on their decisions and let them know the consequences during their work.
4. Easy of accessibility
Techniques like the development of responsive eLearning courses, enable the learners to receive training anytime and anywhere. In this modern age, where almost everything is accessible through a mobile device, there is a high demand for mobile eLearning, to help the learner train with ease.
Now your employees don't need to stick to a single place or device to train themselves. Responsive eLearning courses can be completed on mobile while you are on the go.
5. Ease of upgrading and updating
In clinical research, advancement in scientific methods and technology is frequent and this should also be reflected during the training of an individual. eLearning can accomplish this with ease, using authorizing tools which help in updating the courses easily within a short interval of time.
6. Performance tracking
In pharmaceutical and life science companies, where the workforce is large, keeping track of the performance of each individual can be a tiresome and tedious job for the L&D managers. This can also lead to errors in evaluating their performance.
The Learning Management Systems (LMS) platform, used in eLearning can help to track the performance of each individual employee with ease, that too with great accuracy.
7. Training a wide range of audiences
Due to globalization, diversity can be seen in many companies, especially in clinical research, where many individuals with different backgrounds and knowledge, collaborate and put forth their ideas and help in innovating their work. In such cases, providing training to every individual in the language and culture they are comfortable in, can enhance their learning experience.
Translation and localization services in eLearning can help in providing training courses in different languages.
Conclusion
Taking the above points into consideration, it is clear that eLearning can help the L&D department of a clinical research company in many ways and can be considered the best form of training, especially while training clinical research employees.

https://www.swiftelearningservices.com/wp-content/uploads/2021/05/Top-7-Impacts-of-ELearning-on-Clinical-Research-Training.jpg
395
705
Swift Elearning Services
https://www.swiftelearningservices.com/wp-content/uploads/2022/09/Swift-eLearning-Services-logo_220.png
Swift Elearning Services
2021-05-03 10:29:33
2022-01-05 15:58:48
TOP 7 IMPACTS OF ELEARNING ON CLINICAL RESEARCH TRAINING