Case Study – Conversion of Flash Courses to HTML5 using Articulate Storyline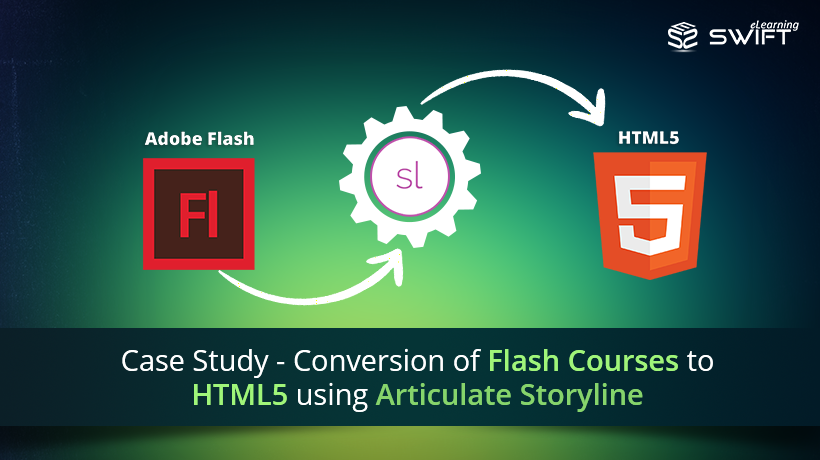 In the recent times, the learning needs are changed and the technology has increased at its pace. This has transformed the traditional classroom training into e-learning. The courses that were developed in Adobe Flash or tools whose output is in SWF are now not compatible with the modern devices. Thus there is a need for the flash to html5 conversion elearning to meet the current trends in the eLearning industry.
Let's see a case study on migrating the legacy content into HTML5 elearning.
Company's Profile:
A renowned company in the United States having a strength of more than 7000 employees who are experts in providing automobile solutions to its vivid customers has extended their hands to reach out to their global audience by migrating their legacy content into HTML5.
Purpose of Converting Legacy courses:
As there is compatible issues with the courses on modern devices, the company has decided to transform its existing content into HTML5. These courses were developed to train their field staff. To give the field staff flexibility to access courses on Mobile devices, all the courses were migrated to HTML5.
Project Length and Storyboarding:
The total number of courses were 40 that were developed in different authoring tools like Adobe Flash, Captivate and Lectora. The overall duration of the training was 15 hours. Along with the Migration of courses, we also did enhancements and partial redevelopment to present the content in a better way.
Authoring Tool:
As an initial step, we have extracted the assets like images and content from the flash courses using Animate CC and XML files respectively. The client was aware of eLearning authoring tools and suggested us to develop the courses using Articulate Storyline 360. We then transformed the legacy courses into HTML5 by implementing all the possible functionalities, look and feel of the legacy courses using Articulate Storyline 360.
Final Result:
Developed rapid eLearning courses in short duration within the budget and compatible with smartphones, tablets, and laptops.
We are just a step away to fulfill your eLearning requirements. For any Flash to HTML5 Conversion please contact us at [email protected]m .
Our Services: eLearning Development, Flash to HTML5 Migration Service, Rapid e-learning Development
https://www.swiftelearningservices.com/wp-content/uploads/2022/09/Swift-eLearning-Services-logo_220.png
0
0
Swift Elearning Services
https://www.swiftelearningservices.com/wp-content/uploads/2022/09/Swift-eLearning-Services-logo_220.png
Swift Elearning Services
2018-09-12 19:42:17
2021-07-14 19:25:48
Case Study – Conversion of Flash Courses to HTML5 using Articulate Storyline