Top 5 Benefits of Custom eLearning in Retail Industry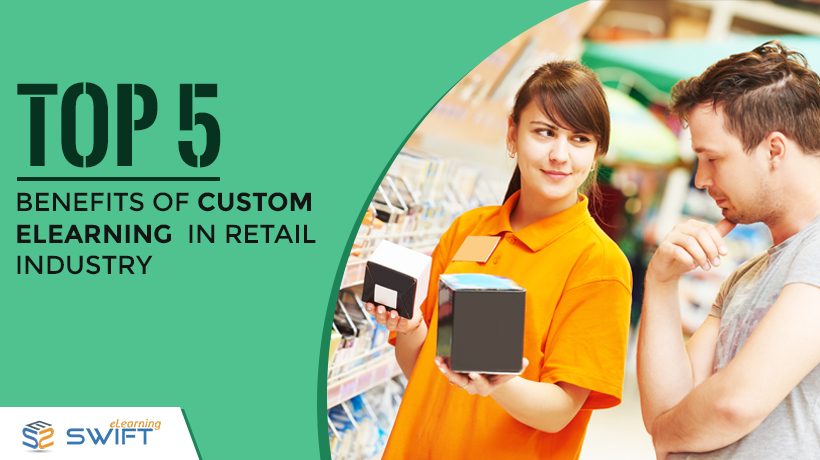 In the Retail Industry, custom eLearning offers massive benefits as opposed to the traditional instructor-led training in terms of retail employee training. Training the sales staff pose industry-specific challenges such as restricted training budgets, dispersed workforce, high turnover rates, etc. Embracing custom eLearning for product knowledge, onboarding, compliance and sales skills would help retailers overcome these challenges.
With the rising trends like Microlearning, mobile learning and gamification, eLearning is now more powerful and can address retail sales training needs like never before. It helps retailers address employee retention eliminating time and place constraints while providing a positive training ROI.
To understand how custom eLearning content helped a global retail giant, you may refer to one of our custom e-learning case studies on eLearning Programs for Retail Training. In this blog, we will see the top 5 reasons why to use eLearning in the Retail Industry.
1. Happy and Satisfied Customer
A confident sales representative can engage a customer in a better and confident way which will result in customer delight. Delightful customer experience can boost sales while improving customer loyalty.
With customers fast migrating to online channels for purchase instead of hitting the shop floor, the prominence has shifted to build a workforce that is not only focused on sales but also on delighting the customer. Custom eLearning readily addresses the retail staff about all the queries of customer needs which will help to increase in customer satisfaction and buyer confidence which in turn results in higher sales and profits.
2. Up-to-Date Product Knowledge
If the staff stays up-to-date with the latest products and services, then they will be confident on the floor and answer all the customer queries confidently. So, keeping the retail staff up-to-date with all the policies and procedures along with the product information is a key to success as it will help them to guide customers to the right products based on their needs. Online training gives a better opportunity for retail employees to stay informed about current promotions and brush up on their product knowledge.
In traditional training courses, employees may not be kept informed about the features of the latest products or services. In such a case, the training manager would have to develop and print learning materials and then appoint an instructor or trainer for specific training which is very time-consuming.
3. Centralized, Consistent Cost-Effective Training
With the e-Learning platform, training can be quickly and consistently delivered to the geographically dispersed workforce without hassles. The self-paced learning environment provides defined and standardized training while being the most cost-effective solution.
4. Improved Employee Retention
In retail businesses, it becomes quite essential to keep up with the trends, gain a competitive edge, win customers and steal the market share. Unfortunately, the Retail Industry suffers from high employee turnover. As employees keep changing all the time, it is really challenging to have competent and well-trained staff.
Elearning steals the show in every aspect of employee engagement. Engaged employees and the one who have access to training materials can improve sales, customer service, and satisfaction. These employees are typically happier and tend to be better employees than the one who jump onto the sales floor without any prior knowledge of the product or the processes.
Custom eLearning development helps retailers to increase retention rates by giving them the knowledge and skills they need to fulfill their job responsibilities. In addition to this, onboarding new employees can be more cost-effective and practical – Thanks to online training.
5. E-learning can be Anywhere and Anytime
One of the most important benefits of eLearning in the Retail Sector is that online training can take place anywhere and anytime minimizing the training time – Mobile Learning.
Training employees in the retail industry is associated with several hurdles and the key one being that employees always need to be on the field. Surpassing these difficulties, eLearning offers an interactive and effective training solution that can be tracked and measured effectively via the learning management system (LMS).
Elearning in the form of Microlearning can be a great performance support tool at the point of need and reinforces learning. It means, if retail employes are not well aware of the skills of the product then, he/she can simply access an eLearning video then and there itself. Elearning platform enables the retail employees to learn about compliance updates or refresh their memory regarding a new product that is being promoted. When there is a change in product or a strategy, the retailers can easily update the eLearning course and roll out to their target employees.
Conclusion
Elearning Solutions provides incredible benefits for the Retail Industry. The retail employees find it convenient to take the eLearning courses via mobile and tablets which results in higher completion rates. If you are still opting for the tiring and boring instructor-led traditional training, then it's time to rethink and take advantage of eLearning to make the most of it.
If you are a retailer looking to make the most of custom eLearning to train your workforce then Swift can be your learning partner to help you create cost-effective and engaging eLearning.
Our Services: Rapid eLearning, Custom eLearning Solutions, Flash to HTML5 Conversion
https://www.swiftelearningservices.com/wp-content/uploads/2017/04/Top-5-Benefits-of-Custom-eLearning-in-Retail-Industry-copy-2-2.jpg
460
820
Swift Elearning Services
https://www.swiftelearningservices.com/wp-content/uploads/2022/09/Swift-eLearning-Services-logo_220.png
Swift Elearning Services
2017-04-12 18:49:40
2021-07-12 17:55:49
Top 5 Benefits of Custom eLearning in Retail Industry