Top 4 Proven Instructional Design Strategies to Enhance eLearning for Corporate Training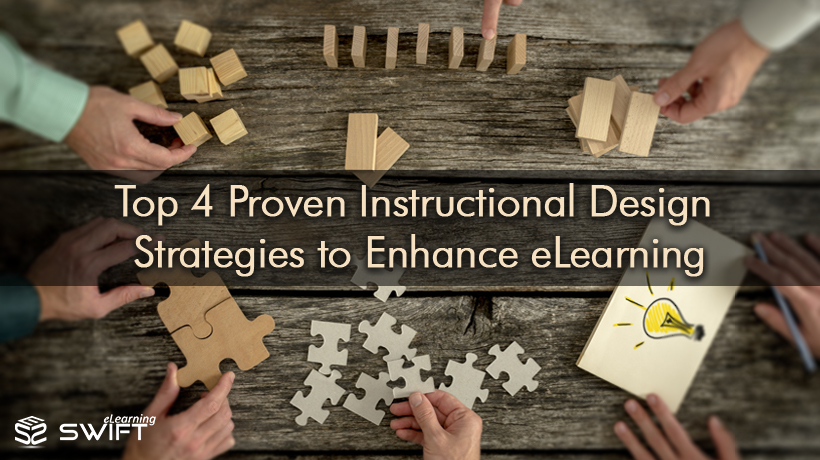 Be it any game, you need a right game plan or a strategy to succeed. And the same applies to eLearning design for corporate training. "eLearning when designed correctly with sound instructional design strategy has the potential to bring organizational excellence with a positive eLearning ROI. " An instructional strategy is an action plan or a method to help people learn. It defines the approach to achieve learning objectives using various learning devices, techniques, resources, and various learning theories.

Note: You need to analyze the learning needs, learner profile and desired learning outcomes before you could finalize the learner-centered instructional strategy for your online training.
In this blog, we will take a closer look at the top 4 proven instructional design strategies to enhance online training experience.
1. Story-Based Learning – Keep Them Intrigued
For instructional designers, designing eLearning content that keeps the learners engaged throughout the course is a challenging part. Having said that story-based learning breaks the monotony and avoid Clicky-Clicky Bling-Bling in the eLearning courses.
Story telling is the powerful approach to captivate your learner's attention creating an engaging, emotional and perceptual learning experience. It contextualizes learning with interesting elements such as a strong narrative, interesting and thought-provoking plots, relatable characters, suspense and a strong message.
How to create Story-Based eLearning?
Crafting compelling story-based learning involves:
Weaving a story around the content establishes relevancy and makes it contextual
Using conversational narrative (tone) as if you are talking to learners
Creating a conflict or tension
Used in trainings like Behavioral Training, Sales Training, compliance training, Leadership training Coaching and Counseling.
2. Scenario-Based Learning – Get Them Involved
Scenario-based eLearning is an active learning strategy that not only improves learner engagement, but also challenges them to take right decisions – changing behavior and performance. The interactive branching scenarios put learners into real-life challenging situations and elicit behavioral response. Here the learners need to solve them using their critical thinking and problem-solving skills.
This provides them an opportunity to make decisions, experience consequences and learn from their mistakes in a safe environment.
Building challenging scenarios involve:
Making sure that the scenario mirrors the real-life experiences
Using authentic characters that learners can relate right away
Identifying the critical situations that challenge the learner to make the decision
Providing a customized feedback for each decision point
This strategy is appropriate for Compliance Training, Safety Training, Induction and Onboarding Training, etc.
3. Microlearning – Providing Just-In-Time Performance Support
Microlearning is an emerging instructional design strategy that is designed to provide just-in-time performance support as part of corporate training. This strategy is best used to supplement formal training accessed on demand to reinforce what was just taught. Given the heavy distractions, low attention spans and boring information dump makes no more sense to the modern learners. In such cases, Microlearning can be the best learning strategy that reduces cognitive overload. However, the microlearning strategy is not a silver bullet for training.
Microlearning could be a 5-7 minute bite sized learning nugget with a key takeaway. For example, an interactive video couple with augmented reality / virtual reality, an infographic, a checklist/job aid, etc.
To create an effective microlearning course, you need to:
Analyze whether microlearning is really the good fit
Identify the specific "Learning Objective" and make it more objective focused
Organize & Analyze the earning content
Ruthlessly edit the learning content and keep what is relevant and essential
Use conversational tone with active voice
Grab learner's attention with a story, visual and/or context
This microlearning is the best strategy to deliver mobile learning as part of refresher trainings. For example, Sales Training and Soft-Skills Training.
4. Gamification
Gamification is one of the hot trends in eLearning. It refers to the use of game-design techniques in non-game context. Adopting gamification strategy helps you create immersive learning experience taking learner engagement to the next level with increased knowledge retention and performance.
To design Gamified eLearning courses, you need to:
Analyze the need for gamification of eLearning:
Is gamification apt for this subject (eLearning content)?
What is the main idea or theme behind the gamification?
Align the gamified elements with learning objectives
Make the gamified elements more relevant and simple
Incorporate gamified elements such as points, levels, badges and leaderboards for intrinsic motivation, but go beyond it
Provide clear instructions and ensure your learners understand the whole concept before they start the game
Use a compelling narrative with relatable characters, goals, challenges and obstacles
Challenge and excite the learners by offering reward points
Let your learners experience the consequences for their decisions and sense of accomplishment
Eventually, evaluate the game to see how it works
Gamification can be used in Safety Training, Induction and Onboarding Training, Compliance Training, Product Training, etc.
Conclusion
Apart from these four instructional design strategies, there are other strategies such as case studies, reflective learning, inquiry-based learning, analogies, mnemonics, etc. However, the skill in creating impactful eLearning courses lies in selecting the right corporate instructional design strategy for corporate training. In the next blog, we will discuss the considerations to select the right instructional design strategy. What other ID strategies do you think make an impact in creating engaging elearning?
Feel free to Share your thoughts.
Our Services: eLearning Solutions Company, Rapid Development Solutions, Custom eLearning Services
https://www.swiftelearningservices.com/wp-content/uploads/2017/05/Top-4-Proven-Instructional-Design-Strategies-for-eLearning.jpg
460
820
Abdul Wahab
https://www.swiftelearningservices.com/wp-content/uploads/2022/09/Swift-eLearning-Services-logo_220.png
Abdul Wahab
2017-05-27 11:38:28
2022-01-06 15:19:33
Top 4 Proven Instructional Design Strategies to Enhance eLearning for Corporate Training