The Most Desired Qualities of an Instructional Designer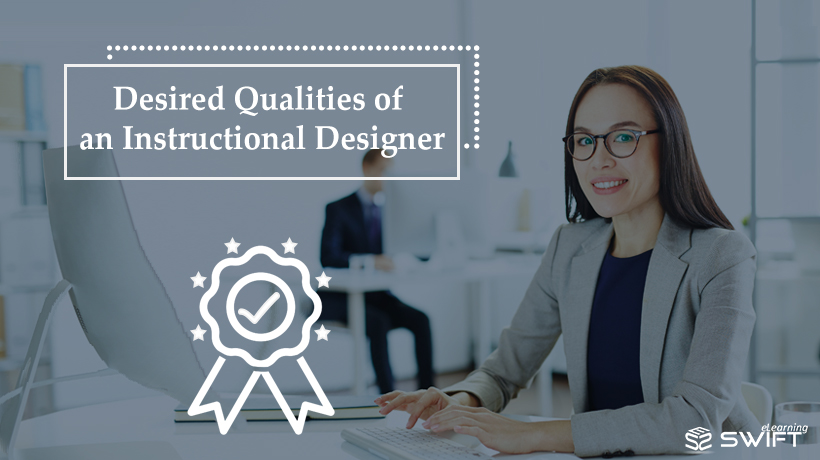 Instructional Designers are indispensable in an eLearning courseware development process. They are involved since the identification of the learning need to the learning solution implementation phase. They understand the problem, develop corresponding solution and devise a plan for its effective implementation.
Let's discuss what qualities an Instructional Designer should possess to deliver these responsibilities.
An instructional designer should be a…
Quick Learner
As a professional courseware developer, Instructional Designers are ought to develop learning solutions on any concept under the sun. To do this, they must be quick learner with minimal assistances from SMEs.
Creative Explainer
An instructional designer should possess 'Teacher's Instinct'. Considering the Content, Learner and the Learning Outcomes; an instructional designer should adopt simple and intuitive explainer models at both, macro level (curriculum designs) and micro level (instructional strategies) of a learning solution.
Expository Writer
Writing has different styles to express your thoughts; but an instructional designer should possess an expository style of writing or developing the learning content. The content must be plain and easy to comprehend in simple efforts. Each piece of content should be put in a pattern that it construct one concept after the other.
Instructional Content Visualizer
Instructional Content incudes text, images, illustrations, videos etc. An instructional designer should represent these elements in an appropriate flow and graphic design sense. It includes the use of colors, symmetrical shapes, arrangement patterns and animation sequence.
Keen Reviewer
An instructional designer should have an eye for detail focus and correct every feature of an effective courseware development. High precision reviewing capability is vital to identify mistakes and loop-holes in content as well as other cosmetic designs. Even a minute element of the course should serve its intended purpose.
Innovator
Every learning need is unique with respect to the desired outcome behavior, learner and the content. An instructional designer must be an innovator to blend different instructional strategies and develop a unique learning solution for the problem. It requires an instructional designer to be well-versed in various instructional models, approaches and technologies.
Researcher
Developing a course requires lot of material to review. Quite often, clients supply content if it is related to organizational policies, specific products and services or in-house developed content (if any) etc. In normal course of work, an instructional designer define and get approve the learning objectives in specific behavioral terms and then develop content through their own research on Internet, Books, Videos etc. They ensure, the final content should help the leaner achieve the desired objectives.
Tech Savvy Developer
Every piece of courseware such as content, visuals, courseware development tools, learner interactive strategies etc. conveys some-meaning to learner; an instructional designer tries to have control on these and ensure learner receives the intended meaning. This require instructional designers to be conversant in learning science as well as in learning technologies such as eLearning authoring tools, sound editing software, image editing software etc.
Conclusion
An ideal instructional designer should possess capabilities to develop an effective eLearning courseware.
https://www.swiftelearningservices.com/wp-content/uploads/2022/09/Swift-eLearning-Services-logo_220.png
0
0
Abdul Wahab
https://www.swiftelearningservices.com/wp-content/uploads/2022/09/Swift-eLearning-Services-logo_220.png
Abdul Wahab
2017-04-18 17:40:41
2021-07-01 16:07:10
The Most Desired Qualities of an Instructional Designer