Swift HCM Bug Tracking System: Stay on Top of Your Projects Effortlessly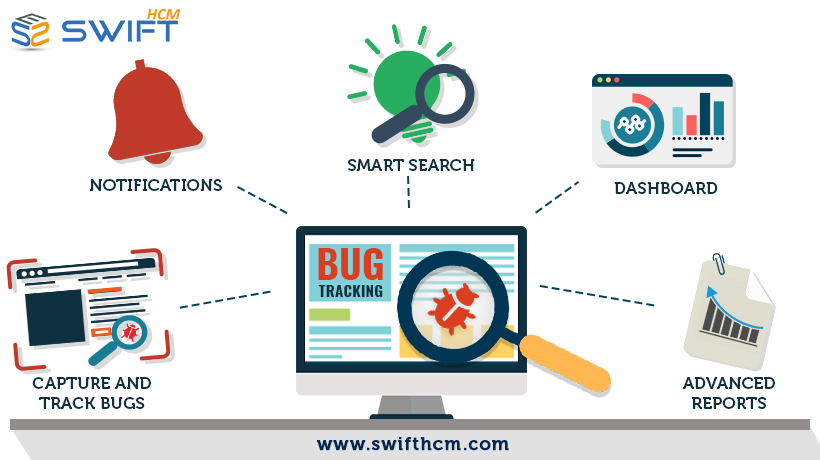 Swift HCM web-based bug or issue tracking system/software can be the simplest yet powerful tool that is designed to manage bugs efficiently. It cuts out needless complexity which may hurt your productivity. Capture client feedback/bugs, track issues, resolve bugs and manage your projects effortlessly.
As Henry Ford once said, "Don't find a fault, find a remedy," every project is associated with some Incidents or Issues and we need to find a right solution for it. Be it any business, making right decisions is inevitable. In any project, no matter how careful you are, bugs slip up through cracks. And businesses that aim delivering flawless products can't afford to ignore these bugs.
SWIFT offers you a comprehensive easy-to-use free bug tracking solution designed to accelerate your testing process which eventually helps you maintain the quality. Our cloud-based bug tracking software is embedded with advanced reporting system that makes life easy for Organizations. It has all the essential features that you can imagine.
In this blog, we will take you through the most essential features of our Bug Tracking System to help you understand what makes it smart, flexible and easy to use.
Intuitive Dashboard: The intuitive Dashboard gives you a consolidated glimpse of bugs to stay on top of the projects. On selecting the project, the dashboard displays some of the statistics like:
Bugs assigned today
Days since the bug logged
Open and fixed bugs
Project milestone summary and many more
Advanced Reporting and Tracking: With advanced reporting system, you can track, manage and analyze your projects and team activities more efficiently. These detailed tracking and analytical reports include User-wise Bugs, Detailed Incidents, Bug Tracker Summary and much more. These reports shall act as a yardstick in measuring the ROI of a project.
Notifications: Remind and notify the key stakeholders via automated email notifications about the bug status. This feature will help the team to fix the bugs on a priority basis and track until they are closed.
Powerful Search Functionality: Flexible searching parameters with custom filters in Swift HCM bug tracking system enables you to search and manage the bugs. It also provides a consolidated and centralized view of assigned bugs. These views can be filtered further by project name, incident number, status, release number, incident type and severity.
Manage Feedback & File Attachments: It also provides the flexibility to manage Client and Developer comments separately. It enables you to upload or attach multiple files as reference to the logged bugs. This provides more clarity on the bugs assigned. You may attach file types such as JPG, PNG, BMP, PDF, Docx and so on.
Conclusion:
To Conclude, Swift HCM Bug Tracking System is an easy-to-use responsive web-based tool to help you manage the bugs/incidents effortlessly. It enables you to collaborate seamlessly, stay updated right away and get started easily. Besides, it is fully configurable to meet all your business needs.
It is fully secure system hosted on cloud premises. Enroll now for absolutely free (No Credit Card required). Visit https://bugtracker.swifthcm.com now to experience the awesomeness. Let your team be accountable for every bug throughout the development life cycle.
Our Services: Flash to HTML5 Conversion, Rapid eLearning, Custom eLearning Solutions
https://www.swiftelearningservices.com/wp-content/uploads/2022/09/Swift-eLearning-Services-logo_220.png
0
0
Sairam Chawhan
https://www.swiftelearningservices.com/wp-content/uploads/2022/09/Swift-eLearning-Services-logo_220.png
Sairam Chawhan
2017-03-17 19:05:21
2021-07-12 17:56:15
Swift HCM Bug Tracking System: Stay on Top of Your Projects Effortlessly